Abstract: PS1131
Type: Poster Presentation
Presentation during EHA23: On Saturday, June 16, 2018 from 17:30 - 19:00
Location: Poster area
Background
Cold agglutinin disease (CAD) is a rare subtype of complement-mediated autoimmune hemolytic anemia. CAD incidence, prevalence, and survival are poorly understood. CAD patients previously have been reported to be at increased risk of thromboembolic events (TE) compared to the general population. A better understanding of the basic epidemiology of this rare disease is needed.
Aims
Danish national population and medical registries were used to calculate the incidence and prevalence of CAD in Denmark, to characterize the CAD patient population, and to examine incidence of TE and survival with a matched comparison cohort from the general population.
Methods
CAD patients diagnosed during 1999-2013 were identified from the Danish National Patient Registry, using the first hospitalization with the ICD-10 discharge code D59.1A. The Registry covers all Danish hospitals. The Danish Civil Registry System was used to match each CAD patient on age, gender, and region of residence to 10 comparison cohort members from the general population who were alive at the time of the patient's diagnosis. Study participants were followed from the patient's diagnosis date through 2013. Incidence rate ratios for TE were calculated from a stratified Cox regression and survival was calculated using the Kaplan-Meier method. Both were adjusted for Charlson Comorbidity Index scores, which encompass cancer, heart disease, diabetes, and other comorbidities.
Results
In 2013, the prevalence of CAD was 1.26 per 100,000 persons in Denmark and the incidence rate was 0.18 per 100,000 person-years. We identified 72 CAD patients and 720 matched general population comparators. Median age at diagnosis was 68.5 years and 58% of the cohort was female.
The probability of mortality at 1, 3, and 5 years from diagnosis was greater in the CAD patients when compared to the matched general population cohort. The Charlson comorbidity score-adjusted hazard ratio for mortality among CAD patients was 1.84 (95% CI: 1.10 – 3.06). The hazard ratios for patients with Charlson comorbidity scores 1-2 and 3+ were also increased for CAD patients when compared to the non-CAD cohort.
The incidence rate of TE was 52.1 per 1000 person-years in CAD patients compared with 27 per 1000 person-years in the matched comparison cohort. The incidence rate ratio was 2.28 (95% CI: 1.20-4.34) in the crude analysis and became 1.43 (95% CI: 0.71-2.90) when we adjusted for Charlson Comorbidity Score.  However, when stratified by Charlson comorbidity score (1-2 and ≥3), both models showed an increased incidence of TE in CAD patients (Charlson score 1-2 aIRR=2.22, 95% CI:1.32-3.72; Charlson score 3+ aIRR=3.43, 95% CI: 1.64-7.15).  At 1 year, the cumulative incidence of TE was 4.6% in the CAD cohort and 0.9% in the matched comparisons; at 3 years, 8.4% and 4.8%, and at 5 years, 15.6% and 10.0%, respectively.
Figure 1.  Kaplan-Meier survival curves for patients with cold agglutin disease and general population comparisons.  Denmark.  1999-2013.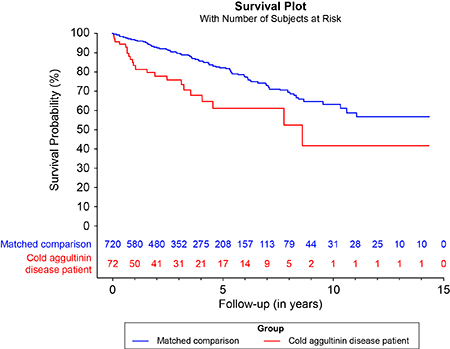 Conclusion
This population-based cohort study is the first to compare survival among CAD patients with survival in the general population. An increased rate of mortality and TE was observed among CAD patients, starting within the first year from diagnosis. These results indicate that CAD is a more severe disease than previously thought. Further studies should explore the potential of earlier instituted therapy in reducing mortality and risk of complications.
Session topic: 29. Enzymopathies, membranopathies and other anemias