Abstract: PS1099
Type: Poster Presentation
Presentation during EHA23: On Saturday, June 16, 2018 from 17:30 - 19:00
Location: Poster area
Background

The treatment landscape in chronic lymphocytic leukemia (CLL) rapidly evolved since the last decade with improvements in supportive care and the advent of anti-CD20 agents, kinase inhibitors, and anti-apoptotic agents. At present, it is largely unknown how these advances impacted survival of CLL patients at the population level. 
Aims

The aim of this nationwide, population-study was to assess trends in short-term and long-term excess mortality (EM) among CLL patients diagnosed during a 27-year period in the Netherlands.
Methods

We selected all 19,131 CLL patients diagnosed between 1989-2015 (median age 69 years; range 21-101 years; 61% males; 14% with a prior malignancy) from the nationwide Netherlands Cancer Registry with follow-up through December 31, 2016. Patients were categorized into 4 periods (1989-1995, 1996-2002, 2003-2008, and 2009-2015) and 4 age groups (18-59, 60-69, 70-79, and ≥80). Age-standardized incidence rates (ASRs) were calculated per 100,000 person-years and standardized according to the European standard population. Relative survival (RS) was calculated as a measure of disease-specific survival. Multivariable evaluation of RS was performed using Poisson regression with adjustment for period of diagnosis, sex, age at diagnosis and a prior malignancy before CLL diagnosis. A P<0.05 indicates statistical significance.
Results

The annual ASR of CLL initially increased gradually since 1989; however, the overall incidence pattern subsequently stabilized at around 4.0 to 4.5 as from 2003. The overall ASR was consistently higher among males than females throughout the entire study period (5.0 vs. 2.6 in 1989-2015). Patients across the 4 age groups experienced continued EM as compared to the general population during all periods studies (Fig 1). Nevertheless, RS improved with each period for all 4 age groups. More specifically, 5-year RS (95% confidence intervals) was 80% (77%>83%), 71% (68%>75%), 64% (61%>68%), and 52% (46%>59%) in 1989-1995 for the 4 age groups, as compared with 94% (92%>96%), 90% (88%>92%), 84% (81%>87%), and 75% (69%>82%) in 2009-2015 (P<0.001 for all comparisons). Furthermore, 10-year RS was 58% (54%>62%), 51% (47%>55%), 42% (38%>47%), and 32% (23%>43%) in 1989-1995, as compared with 79% (76%>81%), 69% (65%>72%), 62% (58%>66%), and 43% (34%>53%) in 2003-2008 (P<0.001 for all comparisons). The multivariable analysis confirmed an improvement of survival over time, with an EM ratio (EMR) of 2.04 (P<0.001) in 1989-1995, 1.45 (P<0.001) in 1996-2002, and 0.65 (P<0.001) in 2009-2015, as compared with 2003-2008. Furthermore, females had lower EM, as compared to males (EMR, 0.66; P<0.001), whereas patients with a prior malignancy had higher EM, as compared with patients without a prior malignancy (EMR, 1.80; P<0.001). Subgroup analyses confirmed the consistency of the abovementioned associations across the 4 age groups, with the exception that females and males age ≥80 had comparable EM (EMR, 0.99; P=0.906).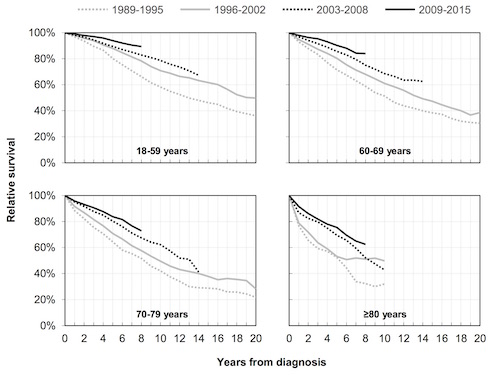 Conclusion
In this large, nationwide, population-based study, 5- and 10-year RS improved over time among CLL patients across all age groups. Advances in supportive care, ameliorated management, and the advent of novel agents might have accounted for the improvement. Earlier detection of CLL might also have artificially increased survival estimates. However, this would have only marginally biased our results, as the overall ASR remained comparatively stable since 2003. As kinase inhibitors and anti-apoptotic agents have been introduced recently for routine use, EM will hopefully improve even more in the next decade.
Session topic: 6. Chronic lymphocytic leukemia and related disorders - Clinical