Abstract: PS1085
Type: Poster Presentation
Presentation during EHA23: On Saturday, June 16, 2018 from 17:30 - 19:00
Location: Poster area
Background
Ibrutinib, an oral, selective inhibitor of Bruton's tyrosyne kinase (BTK), demonstrated exceptional activity in patients with relapsed/refractory CLL as well as in untreated patients with genetic abnormalities which predict chemoresistance (i.e. TP53 deletion or mutation). In fact, overall response rate (ORR), progression-free survival (PFS), overall survival (OS) were far superior  in comparison with chemoimmunotherapy  (Byrd, 2014).  However, CD49d+ CLL were characterized by inferior PFS than CD49d- CLL with  a significant lower reduction in organomegaly and lymph nodes size (Tissino, 2018). Even more, CD49d expression was strongly correlated with NOTCH1 mutations (M) cases that significantly overexpressed the NF-kB pathway genes as compared to NOTCH1 wild type (WT) CLL (Benedetti, 2017) and thus may confer poor response to ibrutinib in NOTCH1 M CLL. 
Aims
The primary aims of our research were: 1) to verify the correlations of NOTCH1 M with other biological and clinical prognosticators in patients treated with ibrutinib; 2) to evaluate the impact of NOTCH1 M on ORR, PFS and OS; 3) to confirm NOTCH1 M as an independent prognostic factor.
Methods
NOTCH1 M were investigated with ARMS PCR for c.75447545delCT or by Sanger sequencing of NOTCH1 exon 34 and all cases were confirmed with next generation sequencing (NGS).
Results
Therefore, we evaluated the efficacy of ibrutinib, in a real-life contest, on 82 patients, median age 59 years (38-85), median number of previous regimens 2 (0-4; 13.4% previously untreated). Patients received 420 mg oral ibrutinib once daily until progression or occurrence of unacceptable side effects. Median follow up on ibrutinib was 13 months. ORR was 94% (complete response (CR): 20%,  partial response (PR): 42%, PR with lymphocytosis (PR-L): 31%). The estimate 1-year PFS and OS were 79% and 83%, respectively. Twenty patients (24%) discontinued ibrutinib therapy due to progression (n= 12), adverse events (n=6) or due to other reasons (n=2). Five out of 6 patients with Richter's syndrome (RS) had baseline del(17p)/TP53 M (p=0.020). PFS was significantly better for patients in first/second lines vs later lines of therapy (p=0.033).  Twenty-six patients were NOTCH1 M (32%). NOTCH1 M were significantly correlated with trisomy 12 (9/13; p=0.008), with CD49d >30% (24/26; p=0.0004) and with unmutated IGHV (23/26; p=0.020).  With regard to clinical outcome, PR was significantly correlated with NOTCH1 M (p=0.008). Interestingly, lymphocyte counts were significantly lower in NOTCH1 M patients both before and after ibrutinib therapy (p=0.0018 and p=0.019, respectively). On the other hand, burden disease was significantly higher in NOTCH1 M patients both before and after ibrutinib therapy (p=0.025 and p=0.001, respectively).  Significant shorter PFS was observed in NOTCH1 M patients (52% vs 87% at 24 months, p=0.0001; Figure). On the contrary, del(17)p/TP53 M patients did not show significant worse PFS (p=0.097). Moreover, patients with NOTCH1 M showed significant shorter OS (56% vs 80% at 24 months, p=0.018; Figure). In multivariate analysis of PFS and OS including del(17)p/TP53, IGHV status and age, only NOTCH1 M were confirmed as an independent prognostic factor (p=0.011 and p=0.009, respectively).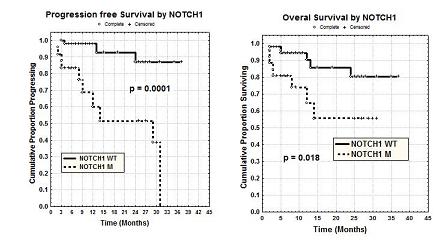 Conclusion
Therefore, bcl-2 antagonists, such as venetoclax, working through a different pathway, could be combined with BTK inhibitors, in order to overcome resistance in some patients treated with ibrutinib, particularly within the CLL subset characterized by NOTCH1 M.  
Session topic: 5. Chronic lymphocytic leukemia and related disorders – Biology & Translational Research