Abstract: PS982
Type: Poster Presentation
Presentation during EHA23: On Saturday, June 16, 2018 from 17:30 - 19:00
Location: Poster area
Background
Acute myeloid leukemia (AML) is highly heterogeneous and tumor-related genetic abnormalities have been shown to be key prognostic factors affecting outcomes to standard treatments. Although AML treated with low-intensity therapies has a poor prognosis, recent studies suggest higher response rates may be achievable in combination with venetoclax (Ven)—an oral BCL-2 inhibitor. Therefore, identifying cytogenetic and molecular factors that influence outcome to these novel combinations is of high importance.
Aims
To evaluate the impact of molecular profiles in elderly, untreated AML patients in response to front-line Ven combination therapies.
Methods
This analysis includes data from two open-label multicenter trials assessing the safety and efficacy of Ven in combination with azacitidine or decitabine (NCT02203773; phase 1b; data cutoff July 7, 2017), or low-dose cytarabine (NCT02287233; phase 1/2; data cutoff August 15, 2017) in treatment-naïve patients with AML. Patients (≥65 years) were classified into ten molecular subgroups based on cytogenetic or molecular mutations identified using next-generation sequencing in baseline bone marrow or blood samples (Figure). Response to Ven combination therapies was evaluated in patients with intermediate and poor cytogenetic risk, as well as in patients within the three most common molecular subgroups: those with mutated chromatin/RNA-splicing genes, those with mutated TP53/aneuploidy, and those with NPM1 mutation. Determination of minimal residual disease (MRD) used standardized multicolor flow cytometry, centrally analyzed.
Results
Patients with intermediate cytogenetic risk had higher rates of CR/CRi than those with poor risk, regardless of Ven therapy combination (Table). There was no significant difference in rates of CR/CRi across Ven combinations among subgroups with concordant cytogenetic risk. Rates of CR/CRi were high (range: 68–100%) for patients with chromatin spliceosome, or NPM1 mutations across all Ven doses and combination backbones. In comparison, those with chromosomal aneuploidy and/or TP53 mutations had lower rates of CR/CRi (50–55%). Of patients with CR/CRi and available MRD data, 43% (34/80) and 32% (12/38) achieved MRD below 10-3 threshold when treated with Ven + Aza/Dec and Ven + LDAC, respectively. Additional univariate and multivariate analyses are ongoing to determine significant drivers of Ven therapeutic response in elderly AML patients. OS will be presented at the meeting.
| | | |
| --- | --- | --- |
| Cytogenetic Risk or Molecular Subgroup, CR/CRi (n/N [%]) | Ven+Aza/Dec N=130 | Ven+LDAC N=61 |
|       Intermediate | 51/65 (78) | 28/37 (76) |
|       Poor | 39/65 (60) | 9/19 (47) |
|       Chromatin/Spliceosome | 37/49 (76) | 15/22 (68) |
|       TP53 and Aneuploidy | 24/44 (55) | 10/20 (50) |
|       NPM1 mutation | 18/20 (90) | 7/7 (100) |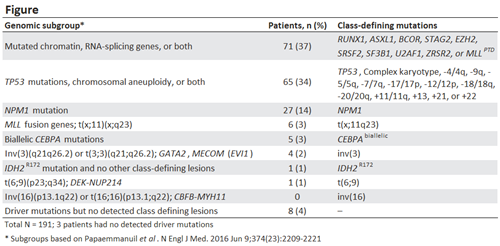 Conclusion
Mutated chromatin and RNA splicing genes, chromosomal aneuploidy or TP53 mutations, and NMP1 mutations were identified as the most common molecular drivers in treatment-naïve elderly AML patients. Preliminary data suggest that venetoclax combination therapies induce high rates of response compared to historical rates of response to standard chemotherapy; this includes all tested cytogenetic risk and molecular subgroups, including those with TP53 mutations.
Session topic: 4. Acute myeloid leukemia - Clinical