Abstract: PF751
Type: Poster Presentation
Presentation during EHA23: On Friday, June 15, 2018 from 17:30 - 19:00
Location: Poster area
Background
The incidence of obesity is increasing, but it is unclear how to dose chemotherapy in these patients, especially in autologous stem cell transplantation (ASCT). Obese patients have more comorbidities and different pharmacokinetics than non-obese patients, which may put them at a higher risk for complications of ASCT. A majority of centers adjust dose for obese patients, but methods are heterogeneous and include using ideal body weight (IBW) or adjusted actual body weight (ABW) (i.e. IBW plus 25 or 40% of ABW minus IBW) and/or capping the calculated body surface area (BSA) at 2.0m2 . In patients undergoing conventional chemotherapy,  guidelines recommend full dosing based on ABW, because myelosuppression is not more pronounced in obese patients and adequate doses are need for optimal efficacy. In ASCT, there is little data and no consensus on how to dose conditioning chemotherapy in obese patients.
Aims
We aimed to examine whether ABW-based dosing of chemotherapy before ASCT leads to a prolongation in the time to hematopoietic reconstitution in patients with a BSA over 2.0m2.
Methods
We performed a retrospective analysis of patients with an ASCT from 2004 to2017 at our center, which uses full, ABW-based dosing of chemotherapy. In patients with a BSA of >=2.0m2 those with a BSA <2.0m2, reconstitution of leukocytes (days from ASCT to leukocytes >1.0 G/l) and thrombocytes (>20 and >100 G/l) were compared. We also examined overall survival (OS), 100-day OS and transplant associated mortality (TRM). Time to event analysis was summarized using Kaplan Meier curves and results were compared using the log rank test.
Results
We included 60 patients and 76 autologous transplants from 2004 to 2017.  69.7% were male, with a median age of 50.5±12.9 years (range 25.7-63.1, 95%CI 25.7-63.1). Median BMI was 25.3±4.4 (range 16.7-44.5, 95% CI 19.7-33.5). A majority was overweight (43.4%) or obese (10.5%; 40.3% normal weight, 5.3% underweight).  50.0% had a BSA over 2.0m2 (median 2.0±0.24, range 1.4-2.5, 95% CI 1.5-2.4). Chemotherapy protocols were BEAM (31.6%), carboplatin/etoposide (21.1%), melphalan (42.1%) and busulfan/cyclophosphamide (5.2%). Diagnoses were lymphoma (33.0%; Hodgkin's, 7.9%; follicular lymphoma, 13.2%, diffuse large B-cell-lymphoma, 5.3%, other, 6.6%), testicular cancer (19.7%), multiple myeloma (42.1%) and acute myeloid leukemia (5.3%). Median time to reconstitution of leukocytes (>=1.0 G/l) was 10.0±0.354 days for BSA <2.0 and 10.0±0.233 days for BSA >=2.0 (p=0.643). There was no significant difference between reconstitution of thrombocytes >20 G/l (median 10.0±0.42 vs 10.0±0.328 days, p=0.481) or thrombocytes >100 G/l (median 18.0±0.581 vs 19.0±1.50 days, p=0.497). Similar results were seen when comparing BMI (underweight/normal weight vs. overweight/obese; p=0.051 for leukocytes, p=0.624 and 0.729 for thrombocytes >20 and >100). Grade 3-4 infections were numerically higher in patients with BSA >=2.0, but this was not statistically significant (78.9% vs. 92.0%, p=0.191). The same was true for other complications of grade 3 and higher (51.0 vs. 65.8%, p=0.245). Therapy associated deaths were rare (n=1) and there was no difference regarding 100-day-OS (median N.R. vs N.R., p=0.558), but patients with a BSA >2.0 had a trend for a higher OS (N.R. vs. 94.8 months, p=0.075).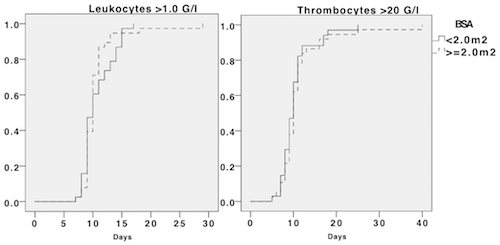 Conclusion
Although this was a retrospective study and findings need to be validated, there was no difference in time to hematopoietic reconstitution, OS or TRM. ABW-based dosing of chemotherapy prior to ASCT was safe in patients with BSA >2.0m2.
Session topic: 23. Stem cell transplantation - Clinical