Abstract: PF709
Type: Poster Presentation
Presentation during EHA23: On Friday, June 15, 2018 from 17:30 - 19:00
Location: Poster area
Background
Sickle cell disease (SCD) is an autosomal recessive inherited disorder in which deoxygenated sickle hemoglobin (HbS) polymerizes and triggers downstream effects including red blood cell deformation (sickling), hemolysis, vaso-occlusion, and inflammation. Ischemic injury from SCD starts in infancy and accumulates over a lifetime, causing pain, fatigue, vaso-occlusive crisis (VOC), progressive end-organ damage, and other clinical complications that are associated with decreased quality of life and early death. Voxelotor (GBT440) is a first-in-class, oral, once-daily therapy that modulates hemoglobin (Hb) affinity for oxygen, thereby inhibiting HbS polymerization.
Aims
To assess the efficacy and safety of voxelotor at 900 mg in pediatric patients with SCD (HbSS or HbSβ0 thalassemia) in the ongoing phase 2a study (GBT440-007).
Methods
This study is being conducted in 2 parts. Part A was single-dose voxelotor (600 mg) in pediatric (6-11 years) and adolescent (12-17 years) patients. PK data from part A have been completed and were reported previously. Part B includes treatment of adolescents for 24 weeks with multiple doses of voxelotor (900 and 1500 mg/d). The primary objective of part B is to assess the effect of voxelotor on anemia. Secondary objectives include measures of hemolysis, daily symptoms using an electronic patient-reported outcome (PRO) measure, and safety.
Results
Enrollment in part B of the 900 mg cohort is complete. As of 29Jan2018, 25 patients (11 females) have received voxelotor for up to 24 weeks (range, 3-24). Median age was 14 years (range, 12-17), median weight 50 kg (range, 31-93), and median baseline Hb value was 8.9 g/dL (range, 6.3-11.0). In this cohort, 88% of patients were receiving hydroxyurea (HU) and 44% had ≥2 VOC (range, 2-8) in the year prior to enrollment. Data for measures of hemolysis are available for 12 patients (92% on HU at study entry) who received voxelotor 900 mg for 24 weeks. Five of the 12 patients (42%) achieved Hb response of >1 g/dL increase (Figure), which was associated with improved measures of hemolysis. Median reduction in reticulocytes (32%) and indirect bilirubin (38%) was consistent with previous results in adults with SCD. Data collected from the PRO measure indicate total SCD symptom scores trended lower from screening to week 24.
Among the 25 patients treated for up to 24 weeks, the majority of treatment-related adverse events (AEs) were grade 1 or 2, and there were no treatment-related serious AEs or drug discontinuations due to AEs. The most common treatment-related AEs included nausea (12%), vomiting (8%), headache (8%), and rash (8%). Data for all 25 patients treated with voxelotor 900 mg for 24 weeks will be presented. Statistical results will be available for presentation at the meeting.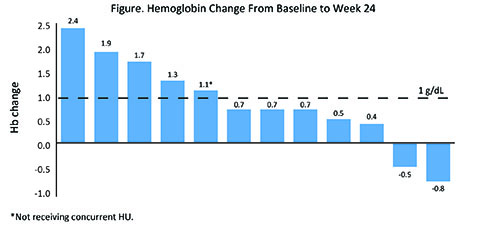 Conclusion
Voxelotor at 900 mg was well tolerated in all 25 adolescents. Data from 12 adolescents at 24 weeks demonstrated sustained and durable improvement in Hb and reduction in clinical measures of hemolysis in patients already maximally managed with HU. PRO data suggest that clinical symptoms may improve with voxelotor. Overall, these results are consistent with in vivo inhibition of HbS polymerization by voxelotor and support the ongoing clinical evaluation of voxelotor as a potential disease-modifying therapy for adults and adolescents with SCD.
Session topic: 27. Sickle cell disease