Abstract: PF624
Type: Poster Presentation
Presentation during EHA23: On Friday, June 15, 2018 from 17:30 - 19:00
Location: Poster area
Background

Primary myelofibrosis (pMF) is a chronic myeloproliferative neoplasm that is incurable in the vast majority of patients. It remains largely unclear how current management strategies impacted outcome of pMF patients at the population level.
Aims

The aim of this nationwide, population-study was to assess trends in primary therapy and survival among pMF patients diagnosed during a 15-year period in the Netherlands.
Methods

We selected all 1,445 pMF patients diagnosed between 2001-2015 (median age 70 years; range 20-95 years; 63% males) from the nationwide Netherlands Cancer Registry (NCR) with survival follow-up through December 31, 2016. Patients were categorized into 2 periods (2001-2007 and 2008-2015) and 3 age groups (≤60, 61-70, and >70). Data on therapy—chemotherapy (CTx), non-CTx therapies (eg, immunomodulatory drugs [IMiDs] and ruxolitinib), and allogeneic stem cell transplantation (alloSCT)—initiated within 9 months since diagnosis were available in the NCR. Data on the International Prognostic Scoring System (IPSS) and the exact therapeutic regimens were available for the period 2014-2015. Relative survival (RS) was calculated as a measure of disease-specific survival. P<0.05 indicates statistical significance.
Results

Slightly more patients received non-CTx therapies over time—albeit that increase was modest, namely from 2% to 8% (P=0.028), 4% to 12% (P=0.007), and 3% to 9% (P=0.001) across all 3 age groups (Fig 1). There were no statistically significant changes over time in the application of CTx and alloSCT across the 3 age groups (Fig 1). Of note, the age range of alloSCT recipients was 32-68 years.Data of 256 patients diagnosed during 2014-2015 showed that 136 (53%) patients received no anti-neoplastic therapy, of whom 24/43 (56%), 47/82 (57%), 33/65 (51%), and 17/42 (40%) had low, int-1, int-2, and high risk IPSS, respectively. In 24/256 (9%) patients, the IPSS was unknown. The distribution across the 4 IPSS groups among the 120 (47%) treated patients were 19 (16%), 35 (29%), 32 (27%), and 25 (21%), respectively. All 59 CTx recipients received hydroxyurea (HU), except one who received melfalan. HU was applied in 14/19 (74%), 20/35 (57%), 14/32 (44%) and 5/25 (20%) patients across the 4 IPSS groups, respectively. Most of the 49 non-CTx recipients received ruxolitinib (70%), followed by IMiDs (14%), interferon-α (12%), and momelotinib (4%). Ruxolitinib was applied in 5/19 (26%), 7/35 (20%), 11/32 (34%), and 8/25 (32%) patients across the 4 IPSS groups, respectively. Ten of 12 alloSCT recipients had high risk IPSS. Five-year RS (95% confidence intervals) did not improve over time across 3 age groups and was 76% (67%>83%), 49% (39%>58%), and 31% (24%>39%) in 2001-2007, as compared with 80% (72%>86%), 53% (46%>60%), and 39% (33%>46%) in 2008-2015, respectively (P>0.05 for all comparisons; Fig 1). There was a hint that RS reached a plateau after 6 years since diagnosis for patients age ≤60 in 2008-2015.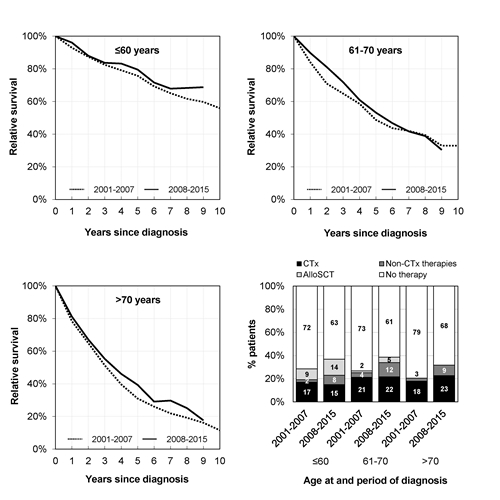 Conclusion
We show that pMF patients have excess mortality—as compared to the general population—which did not significantly decline over time, irrespective of age. This might suggest that current treatment practices are inadequate to improve outcome for most patients. Future population-based research is needed to assess the impact of improved management (eg, broader application of reduced-intensity conditioning alloSCT among younger, transplant-eligible patients) and novel agents (eg, wider use of ruxolitinib that was approved for routine use in the Netherlands since 2014) on the outcome of pMF patients managed in daily practice.
Session topic: 16. Myeloproliferative neoplasms - Clinical