Abstract: PF564
Type: Poster Presentation
Presentation during EHA23: On Friday, June 15, 2018 from 17:30 - 19:00
Location: Poster area
Background

Following advances in treatment and supportive care, multiple myeloma (MM) survivors are an increasing group of individuals, whom, in turn, are at increased risk of developing subsequent malignancies. Prior malignancies might influence the risk on development of subsequent malignancies and survival in MM patients. Information is limited, only recently a Swedish population-based study (Jonsdottir, Blood Adv, 2017) reported on this topic.
Aims

In this nationwide population-based study, the impact of prior malignancies for developing a subsequent malignancy or survival in MM patients in the Netherlands was evaluated.
Methods
We identified all newly diagnosed MM patients between 1994-2012 from the nationwide population-based Netherlands Cancer Registry (NCR). Prior and subsequent malignancies (excluding basal cell carcinoma) relative to MM were identified from the NCR and classified into subgroups according to the third edition of the International Classification of Diseases for Oncology (Fig 1A). Synchronous malignancies diagnosed within a time-interval of 6 months prior to or after MM diagnosis, and malignancies diagnosed from autopsies were excluded. Cox regression models were constructed to calculate hazard ratios (HRs) and associated 95% confidence intervals (CIs). The first and second model assessed the risk of the development of a subsequent malignancy and the risk of death in MM patients with either a prior malignancy diagnosis or not, respectively. We adjusted for sex, age at and year of MM diagnosis. For the first model, all MM patients were followed from the time of MM diagnosis to subsequent malignancy development, death, or end of follow-up (February 1, 2017), whichever came first. For the second model, survival time was defined as the time from MM diagnosis to death or end of follow-up (February 1, 2017), whichever came first. A P<0.05 indicated statistical significance.
Results

Our analytic cohort included 17,196 MM patients (median age 70 years; range 22-99; 55% males), of whom 1,619 (9.4%) and 247 (1.4%) had 1 and ≥2 prior malignancies, respectively. Patients with a prior malignancy were younger at MM diagnosis, as compared to those without (median age 67 vs. 70; P<0.001). A total of 196 (10.5%) of 1,866 MM patients with a prior malignancy developed a subsequent malignancy, as compared with 1,393 (9.1%) of 15,330 MM patients without (P=0.04). The types of prior and subsequent malignancies are presented in Fig 1A. MM patients with a prior malignancy diagnosis had a 47% increased risk of developing a subsequent malignancy, as compared with MM patients without (HR, 1.47; 95% CI, 1.40-1.55; P<0.001). Overall survival of MM patients according to the number of prior malignancies is shown in Fig 1B. MM patients with 1 and ≥2 prior malignancies had, respectively, a 42% (HR, 1.42; 95% CI, 1.34-1.50; P<0.001) and 68% (HR, 1.68; 95% CI, 1.47-1.92; P<0.001) increased risk of death, as compared with MM patients without.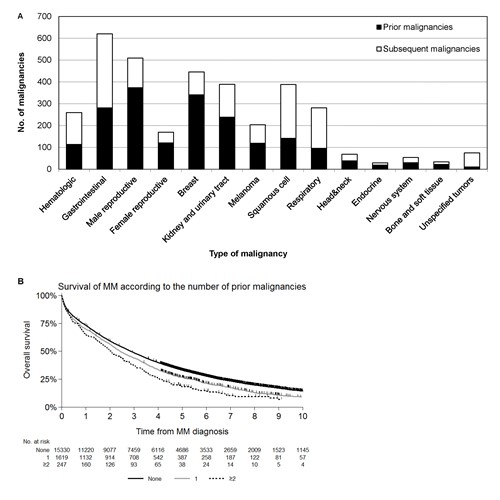 Conclusion

We demonstrated that a prior malignancy diagnosis among MM patients increased the risk of developing a subsequent malignancy and negatively influences survival and this was in line with the Swedish study. An explanation for these findings could suggest a role for genetic susceptibility to cancer; however, this usually is associated with young age and observed in ~5% of all cancers only. Another explanation could be the effects of prior cytotoxic treatment. As MM survivorship is expected to increase, these findings may be important to augment cancer surveillance for early detection and appropriate management of subsequent malignancies.
Session topic: 14. Myeloma and other monoclonal gammopathies - Clinical