Abstract: PF554
Type: Poster Presentation
Presentation during EHA23: On Friday, June 15, 2018 from 17:30 - 19:00
Location: Poster area
Background
Carfilzomib (CFZ) is licensed for use in relapsed/refractory (RR) multiple myeloma (MM).  In the ENDEAVOR study, carfilzomib was combined with dexamethasone for extended therapy, leading to superior progression-free and overall survival (PFS, OS) when compared with bortezomib and dexamethasone. Today, triplet regimens are standard of care, but administering a triplet regimen indefinitely may be challenging. 
Aims
The MUKfive phase 2 study compared safety and activity of KCD to bortezomib, cyclophosphamide and dexamethasone (VCD), as fixed duration therapy for patients at first relapse, or refractory to one prior line. The study also compared activity and safety of maintenance CFZ vs observation after KCD.
Methods
Patients were randomized (R1) in a 2:1 ratio in favor of KCD. Patients in the KCD arm with ≥SD after 6 cycles of KCD were randomized (R2) 1:1 to receive maintenance CFZ or observation. Minimisation factors were response to initial treatment (PR,MR,SD vs VGPR,CR) and prior ASCT. There was no maintenance in the VCD arm. See figure for regimens. Co-primary endpoints were ≥VGPR rate at 24 weeks post R1 (non-inferiority (NI)), and PFS from R2.
Results
300 patients were randomized, 201 KCD and 99 VCD. Patient and disease features were balanced between arms. First primary endpoint, ≥VGPR at 24 weeks was KCD 40.2%, VCD 31.9% (NI), ORR 84.0% and 68.1% (p=0.0014, superior). 141 patients were eligible for R2, 69 allocated to maintenance CFZ. Arms were balanced for response (≥VGPR:CFZ 58.0%,observation 54.2%,) ECOG, ISS, MRD status (MRD-neg: CFZ 11.6%, observation 13.9%) at end of initial treatment. Median follow-up for patients from R2 was 10.5m (0.9-31.3): 44.3% of patients completed 6 cycles CFZ maintenance, 18% completed 18 cycles. 82.1% of patients had a dose modification, but 88.7% of all cycles were received on time. Median PFS from R2 for CFZ was 11.9m vs 5.6m observation (HR 0.59, p=0.009). Safety was as in table 1. AE's were mild, most were 
| | | |
| --- | --- | --- |
| Table 1. Safety | Maintenance | Observation |
| Reasons for stopping treatment | Disease progression 65.6%, completed treatment 18.0%, toxicity 4.9%, withdrew consent 6.6% |   |
| Patients in safety population | 67 | 74 |
| SAEs: n patients | n events | 24/67 (35.8%) | 34 (15 treatment related) | 6/74 (8.1%) | 6 |
| SAE types; I=Infections, C=Cardiac | I: 18/34 (52.9%); C: 1/34 (2.9%) | I: 1/6 (16.7%); C: 0 |
| SAEs resulting in death | 0 | 1 (16.7%) |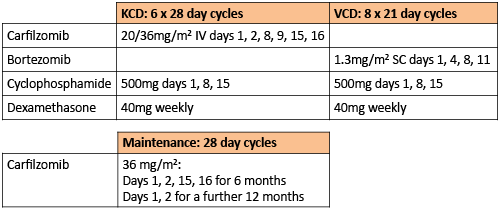 Conclusion
Maintenance with single agent CFZ prolongs PFS after triplet therapy with cyclophosphamide and dexamethasone for MM at first relapse or primary refractory to one line. PFS for patients receiving KCD triplet for 6 cycles followed by maintenance CFZ for up to 18 months approximates 18 months, indicating that it is possible to attenuate regimen intensity following initial treatment with triplet regimen while maintaining disease control when using CFZ in the relapse setting. 
Session topic: 14. Myeloma and other monoclonal gammopathies - Clinical