Abstract: PF525
Type: Poster Presentation
Presentation during EHA23: On Friday, June 15, 2018 from 17:30 - 19:00
Location: Poster area
Background
Multiple myeloma is a genetically complex disease where early hits include chromosome 14 (IGH) translocations or hyperdiploidy. Later events are additional copy number alterations (CNAs), e.g. gain 1q, deletion 13q or 17p as well as somatic mutations. Currently, translocations and CNAs are commonly assessed via fluorescent in situ hybridization (FISH) in the clinical setting. Recently, targeted DNA assays have been evaluated in myeloma cell lines and showed correlation with conventional methods.
Aims
To interrogate genomic aberrations in primary samples from patients with multiple myeloma and we developed a targeted next generation sequencing panel, called myTYPE, and compared detection rates to those from FISH.
Methods
In the myTYPE assay, baits were designed to capture the entire IGH locus where the vast majority of the chromosome 14 breakpoints occur, genome wide single nucleotide polymorphisms (SNPs) for hyperdiploidy and other CNAs, as well as exons of 120 frequently mutated somatic genes in multiple myeloma.
To validate the capture of IGH translocations and CNAs using myTYPE, 46 samples from 22 patients with multiple myeloma as well as bone marrow samples from 16 healthy individuals were analyzed. All samples were sequenced using 126 bp paired end reads using Illumina HiSeq with a mean target depth of ~600x. All patient samples contained a high percentage of plasma cells. After sequencing, CNAs and translocations were identified using validated bioinformatic algorithms such as CNVkit, Brass and Delly.
Results
We found that the targeted sequencing assay myTYPE was equally good or better for detecting IGH translocations and CNAs compared to FISH. Using myTYPE, a higher number of t(4;14) and t(11;14) and equally many t(14;16) were captured using myTYPE in relation to FISH.(Table) Hyperdiploidy was detected in 14% and 22% with FISH and myTYPE, respectively. Greater numbers of 1q gains and 13/13q deletions were found using myTYPE while the number of 17p deletions were similar. Since myTYPE covers genome-wide SNPs, this assay was able to detect additional CNAs such as 6q deletion, 8p deletion, 16q gain, and trisomy 8 that were not targeted by FISH.
In 4 multiple myeloma patients enrolled on a study protocol allowing for several parallel bone marrow/extramedullary disease biopsies in the same patient, the same IGH translocations and CNAs were detected across all sites of extramedullary disease except in two samples where a 6q deletion and 8p deletion were not detected in one sample each. This is likely explained by clonal heterogeneity, i.e. that the CNA was not present since we have no reason to suspect sequencing failure in these samples.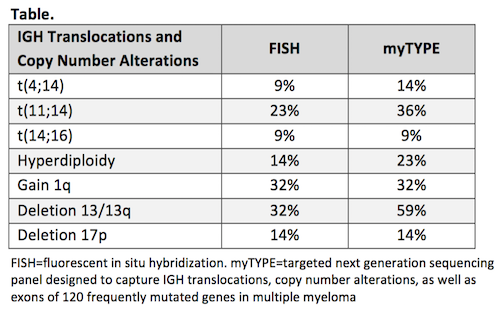 Conclusion
In this analysis, based on the targeted DNA capture assay myTYPE used head-to-head with FISH on primary samples from patients with plasma cell myeloma, we found that the sensitivity for detecting IGH translocations and CNAs was higher using the targeted sequencing approach as compared to FISH. Furthermore, using myTYPE, we found additional CNAs not covered by FISH, as FISH detects only the probe-specific alterations. Translocations and CNAs can be detected with high sensitivity also using whole genome sequencing, however, targeted sequencing is less complex and more cost-effective. In summary, targeted sequencing using myTYPE is an effective and sensitive approach to assess IGH translocations and chromosomal gains and losses in multiple myeloma and there are ongoing efforts to implement sequencing-based assays to replace FISH in the clinical setting.   
Session topic: 13. Myeloma and other monoclonal gammopathies – Biology & Translational Research