Abstract: PF444
Type: Poster Presentation
Presentation during EHA23: On Friday, June 15, 2018 from 17:30 - 19:00
Location: Poster area
Background
First generation PI3Kδ inhibitors such as idelalisib and duvelisib are active in patients (pts) with lymphoid malignancies, but are often associated with significant immune-mediated adverse events (AEs), including transaminitis, diarrhea/colitis, and pneumonitis.  These toxicities can be severe, and frequently lead to treatment discontinuation; moreover, these toxicities may arise only after pts have been on drug for several months.  Umbralisib (TGR-1202) is a next generation, once-daily, oral PI3Kδ/CK1ε inhibitor, that is active in pts with relapsed/refractory (R/R) lymphoid malignancies (Burris et al, 2018).  We previously have presented data suggesting that umbralisib has a favorable safety profile, though follow-up in the prior analysis was short, and the crucial information about the rate of late immune-mediated AEs with umbralisib was not available due to short follow-up.
Aims
We performed an integrated safety analysis focusing on key immune-mediated AEs with long term follow-up of pts on umbralisib.
Methods
Safety data were pooled from 5 completed or ongoing Phase 1 or 2 studies with umbralisib alone or in combination with other agents. All studies shared similar key eligibility criteria: pts had R/R lymphoid malignancies w/out limit to # of prior therapies. Umbralisib was dosed daily until PD or toxicity, while dosing of combination agents varied.
Results
A total of 347 pts were included in the analysis.  Patients received the following regimens:  umbralisib as monotherapy (146 pts) or umbralisib in combination with: the glycoengineered anti-CD20 mAb ublituximab ("U2", 98 pts), ibrutinib (32 pts), ublituximab + ibrutinib (38 pts), or ublituximab + bendamustine (33 pts).  Among the 347 pts, 34% had CLL/SLL, 33% DLBCL, 21% indolent NHL, and 12% other lymphomas.  Pts had a median 3 prior therapies. Median duration of exposure to umbralisib was 6.5 months, with the longest patient on daily umbralisib for 4+ years.  The most common all-grade non-hematologic toxicities were: diarrhea (44% All – 29% GR1, 11% GR2, 4% GR3), nausea (39% All – 25% GR1, 13% GR2, 1% GR3), and fatigue (35% All – 19% GR1, 14% GR2, 2% GR3).  The median time to onset for diarrhea events was early (32 days) and resolved in a median of 7 days.  All-grade hematologic toxicities included neutropenia (22%), anemia (20%), and thrombocytopenia (18%).  Grade 3/4 adverse events are described in Table 1. Key adverse events prevalent in prior generation PI3Kδ inhibitors were infrequent: transaminitis (8.6% All; G3/4 2.3%), colitis (1.4% All; G3/4 0.9%), and pneumonitis (1.4% All; G3/4 0.3%).  Discontinuations due to treatment related adverse events were rare at under 10% for all studies. A total of 167 pts treated with umbralisib for a minimum duration of 6 months were included in a sub-analysis of long term safety.  The median duration of exposure amongst these pts was 15.6 months (range 6.4 – 60.6 months).  A summary of AEs occurring after 6 months on therapy is presented in Table 2.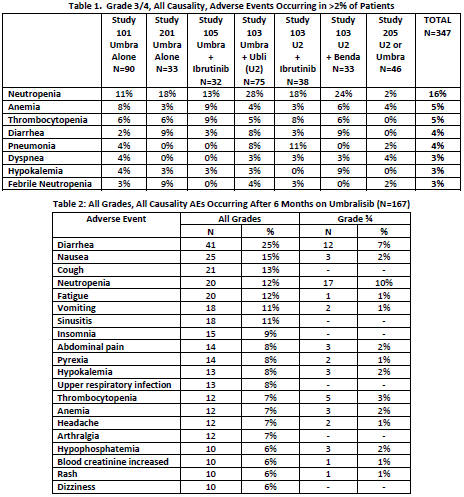 Conclusion
In this integrated analysis with long term follow-up, once-daily umbralisib exhibited a differentiated safety profile compared to prior generation PI3Kδ inhibitors.  In particular, late onset diarrhea or colitis commonly associated with first-generation PI3Kδ inhibitors was infrequent.  Umbralisib can be safely combined with a diverse array of other agents active in lymphoid malignancies, and is currently being studied in the global registration directed UNITY-CLL Phase 3 randomized trial (NCT02612311) and UNITY-NHL Phase 2b randomized trial (NCT02793583).
Session topic: 20. Indolent Non-Hodgkin lymphoma – Clinical