Abstract: PF439
Type: Poster Presentation
Presentation during EHA23: On Friday, June 15, 2018 from 17:30 - 19:00
Location: Poster area
Background
Relapsed/refractory indolent non-Hodgkin lymphoma (iNHL) is generally considered incurable at advanced stages. Patients refractory to their last prior treatment, including rituximab, have poor prognosis with limited treatment options. Combination immunotherapy lenalidomide with rituximab (R2) has shown promising efficacy and tolerability in multiple NHL studies. 
Aims
This report explores the association between rituximab-refractory baseline status and response to R2.
Methods
MAGNIFY (NCT01996865) is a phase IIIb, multicenter, open-label study of relapsed/refractory NHL patients, including follicular lymphoma (FL) grade 1-3a and marginal zone lymphoma (MZL). Upon informed consent, patients receive 12 cycles of R2 (lenalidomide 20 mg/d, d1-21/28 + standard rituximab). Patients with stable disease or better are randomized 1:1 to maintenance with R2 or rituximab alone for a total of 18 cycles. This analysis focuses on the initial period prior to randomization (12 cycles R2) comparing patients who were rituximab-refractory, defined as experiencing a best response of ≤ SD or ≥ PR lasting < 6 months following patient's last prior rituximab dose, or rituximab-sensitive prior to enrollment.
Results
As of May 1, 2017, 232 patients have been enrolled in the initial treatment period, including 186 patients with FL grade 1-3a and 46 patients with MZL (n=26 nodal MZL, n=10 each MALT lymphoma and splenic MZL). Overall, median age was 66 years (range, 35-91), 54% were male, most had ECOG PS 0-1 (96%) and stage III/IV disease at study entry (89%). Analyzed subgroups included 138 (59%) rituximab-sensitive and 94 (41%) rituximab-refractory patients. Baseline characteristics were generally similar for these subgroups, including a median number of 2 prior systemic therapies for both groups. Rituximab-sensitive and rituximab-refractory patients have been on the study for a median follow-up time of 11.2 and 12.3 months, respectively. In efficacy-evaluable patients, the overall response rates (ORR) in the rituximab-sensitive and rituximab-refractory groups were 75% and 58%, respectively (Table). Median time to response (mTTR) was 2.8 months (range, 2-12) for both groups. For rituximab-sensitive and rituximab-refractory groups, 1-year rates for progression-free survival (PFS; 95% CI) were 76% (67% - 83%) and 60% (50% - 68%), and for DOR were 82% (68% - 91%) and 73% (51% - 87%), respectively. The most common grade ≥ 3 treatment-emergent adverse events for rituximab-sensitive and rituximab-refractory patients, respectively, were neutropenia (29%; 40%), thrombocytopenia (8%; 8%), anemia (6%; 2%), and leukopenia (5%; 7%).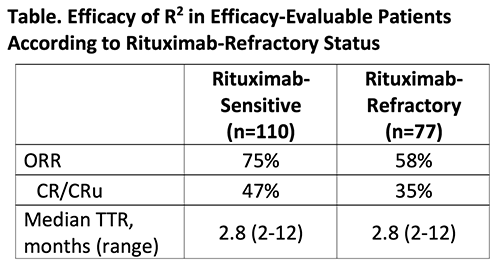 Conclusion
In patients with relapsed/refractory FL grade 1-3a and MZL, initial treatment with R2 showed clinically significant activity and tolerable safety profiles for patients, regardless of their prior response to a rituximab-containing regimen. Enrollment in MAGNIFY is ongoing in the USA and Europe.
Session topic: 20. Indolent Non-Hodgkin lymphoma – Clinical