Abstract: PF436
Type: Poster Presentation
Presentation during EHA23: On Friday, June 15, 2018 from 17:30 - 19:00
Location: Poster area
Background
In the randomised GALLIUM (NCT01332968) trial of 1202 previously untreated follicular lymphoma (FL) patients (pts), the primary endpoint of investigator (INV)-assessed progression-free survival (PFS) was significantly prolonged with obinutuzumab (GA101; G)-based vs rituximab (R)-based immunochemotherapy and maintenance (Marcus et al. NEJM 2017). Lymphoma metabolic activity by 18F-FDG PET-CT (PET) (Lugano 2014 criteria) showed complete metabolic response (CMR) at end of induction (EOI) to be prognostic for prolonged PFS and overall survival (Trotman et al. Haematologica 2017); minimal residual disease (MRD)-negative status in peripheral blood (PB) and/or bone marrow (BM) was prognostic for prolonged PFS (Pott et al. Blood 2016). MRD is a sensitive molecular measure of disease in PB and/or BM, and may add to PET prognostic information.
Aims
We assessed the relationship between EOI MRD and PET responses in GALLIUM and prognostic implications for PFS in previously untreated pts with FL.
Methods
Pts in GALLIUM received induction with G or R plus bendamustine, CHOP or CVP chemotherapy followed by maintenance with the same antibody in responders. PET scans were performed at baseline and EOI (6–8 weeks after Day 1 of the last cycle of induction) and assessed by an Independent Review Committee (IRC). PET images were assessed according to the Lugano 2014 criteria, with CMR defined as a score of 1, 2 or 3 on the 5-Point Scale. For MRD assessment, diagnostic PB and BM samples were screened by consensus PCR to detect a clonal t(14;18) translocation and/or Ig variable domain rearrangement. In pts with a detectable clonal marker, standardised allele- or translocation-specific real-time quantitative (RQ)-PCR assays with a sensitivity of ≤10-4 were performed and evaluated by European Study Group criteria (van der Velden et al. Leukemia 2007). MRD at EOI was defined as positive if RQ-PCR or subsequent qualitative nested PCR were positive in PB or BM.
Results
At baseline, 595/609 (98%) pts with PET scans had detectable lesions and 815/1101 (74%) pts with MRD evaluable samples had an MRD marker meeting the predefined quality criteria; 298 pts were evaluable for both measures at EOI. These pts were slightly younger, and had more advanced disease and fewer Asian pts than the non-evaluable intent-to-treat population (n=904). CMR was achieved by 266/298 evaluable pts (89%); 250 (94%) were MRD-negative. Median follow-up in the evaluable group was 44 months. In 250 CMR pts with MRD-negativity, 2.5-year PFS from EOI was 85% (95% CI: 80–89; Figure 1). In Cox proportional hazards modelling, this group had better INV-assessed PFS than the other groups: hazard ratio (HR)=0.39 (95% CI: 0.17–0.93; p=0.03) vs pts with CMR and MRD-positive response (n=16); and HR=0.39 (95% CI: 0.19–0.81; p=0.01) vs pts without CMR who were MRD-negative (n=24). Too few pts without CMR but with MRD-positive response (n=6) were available for Cox analysis. Results for IRC-assessed PFS were similar to those for INV-assessed PFS.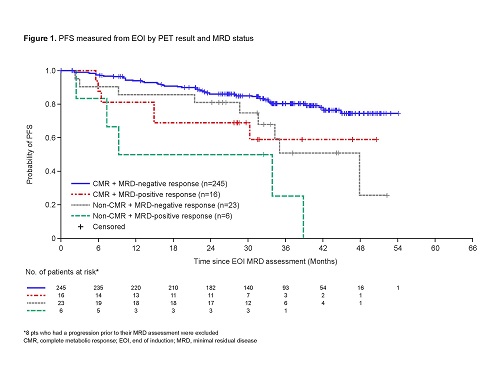 Conclusion
Most evaluable pts achieved CMR and MRD-negativity, with a minority progressing despite a favorable prognosis. Risk of progression or death in pts achieving only CMR or MRD-negativity was 2.5-fold greater than that in pts who achieved both, suggesting that EOI PET and MRD responses could provide complementary information. Further evaluation of quantitative PET indices and molecular markers, and of early progressors, may help to identify additional prognostic markers.
Session topic: 20. Indolent Non-Hodgkin lymphoma – Clinical

Keyword(s): Follicular lymphoma, Minimal residual disease (MRD), Obinutuzumab, PET