Abstract: PF356
Type: Poster Presentation
Presentation during EHA23: On Friday, June 15, 2018 from 17:30 - 19:00
Location: Poster area
Background

In the late 2014, ibrutinib was approved in the Netherlands for patients with relapsed/refractory chronic lymphocytic leukemia (CLL) and for CLL patients with p53 dysfunction in any line of therapy. At present, most of our knowledge on the effectiveness of ibrutinib arrive from compassionate-use programs (CUPs), which to a certain degree are associated with patient selection as in randomized clinical trials (RCTs). 
Aims

The aim of this nationwide, population-based study was to assess the effectiveness of ibrutinib in CLL patients in a post-approval setting in the Netherlands.
Methods

We identified all adult (≥18 years) CLL patients who were treated with ibrutinib in the Netherlands between January 1, 2015 and December 31, 2016 from Dutch Hospital Data. These patients were subsequently linked to the nationwide Netherlands Cancer Registry to allow for additional data collection on patient, disease, and treatment characteristics. The primary endpoint was progression-free survival (PFS; see Fig 1 for definition). The secondary endpoints included prescription pattern of ibrutinib according to the HOVON-endorsed indications (see Table 1 for indications) discontinuation rate, and overall survival (OS; see Fig 1 for definition). Multivariable logistic regression (MLR) and multivariable Cox regression (MCR) was used to assess covariates (listed in Table 1) associated with permanent ibrutinib discontinuation and outcome (i.e. PFS and OS), respectively. A P<0.05 indicates statistical significance.
Results

A total of 155 ibrutinib-treated CLL patients (median age, 70 years; range, 48-91 years) were included in this analysis, of whom 94% received ibrutinib as subsequent treatment and 55% according to the HOVON-endorsed indications. At ibrutinib initiation, the majority of patients were male (74%), had anemia (51%), had RAI stage ≥3 (67%), received ≥3 prior lines of therapy (62%), received ibrutinib within a non-university hospital (68%), and had ≥1 comorbidity (71%). Del(17p) and TP53 mutation was found in 27/86 (31%) and 10/16 (63%) tested patients, respectively. At a median follow-up of 12.0 months (range, 0.9-30.9), 47% of the patients were still on ibrutinib. The median PFS and OS was 18.2 months (95% confidence interval [CI], 11.6-not reached [NR]; Fig 1A) and NR (95% CI, 22.9-NR; Fig 1B). At 1-year, PFS and OS was 58% (95% CI, 50%>66%) and 76% (95% CI, 68%>82%), respectively. Of note, median PFS for patients with anemia was 14.3 months (95%CI, 7.3-21.5), as compared with NR (95%CI, 13.7-NR) for non-anemic patients (P=0.004). Furthermore, patients with anemia experienced more toxicity, as compared with non-anemic patients (57% vs. 38%%; P=0.021). MLR analysis showed that anemia was the sole covariate that was associated with permanent ibrutinib discontinuation (OR 2.33; 95% CI, 1.20-4.52; P=0.012). In the MCR analysis, anemia was associated with lower PFS (P=0.014) and OS (P=0.001; Table 1). Further, hepatosplenomegaly (P=0.033) and number of previous therapies (P=0.002) were associated with inferior OS (Table 1).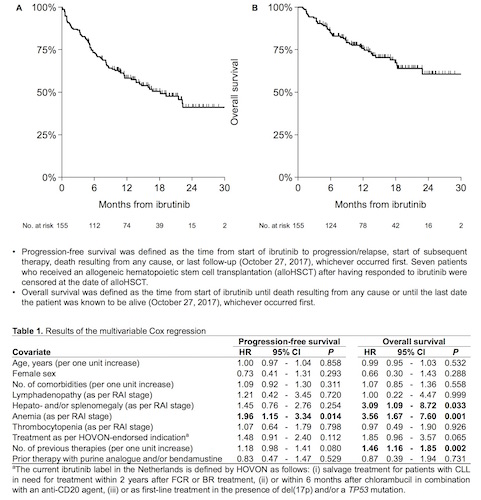 Conclusion

In this nationwide population-based study, we demonstrated that PFS among ibrutinib-treated CLL patients was substantially lower than reported in RCTs and CUPs. This might be explained by differences in patient characteristics and provision of care between patients treated in the real-world, as compared to those enrolled into RCTs and CUPs. The impact of anemia on ibrutinib discontinuation and outcome calls for confirmation in future RCTs and population-based studies.
Session topic: 6. Chronic lymphocytic leukemia and related disorders - Clinical