Abstract: PF247
Type: Poster Presentation
Presentation during EHA23: On Friday, June 15, 2018 from 17:30 - 19:00
Location: Poster area
Background

Acute promyelocytic leukemia (APL) represents a serious medical emergency associated with complications that may lead to early death (ED) if not promptly recognized and subsequently treated. Despite the widespread availability of all-trans retinoic acid since the late 1980s, data from the few available population-based studies demonstrated that ED rates in APL remain high. Prior studies in a wide range of diseases have demonstrated that hospital admissions on the weekend, as compared with weekdays, are associated with ED (also known as "the weekend effect"). However, the weekend effect has never been explored in APL at the population level.
Aims

In this nationwide, population-based study, we set out to assess the weekend effect in APL during a 27-year period in the Netherlands.
Methods

We selected all adult (≥18 years) APL patients diagnosed between 1989-2015 from the nationwide Netherlands Cancer Registry (NCR) with survival follow-up through February 1, 2017. The date of diagnosis was defined as the date of diagnostic bone marrow sampling. Patients were categorized into two age groups (18-60 and >60 years). The primary endpoint was the risk of death within 30 days after diagnosis (ie, ED). We used multivariable Cox regression to assess the risk of ED associated with weekend versus weekday diagnosis, adjusted for age, sex, year and hospital type of diagnosis, and receipt of anti-leukemic therapy. A P<0.05 indicated statistical significance.
Results

Our analytical cohort included 675 APL patients (median age 53 years; 36.6% age >60; 47.8% males), of whom 46 (6.8%) were diagnosed on weekends. No significant differences were noted in the aforementioned characteristics between patients diagnosed on weekends and those diagnosed on weekdays for the overall cohort and the two age groups (P for Fisher's exact test > 0.05 for all comparisons).
The rate (18.8% v 28.3%; P for Fisher's exact test = 0.123) and risk of ED (hazard ratio [HR], 2.59; 95% confidence interval [CI], 1.43-4.66; P=0.002) was higher for patients diagnosed on weekends (Fig 1A). Subgroup analysis by age group showed for patients aged 18-60 diagnosed on weekends that there were no significant differences in the rate (12.1 v 15.6; P=0.575) and risk of ED (HR, 1.99; 95% CI: 0.76-5.22; P=0.163; Fig 1B). However, for patients aged >60, the rate (30.0% v 57.1%; P for Fisher's exact test = 0.042) and risk of ED (HR, 3.42; 95% CI, 1.59-7.37; P=0.002) were significantly higher for those diagnosed on weekends (Fig 1C).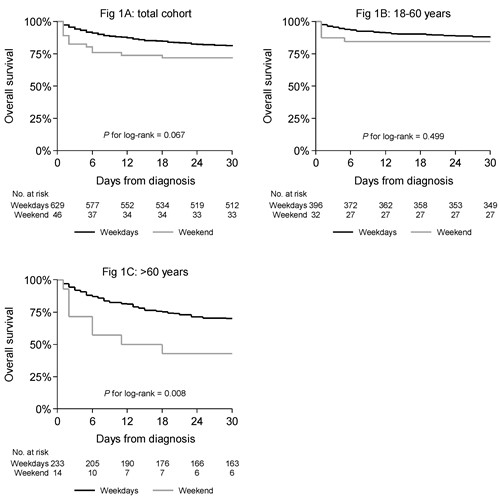 Conclusion
In this nationwide, population-based study, we demonstrated that higher ED was confined to elderly (aged >60) APL patients diagnosed on weekends. Delayed institution of therapy among elderly patients diagnosed on weekends might explain the weekend effect. However, assessment of time from diagnosis to therapy is only possible in the NCR for patients diagnosed from 2014 onwards. Although our analysis is somewhat limited by relatively small patients numbers, it generally remains of vital importance that medical providers should act promptly when APL is suspected—especially among elderly patients admitted on the weekends—which in turn may prevent ED. Future research should center on validating our population-based findings and effective education strategies to increase the level of vigilance among a broad range of medical providers regarding this diagnosis in a contemporary era with well-established APL management.
Session topic: 4. Acute myeloid leukemia - Clinical