Abstract: PF243
Type: Poster Presentation
Presentation during EHA23: On Friday, June 15, 2018 from 17:30 - 19:00
Location: Poster area
Background
Serial studies have shown the activity of alvocidib, followed by cytarabine and mitoxantrone, in newly diagnosed and relapsed/refractory (R/R) AML. Alvocidib's anti-leukemic pharmacologic activity appears to be predominantly due to the inhibition of transcriptional regulator, CDK9, resulting in suppression of CDK9-regulated genes, such as the BCL-2 family member, MCL-1. Retrospective correlative analyses showed that leukemic cells dependent on MCL-1 have heightened sensitivity to alvocidib-containing regimens.
Aims
To evaluate the efficacy and safety of alvocidib, in combination with cytarabine and mitoxantrone, in R/R AML patients (pts) dependent on MCL-1.
Methods
We are conducting a multicenter, international, open-label, phase II clinical study of alvocidib given as timed sequential therapy prior to cytarabine and mitoxantrone for adults with R/R AML.  The key eligibility criteria are: ages 18-65 years; refractory to 1-2 cycles of induction therapy, or in first relapse AML with complete remission (CR) duration <2 years; >40% myeloblast MCL-1 dependency determined by BH3 profiling; ECOG PS 0-2; and no major organ dysfunction. Pts who received prior allogeneic stem cell transplant (alloSCT) were not excluded. All pts gave appropriate informed consent prior to enrollment. Treatment consisted of alvocidib 30 mg/m2 as a 30-minute IV bolus followed by 60 mg/m2 over 4 hours on Days 1-3, cytarabine 667 mg/m2/day by continuous IV infusion days 6-8, and mitoxantrone 40 mg/m2 IV on day 9 starting 12 hours after completing cytarabine. Up to 3 additional cycles of the same regimen (with or without mitoxantrone) were permitted in responders. The primary endpoint is the rate of CR+CR with incomplete recovery (CRi). The null hypothesis that the CR rate = 50% will be tested against a one-sided alternative hypothesis = 70% CR rate, yielding a type 1 error rate and power = 5% and 80%, respectively. Stage I of this study was considered positive if > 13 CRs were seen in first 23 enrolled pts.  Key secondary endpoints are overall survival, event free survival, combined response rate and safety assessed by adverse events and laboratory results.
Results
A total of 17 pts have been enrolled to date (Table 1). The median MCL-1 dependency was 61% (range 41%>98%). The overall CR rate is 59% (n=10). Six out of eight (75%) pts with refractory (no response to induction therapy or CR1 duration <90 days) AML achieved an overall CR and 5 of these pts proceeded to an alloSCT.  The most common NCI CTCAE ≥Grade 3 treatment-emergent nonhematologic AEs noted in >1 pt in the safety population were hypophosphatemia (41%); tumor lysis syndrome (35%; 5-Grade 3 and 1-Grade 4); hypokalemia (29%); increased AST and diarrhea (23%); hyponatremia, sepsis and increased ALT (18%); acute kidney injury, syncope and hypoalbuminemia (12%).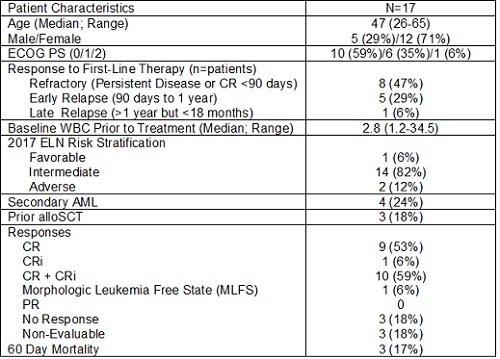 Conclusion
Alvocidib given as time sequential therapy prior to cytarabine and mitoxantrone in MCL-1 dependent AML has shown encouraging activity, with the majority of patients treated achieving CR. Future directions include a randomized phase 2 expansion comparing cytarabine and mitoxantrone with or without preceding timed sequential alvocidib, and a phase I study of alvocidib followed by 7+3 induction in newly diagnosed AML with prospective BH3 profiling assessed.
Session topic: 4. Acute myeloid leukemia - Clinical