Abstract: S827
Type: Oral Presentation
Presentation during EHA23: On Saturday, June 16, 2018 from 12:30 - 12:45
Location: Room A6
Background
While outcomes of pediatric T-ALL improved with the induction of multi-agent chemotherapy, event-free survival rates of 75% and long-term toxicity remain major problems of the current therapies. Thus, targeted treatments that specifically interfere with genetic subgroups are needed. As such, the R98S mutation in ribosomal protein L10 (RPL10 R98S) was identified in 8% of pediatric T-ALL cases.
Aims
Better delineation of the oncogenic role of RPL10 R98S in order to identify targeted therapies for RPL10 R98S positive T-ALL.
Methods
RPL10 R98S engineered Jurkat T-ALL cells, lineage negative (lin-) bone marrow (BM) cells from an RPL10 R98S knock-in mouse, and T-ALL PDX samples were used as models to study the effect of R98S on cell functions. Cell viability assays using PI exclusion or ATP measurements. Colony forming cell assays. Growth curves. Luciferase reporter assays. Treatment of  T-ALL PDX models.
Results

A previously published quantitative proteomics screen showed that the peroxisome, the cellular organelle in which b-oxidation of very long-chain fatty acids occurs, as well as associated metabolic pathways were upregulated in RPL10 R98S Ba/F3 cells. The observed increase in peroxisomal protein expression was confirmed in RPL10 R98S JURKAT cells, in lin- RPL10 R98S mouse BM cells, and in T-ALL PDX samples. Peroxisomal β-oxidation produces high levels of the reactive oxygen species (ROS) hydrogen peroxide (H2O2). All RPL10 R98S mutant cell models presented a 20-40% increase in ROS expression as compared to RPL10 WT cells, causing mitochondrial dysfunction and the hypoproliferation defect of RPL10 R98S cells. Elevated ROS levels are a known source of DNA damage and may induce genomic instability in RPL10 R98S leukemia patients.       
               Cells that encounter high ROS levels typically undergo programmed cell death, as observed in RPL10 WT cells. In contrast, RPL10 R98S cells showed enhanced survival phenotypes, especially under nutrient poor conditions. Proteomics data presented elevated levels of anti-apoptotic BCL-2 expression, which was confirmed by a 2-fold increased protein expression in all RPL10 R98S cell models, while other proteins regulating apoptosis were unchanged. BCL-2 has previously been shown to be regulated by stress-induced IRES-mediated translation. BCL-2 IRES reporter assays in Jurkat cells indicated that RPL10 R98S mutant ribosomes have an intrinsically higher capability to drive IRES-dependent BCL-2 translation, independent of oxidative stress.
               Elevated BCL-2 expression in RPL10 R98S cells may provide therapeutic opportunities, as BCL-2 inhibitors such as ABT-199/venetoclax are clinically used for other leukemias. We examined the efficacy of ABT-199 (50 mg/kg, once/week i.p.) on RPL10 WT and R98S mutant T-ALL PDX models.  ABT-199 treatment completely suppressed appearance of human leukemia cells in the blood, prevented the occurrence of splenomegaly, and decreased the bone marrow engraftment by 30-50% in RPL10 R98S xenografted T-ALL animals, while RPL10 WT T-ALL PDX in vivo responses were undetectable at most leukemic infiltration sites.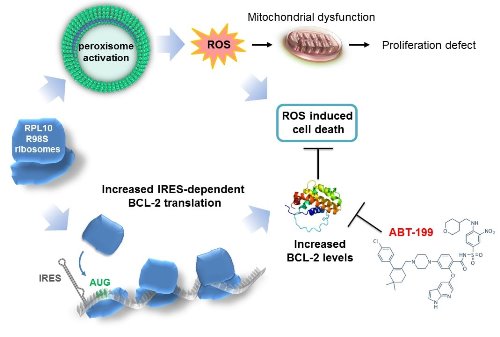 Conclusion
The RPL10 R98S mutation enhances peroxisomal β-oxidation, resulting in accumulation of ROS, mitochondrial dysfunction and cellular hypoproliferation. Selective preference of RPL10 R98S mutant ribosomes for IRES-dependent BCL-2 translation allows R98S cells to survive under high oxidative stress. Finally, we demonstrate that RPL10 R98S positive T-ALL samples represent a subgroup that is highly sensitive to BCL-2 inhibitor ABT-199. 
Session topic: 1. Acute lymphoblastic leukemia – Biology & Translational Research