Abstract: S115
Type: Oral Presentation
Presentation during EHA23: On Friday, June 15, 2018 from 11:30 - 11:45
Location: Room A4
Background
All-trans retinoic acid (ATRA) and arsenic trioxide (ATO) combination therapy has been recently established as the new standard of care for non-high risk acute promyelocytic leukemia (APL). The Italian-German randomized trial APL0406 has first shown that this chemotherapy-free approach is at least not inferior to the ATRA and chemotherapy-based regimen. In addition to significantly improving EFS, OS and CIR rates, ATRA-ATO resulted in considerably reduced hematologic toxicity as compared to ATRA-chemotherapy, while ATO-specific side effects were frequent but manageable. 
Aims
We hereby provide a very long-term outcome update (median f.up 66.4 months) on the 276 patients enrolled in APL0406 trial. 
Methods
The APL0406 study was a prospective, randomized, multicenter, phase III non-inferiority trial designed by the Italian cooperative group GIMEMA and joined by German groups AMLSG and SAL. Enrolment started in Oct 2007 and was completed in Jan 2013. The present analysis has been performed in February 2018 and data were analyzed following an intent-to-treat principle. The primary objective of the study was EFS. The study enrolled patients aged 18-70 years with newly diagnosed, genetically proven low-intermediate risk APL. Survival distributions were estimated using the Kaplan-Meier method, while cumulative incidence of relapse (CIR) was calculated using the proper nonparametric method. Differences in terms of OS, EFS, and disease-free survival (DFS) were evaluated using the log-rank test. The Gray test was applied to compare cumulative incidence curves. All tests were two-sided.
Results
With a median follow-up of 66.4 months (range: 0.9-116.7), the EFS rate at 72 months for the 263 evaluable patients in the intention-to-treat analysis was 96.6% (95%CI: 93.4-99.9) in the ATRA-ATO group and 77.4% (95%CI: 70.2-85.4) in the ATRA-chemotherapy group (p<0.0001). The total number of events was 28 in the ATRA–chemotherapy (17 relapses, 4 induction deaths, 2 molecular resistant cases and 5 deaths in CR) as compared to the 23 published in the previous report (Platzbecker et al., JCO 2016). By contrast, no further events were recorded in the ATRA-ATO group in the present update in addition to the previously reported ones (2 relapses and 2 deaths in CR). Two cases of therapy-related myeloid neoplasms occured in the ATRA-chemotherapy group, while no cases of secondary malignancies were reported in the ATRA-ATO cohort. DFS rate in the ATRA-ATO group was 96.6% (95%CI: 93.4-99.9) and 79.8% (95%CI: 72.7-87.6) in the ATRA-chemotherapy group (p<0.0001) and CIR was 1.7 (95% CI: 0.0-4.0) and 15.5% (95% CI: 9.0-22.0) in the ATRA-ATO and in the ATRA-chemotherapy groups, respectively (p=0.00015). Finally, the OS rate at 72 months was 98.3% (95% CI: 96.0-100.0) and 89.8% (95% CI, 84.3-95.7) in the respective groups (P=0.0040). Survival outcomes are reported in Figure 1.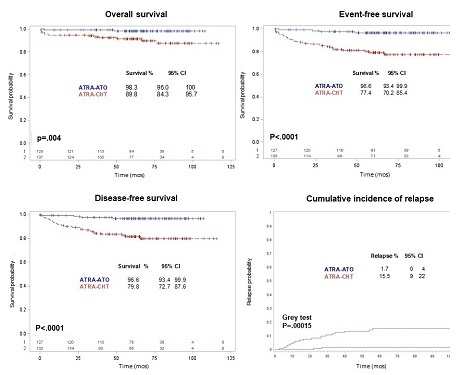 Conclusion
This updated analysis of the APL0406 study establishes also in the very long-term the advantage of ATRA-ATO over ATRA-CHT with respect to both efficacy and safety.
Session topic: 4. Acute myeloid leukemia - Clinical

Keyword(s): Acute Promyelocytic Leukemia, ALL-trans retinoic acid (ATRA), Arsenic trioxide