Abstract: S1565
Type: Oral Presentation
Presentation during EHA23: On Sunday, June 17, 2018 from 08:00 - 08:15
Location: Room K1
Background
Tisagenlecleucel, anti-CD19 CAR T-cell therapy, produces high response rates with manageable safety in pediatric r/r B-cell ALL. However, limited data indicate that adult patients (pts) with ALL are at higher risk of adverse events (AEs), including cytokine release syndrome (CRS).
Aims
Characterize the safety and efficacy of young adult (YA) pts (≥18 y) with B-cell ALL treated with tisagenlecleucel in the ELIANA (N = 75 [NCT02435849]) and ENSIGN (N = 29 [NCT02228096]) trials.
Methods
84 pts were <18 y and 20 were 18-25 y. Endpoints include overall remission rate (ORR) (complete remission [CR] + CR with incomplete blood count recovery [CRi]), minimal residual disease (MRD)–negative response, duration of response (DOR), overall survival (OS), and safety.
Results
Both cohorts had a median of 3 prior lines of therapy; rates of prior stem cell transplant (55% in YA; 62% in <18 y) were similar. At the time of enrollment, median (range) bone marrow blasts in YA pts was 84% (12%-98%) and 73% (5%-99%) in pts <18 y. Median age (range) at infusion was 20 y (18-25) in YA pts and 10 y (3-17) in pts <18 y. Median dose was 3.2x106 CAR-positive viable T-cells/kg (range, 0.2-5.4x106 cells/kg)
ORR (95% CI) was 70% (46%-88%; 14/20 pts) in YA pts vs 80% (70%-88%; 67/84 pts) in pts <18 y. In the YA cohort, 13 of 14 responses were MRD negative, as were 66 of 67 in the <18 y cohort. Median DOR was not reached in either group. Relapse-free survival rates at months 6 and 12 were 83% and 52%, respectively, in YA pts and 75% and 60% in pts <18 y. OS rates at months 6 and 12 were 74% and 57%, respectively, in YA pts and 89% and 76% in pts <18 y.
8 YA pts (40%) died after infusion (all >30 d): 5 from ALL, 1 infection (systemic mycosis), 1 hepatobiliary disease, and 1 unknown (consent withdrawn). 21 pts (25%) <18 y died after infusion: 17 from ALL (2 ≤ 30 d), 2 infections (1 HHV-6 encephalitis, 1 lower respiratory infection), 1 cerebral hemorrhage (≤30 d), and 1 septic embolic stroke (≤30 d). The rate of grade 3/4 AEs within 8 weeks of infusion in YA pts was 90% vs 81% in pts <18 y; the rate of grade 3/4 AEs >8 weeks after infusion in YA pts was 41% vs 46% in pts <18 y. The rate of any-grade CRS was 90% in YA pts vs 79% in pts <18 y; rates of grade ≥3 CRS were similar (45% vs 44%). Median time to CRS onset was 3 d in both cohorts; median duration was 9 d in YA pts vs 8 d in pts <18 y. In pts with CRS, rates of intubation and dialysis were 28% and 22%, respectively, in YA pts vs 17% and 11% in pts <18 y. 44% of YA pts were admitted to the intensive care unit (ICU) vs 59% of pts <18 y; median duration (range) of ICU stay in YA pts was 16 d (3-27 d) vs 7 d (1-34 d) in pts <18 y. Of YA pts with CRS, 39% received anti-cytokine therapy, 17% received up to 3 doses of tocilizumab, and 28% received corticosteroids vs 42%, 5%, and 21%, respectively, in pts <18 y. Infection concurrent with CRS occurred in 33% of YA vs 18% of pts <18 y; no CRS-related fatalities or cerebral edema occurred in either cohort. Other grade ≥3 AEs of special interest included neurological events (YA, 15%; <18 y, 10%), prolonged cytopenias (30%; 29%), infections (35%; 16%), febrile neutropenia (20%; 38%), and tumor lysis syndrome (5%; 2%).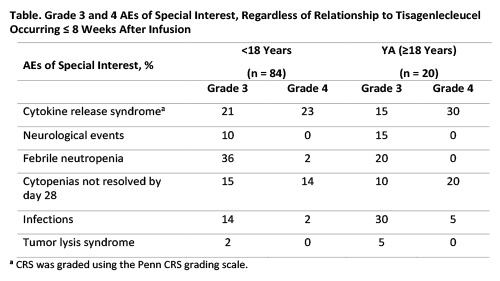 Conclusion
Although sample size is small, tisagenlecleucel appears to induce high rate of durable responses in YA pts, with a safety and efficacy profile consistent with that in pts <18 y. No fatality related to CRS and no cerebral edema were reported. Tisagenlecleucel offers a potential new option for young adult pts with r/r B-ALL.
Session topic: 2. Acute lymphoblastic leukemia - Clinical