Abstract: S895
Type: Oral Presentation
Presentation during EHA23: On Saturday, June 16, 2018 from 17:00 - 17:15
Location: Room A13
Background
PTG-300, an injectable peptide hepcidin mimetic, is being developed as a potential therapeutic agent for the treatment of hematologic diseases characterized by ineffective erythropoiesis, chronic anemia and iron overload including beta-thalassemia and myelodysplastic syndromes (MDS). PTG-300 improved anemia in a mouse model of beta-thalassemia and was well-tolerated in non-clinical studies.
Aims
A first-in-human (FIH) study of subcutaneous (sc) PTG-300 was conducted in normal healthy volunteers (NHV) to evaluate the safety/ tolerability, pharmacokinetics (PK) and the effect on serum iron parameters.
Methods
This was a randomized, double-blind, placebo-controlled single-ascending (SD) and repeat (RD) dose study of PTG-300 in 62 healthy male subjects. Eligible subjects had no recent history of oral iron, transfusion or blood donation and had normal baseline hematologic parameters. Informed consent was obtained and subjects randomized to cohorts of 10 subjects (single doses 1 to 40 mg, active: placebo 8:2) or 6 subjects (80 mg SD or 40 mg weekly x 2; 5:1). Subjects consumed a standard diet throughout the study. PTG-300 was given as a single dose (1 mL sc) over 1-80 mg dose range or placebo. Subjects were followed for one week after dosing.  In the RD cohort, two 40 mg doses were administered one week apart to further assess exposure-response. Blood sampling (iron studies, hematology and clinical chemistry), clinical observations and adverse event (AE) assessments were performed at frequent intervals after dosing.
Results
PTG-300 induced a dose-related reduction in serum iron with a maximum mean reduction of approximately 60% from baseline. The effect on iron appeared to plateau at a dose of 20 mg and was sustained for at least 72 h at higher doses. Recovery to pre-dose concentrations occurred at 144 h for the 20 mg dose while the 40 and 80 mg dose groups had not completely returned to baseline at this time point (see Figure).
Changes in serum iron were associated with a reduction in transferrin saturation; no changes in hematologic indices were observed in SD cohorts. In the RD cohort, the effects on iron were comparable for both administered doses. A small reduction in mean hemoglobin and a reticulocytosis were observed at 480 h, consistent with the return of available iron following PTG-300-induced iron restriction in subjects undergoing repeat blood sampling.
PTG-300 was generally well-tolerated with no dose-limiting toxicities or serious AEs. The most frequent AEs were injection site reactions (ISRs), consisting mainly of transient erythema without systemic effects, headache and URIs.
The maximum concentration in peripheral blood samples was observed up to 24 h after dosing. The decay in PTG-300 followed a simple exponential pattern, with AUC and Cmax increasing with dose; however, the increases were less than proportional to dose. Mean t1/2 was 36.5 h (SD 17.6, n=24) for the 10-40 mg dose range.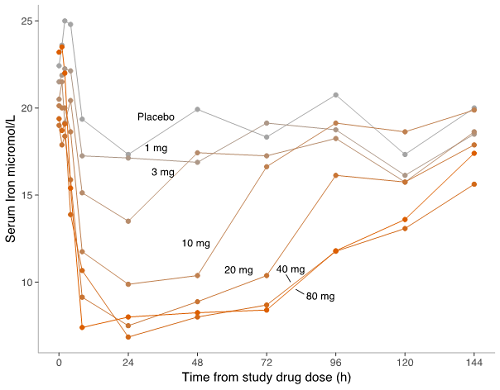 Conclusion
PTG-300 was well-tolerated following single and repeat dose sc injection in NHV and demonstrated marked and sustained dose-related effects on iron distribution consistent with known activities of hepcidin and pre-clinical studies of PTG-300. This FIH study establishes PD-based proof of concept and provides a range of doses that could be evaluated in the treatment of iron-loading anemias, such as beta-thalassemia and MDS.
Session topic: 30. Iron metabolism, deficiency and overload