Abstract: S852
Type: Oral Presentation
Presentation during EHA23: On Saturday, June 16, 2018 from 16:00 - 16:15
Location: Victoria Hall
Background
Waldenström's macroglobulinemia (WM) is an incurable B-cell lymphoma with several treatment choices, however, there have been few randomized trials to help identify treatment standards. Single-agent ibrutinib is highly active in relapsed WM with reported PFS rates of 86% (at 18 mo) and 69% (at 24 mo) (Dimopoulos, Lancet Oncol. 2017; Treon, NEJM 2015) and is approved in the United States and Europe for WM. 
Aims
To report the safety and efficacy of ibrutinib-rituximab (IR) vs placebo-rituximab (R) at a preplanned interim analysis in treatment naïve and relapsed patients who were not refractory to prior rituximab-containing therapies.
Methods
Patients with confirmed WM and symptomatic disease requiring treatment were randomized to daily ibrutinib (420 mg) or placebo, both with rituximab (375 mg/m2/wk IV for infusions at wks 1-4 and 17-20). Patients previously treated with a rituximab-based regimen were required to have a response (≥MR) to the last rituximab therapy. The primary endpoint was progression-free survival (PFS) as assessed by an independent review committee (IRC). We also report response rates, sustained improvement in hemoglobin levels, time to next treatment (TTnT), overall survival (OS), and safety. All patients provided written informed consent.
Results
For 150 randomized patients, median age was 69 y, 38% had a high IPSSWM risk score, and 45% were treatment-naïve. Of 136 patients with available mutation data, MYD88L265P and CXCR4WHIM mutations were identified by target exome sequencing assay in 85% and 36%, respectively. At a median follow-up of 26.5 mo, IR significantly prolonged PFS compared with R representing a five-fold reduction in the risk of progression or death (median PFS, not reached vs 20 mo; hazard ratio [HR], 0.20; 95% CI: 0.11-0.38, P <0.0001; Figure 1). The 30-mo PFS rates were 82% vs 28% in each arm. Improvements in PFS were consistently reported in all relevant subgroups, including treatment-naïve (HR, 0.34; 95% CI: 0.12-0.95), relapsed (HR, 0.17; 95% CI: 0.08-0.36), MYD88L265P/CXCR4WT (HR, 0.17; 95% CI: 0.06-0.49), MYD88L265P/CXCR4WHIM (HR, 0.24; 95% CI: 0.09-0.66), and MYD88WT/CXCR4WT (HR, 0.21; 95% CI: 0.04-1.1). Overall (≥MR) and major (≥PR) response rates were significantly higher for IR vs R, 92% vs 47% (P <0.0001) and 72% vs 32% (P <0.0001), respectively. Improvements in hemoglobin were observed in 73% vs 41% of IR and R patients (P <0.0001). At the time of this analysis, 75% of IR patients continued on treatment. Median TTnT was not reached for IR and 18 mo for R (HR, 0.096; P <0.0001). The 30-mo OS rates were 94% vs 92% in the 2 arms. With a median time on treatment of 25.8 mo for IR, grade ≥3 treatment-emergent adverse events (AEs) occurred in 60% vs 61% of patients on on IR vs R. Serious AEs occurred in 43% vs 33% of patients on each arm. No fatal AEs occurred with IR vs 3 with R. Meaningful reductions in any grade IgM flare (8% vs 47%) and grade ≥3 infusion reactions (1% vs 16%) were observed with IR vs R.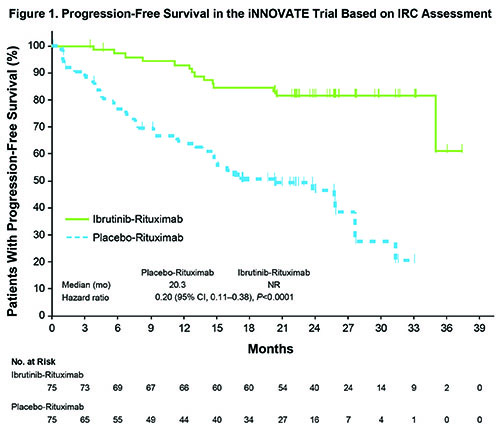 Conclusion
The efficacy of the ibrutinib-rituximab combination was superior to that of placebo-rituximab,  producing improvements in PFS for all WM patients regardless of prognostic or genotypic factors. The IR combination had a manageable toxicity profile and no new or unexpected AEs were observed. Based on these results, IR should be considered a standard therapeutic option for patients with WM.
Session topic: 20. Indolent Non-Hodgkin lymphoma – Clinical