Abstract: S140
Type: Oral Presentation
Presentation during EHA23: On Friday, June 15, 2018 from 11:45 - 12:00
Location: Room A9
Background
The use of antiplatelet (AP) drugs in thrombocytopenic (TCP) cancer patients is not uncommon. Balancing the increased risks of arterial thrombosis and bleeding is complex and informed only by retrospective studies on aspirin in acute coronary syndrome. Choice experiments can provide insight into management, in the absence of patient data.
Aims
(1) Identify patient and physician characteristics associated with AP drug management in TCP patients with hematological malignancies; (2) Evaluate whether physician assessments of bleeding risk (bl_risk) and thrombotic risk (thr_risk) correlate with AP drug management.
Methods

We designed a clinical vignette-based choice experiment. First, 11 Israeli/Dutch hematologists were interviewed, identifying 5 relevant attributes (i.e. malignancy & treatment type, platelet level, AP drug indication, time-since-indication, gastrointestinal bleeding) with 2-3 levels each. The case constants were: 50 year old male with normal renal function and coagulation tests. Second, an algorithm was used to create a fractional factorial design using these variables, generating 18 unique case vignettes each comprised of all 5 attributes, but different combinations of levels. The survey was piloted in Italy and distributed in Israel, Italy and the Netherlands (N=886). Each physician received 3 vignettes and was asked to assess bl_risk & thr_risk (scale: 1-10), and AP drug management (i.e. hold; no change; transfuse platelets; modify). Third, for analysis, management was split into 3 consecutive steps (I, II, III), each with a choice between 2 options (Figure 1). At each step, multivariate mixed-effects binomial logistic regression was used to calculate odds ratios (OR) and 95% confidence intervals (CI) of using one management option (over the other), for each physician/patient variable in comparison to a reference level within that attribute group. This was also done using thr_risk/bl_risk as independent variables.
Results
145 hematologists or thrombosis/transfusion specialists, mainly from Italy (48), Israel (46) and the Netherlands (44), responded to 434 cases. Figure 1 schematically depicts variables with statistically significant higher odds of choosing one management strategy over the other, compared to the reference variable. For instance, cases with platelet counts of 20,000/µL were 3.45 times more likely to have AP drugs held over not holding, than cases with platelet counts of 40,000/µL [OR for not holding, 0.29 (95% CI, 0.12-0.70)].
Stepwise: (I) continuing AP drugs (vs. holding) was associated with increasing thr_risk (p<0.0001) and decreasing bl_risk (p<0.0001); (II) modifying AP drugs or transfusing platelets (vs. neither) correlated with rising bl_risk (p<0.0001); (III) transfusing platelets without modifying AP drugs (vs. modifying) was associated with increasing thr_risk (p<0.05) and decreasing bl_risk (p<0.005). There was virtually no variance between physicians and countries in how risk assessment affected management (data not shown).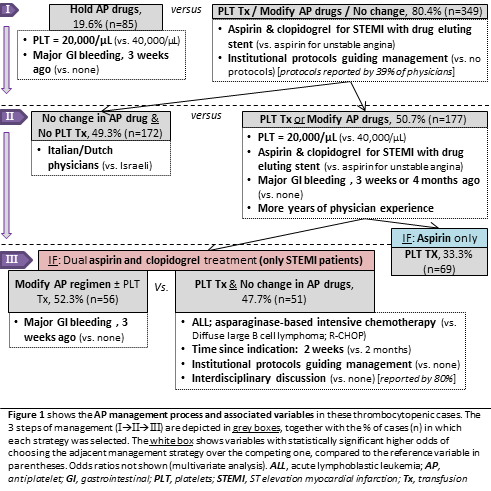 Conclusion

Physician-assessed bleeding and thrombotic risk consistently and logically influence all levels of management, with surprisingly little variance between physicians. The decision process is complex and affected by physician characteristics as well as a large number of patient variables. Platelet transfusions were frequently chosen to support continuing AP drugs, although no evidence supports this practice. The factors identified in this analysis should be considered when planning prospective management studies in this population.
Session topic: 34. Bleeding disorders (congenital and acquired)