Abstract: S802
Type: Oral Presentation
Presentation during EHA23: On Saturday, June 16, 2018 from 12:15 - 12:30
Location: Room A1
Background
Pola is an antibody-drug conjugate targeting CD79b+ cells in B-NHL. Early results led to FDA breakthrough therapy status and EMA PRIME designation. We now report combined results for safety and efficacy from the randomized r/r FL and DLBCL cohorts of a phase 1b/2 study (ClinicalTrials.gov NCT02257567).
Aims
The primary objective is complete response rate by PET scan (PET-CR) 6-8 weeks after end of treatment by independent review committee (IRC) using modified Lugano criteria (PET-CR required PET score 1-3 and negative bone marrow if positive at screening).
Methods
After informed consent was obtained, 80 FL and 80 DLBCL transplant-ineligible patients (pts) were randomized 1:1 to pola 1.8 mg/kg + BR (B: 90mg/m2 x 2 days; R: 375mg/m2) or BR for 6 cycles (q28 days FL, q21 days DLBCL). Pts were stratified by duration of response to last treatment ≤12 mo or >12 mo. FL pts were also stratified by high vs low disease burden.
Results
For FL pts (pola+BR vs BR), median age was 65 vs 63 years, both arms had median 2 prior therapies, 41% vs 42% were refractory to last therapy, and 64% vs 37% had FLIPI 3–5. As of 24 Oct 17, median follow up was 15 months. DLBCL characteristics and follow up were previously described (Sehn, ASH 2017). Safety: The most common grade 3–5 adverse events (AEs) that were higher in pola+BR vs BR in both FL and DLBCL were cytopenias, febrile neutropenia, and infections. Serious AEs higher in pola+BR vs BR were febrile neutropenia (FL, DLBCL) and infection (FL).  Grade 5 AE rates were similar between treatment arms per histology: 5% (FL) and 18% (DLBCL). Efficacy: PET-CR by IRC and progression-free survival (PFS) by investigator (INV) were similar between FL arms (Figure A). In DLBCL, pola+BR showed significantly higher IRC-PET-CR rates (p=0.012) and longer median (m) INV-PFS (p<0.0001) and overall survival (mOS; p=0.0008) (Figure A,B,C). Also in DLBCL, longer PFS and OS were seen for pola+BR in 2nd-line (2L), 3rd-line plus (3L+), relapsed, and refractory pts. mPFS (pola+BR vs BR in months): 2L (11.1 vs 3.7), 3L+ (6.0 vs 2.0), relapsed (11.1 vs 5.1), refractory (6.0 vs 1.9). mOS: 2L (not reached [NR] vs 5.9), 3L+ (11.5 vs 3.8), relapsed (NR, NR), refractory (11.5 vs 3.8).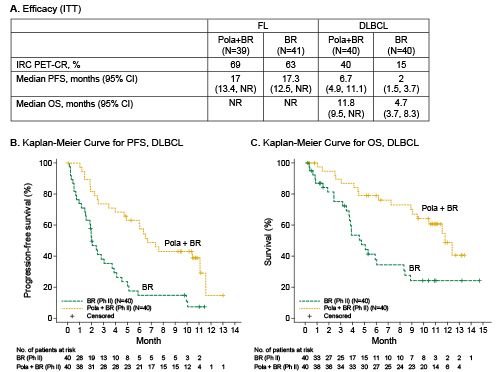 Conclusion
The toxicity of pola+BR was manageable and as expected. In FL, pola+BR showed similar PET-CR rate compared to BR. Time-to-event endpoints are immature at this time due to low event rate.  In contrast, in DLBCL, pola+BR led to significantly higher PET-CR rate and notably longer PFS and OS compared to BR regardless of prior treatment status.
Session topic: 21. Aggressive Non-Hodgkin lymphoma - Clinical