Abstract: PB1813
Type: Publication Only
Background
Myeloproliferative neoplasms (MPN) include on the one hand chronic myeloid leukemia defined by the presence of Philadelphia chromosome and BCR-ABL remodeling, and on the other hand MPNs without Philadelphia chromosome (Polycythemia vera [PV], essential thombocythemia [ET] and primary myelofibrosis [PMF]). V617F JAK2 mutation is the main recurring genetic abnormality in these pathologies (1).
It can be found in 95% of PV and 50% of ET and PMF (2). The 2016 WHO classification makes no proposal of an entity which would include BCR-ABL + and V617F JAK2 + CML. However 28 of those cases were described in a 2013 literature review (9). Most patients developed either a V617F JAK2 mutation during treatment by tyrosine kinase for a BCR-ABL + CML; or a BCR-ABL + CML during treatment for a V617F JAK2 + MPN (3,4,5,6,7). A very small number of patients showed coexistence of those two mutations (8).
Aims
We report a 62y old woman patient with chronic myeloid leukemia with late discovery of JAK2
Methods
Clinical presentation:
A 62-year-old man with no notable medical history was admitted in 2009 for CML.
After failure of a first line treatment by Imatinib in 2009 (poor tolerance and incomplete molecular response), treatment by Nilotinib was initiated in 2012 allowing for, to this day, good molecular response despite poor digestive tolerance in the form of dyspepsia.
Ever since 2012, the patient has had thrombocythemia (platelets: 826 G/L) followed then by polycythemia (Hb: 16.7–19 g/dL) that were first attributed to hemoconcentration and inflammation due to recurring bacterial urinary tract infections. Neither infiltration of the lymph nodes nor organomegaly had been noted.
In 2014, the patient complained of abundant sweating in the absence of any fever and, despite the ongoing complete molecular response, hyperleukocytosis was observed (see figure 1).
In 2015 the patient, then aged 68, signaled weight loss of 10 kg despite decent overall state of health. Tomodensitometry found evidence of hepatosplenomegaly. Taking into account the symptoms and persisting blood count abnormalities (WBC 27.7 G/L, Hb 182 g/L, Platelets 479 G/L, Neutrophils 22.4 G/L, erythromyelemia) a second MPN was suspected. V617F JAK2 mutation was found positive and treatment by Hydrea for essential thrombocythemia was initiated. Adaptation of Nilotinib posology was decided to avoid possible cytopenia due to its association with Hydrea.
Results
Evolution (see figure 2)
As of the last follow-up consultation in 2017, BCR-ABL remains undetectable and the overall state of health was preserved. Hyperleukocytosis as well as myelemia were persistent on the blood count whereas hemoglobin and platelets had normalized.
To determine whether or not V617F JAK2 mutation was present at the time of CML diagnosis, a 2009 sample, in which JAK2 V617F had been estimated at less than 1%, was reanalyzed by means of molecular biology in January 2017.
This exam found the mutation in quantities below the clinical significance threshold (1%). But this positivity, however small (0.19%), shows preexistence of the pathological clone.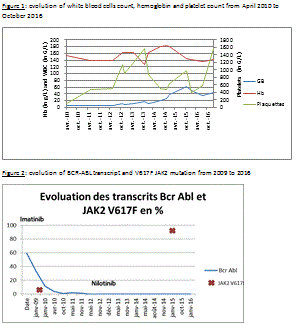 Conclusion
Conclusion
This patient's case can be integrated in the series of cases described in 2013 by Park et al. (9) as it consists of V617F JAK2 positive ET onset during treatment for a BCR-ABL positive CML.
The physiopathology of those two pathologies has not yet been genetically determined (8). Are those two independent pathologies or do they share a common tumoral clone?
In this case JAK2 and BCR-ABL evolved in negative correlation and as such it is surmised that there were in fact two independent diseases, with two preexisting pathological clones at the time of the first diagnosis, treatment of the first pathology having been responsible for the proliferation of the second clone.
Session topic: 7. Chronic myeloid leukemia - Biology