Abstract: P608
Type: Poster Presentation
Presentation during EHA22: On Saturday, June 24, 2017 from 17:30 - 19:00
Location: Poster area (Hall 7)
Background
Primary goal of management in chronic myeloid leukemia (CML) is to prevent disease progression to blast phase CML (BP-CML).  Current notion for management of BP-CML usually involves initiation of intensive chemotherapy regimen with addition of tyrosine kinase inhibitor (TKI).  Despite treatment with intensive induction chemotherapy, outcome remains dismal.  
Aims
We aimed to describe our experience with management of BP-CML and its outcome.
Methods
We included 58 patients from Moffitt Cancer Center from 2001 till 2016 with diagnosis of BP-CML and performed a retrospective chart review.  Data elements including age, gender, peripheral blood and bone marrow parameters, phase of CML, treatment, cytogenetics and vital status were collected. Survival analysis using Kaplan-Meier method with log-rank test to determine significance by calculating two-sided p values was performed.
Results
The overall survival (OS) of our cohort was 31.87 months (mo).  For patients with progression to BP-CML from previously known diagnosis of CML, median time to progression was 19.1 mo (range:  3.0-221.2 mo).  The median OS from the diagnosis of BP-CML in this cohort was 10.8 mo, compared to de novo CML-BP cohort OS of 11.03 mo (p value = 0.62).  Myeloid blast phase CML had worse OS compared to lymphoid blast phase cohort but was not statistically significant (9.17 vs. 17.5 mo, p = 0.32). 
We further compared the treatment strategies of BP-CML including single agent TKI (n=21) and conventional chemotherapy regimens in combination with a TKI (n=36).  The median OS of the cohort with single agent TKI was not statistically different from the combination with chemotherapy arm (12.83 mo vs. 10.87 mo, p=0.73) as shown in Figure 1A.  Additionally, combination of chemotherapy with TKI compared to single agent TKI did not have significant survival impact in either myeloid (9.17 vs. 9.13 months, p=0.32) or lymphoid (14.47 vs. 18.27 mo, p=0.24) BP-CML.  Total of 26 patients (44.8%) proceeded to allogeneic bone marrow transplant, 26%  (n=6) of which only received TKI prior to transplant compared to 76.9% (n=20) who received chemotherapy in combination with TKI. 
Use of single agent TKI rather than TKI in combination with chemotherapy prior to allogeneic transplant had a trend toward improved OS (128.5 vs. 24 mo, p=0.23) (Fig 1B).  Choice of TKI in combination with chemotherapy in treatment of BP-CML also did not identify any TKI combination resulting in superior survival (Figure 1D).  Overall survival of the cohort stratified by presence of standard Philadelphia chromosome in comparison to additional cytogenetic aberrations did not detect difference in overall survival (10.87 vs. 12.1 mo, p = 0.51).  Further evaluation of cytogenetic aberrations revealed monosomy 7 to be present in greater frequency in lymphoid blast phase compared to myeloid blast phase (35.71% vs. 6.25%, p = 0.02).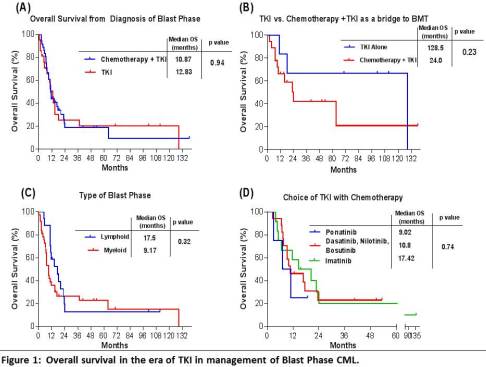 Conclusion
Our data suggest no survival difference when BP-CML is treated with a single agent TKI compared to a combination therapy, regardless of histology type. Therefore, single agent TKIs should be considered as an effective frontline therapy option for BP-CML, which may prevent the potential toxicity associated with chemotherapy. These findings need further validation in a larger prospective cohort.
Session topic: 8. Chronic myeloid leukemia - Clinical