Abstract: P603
Type: Poster Presentation
Presentation during EHA22: On Saturday, June 24, 2017 from 17:30 - 19:00
Location: Poster area (Hall 7)
Background
Ponatinib is an oral tyrosine kinase inhibitor (TKI) approved for pts with CP-CML or Philadelphia chromosome–positive acute lymphoblastic leukemia (Ph+ ALL) for whom no other TKI therapy is indicated, or for pts with T315I. The ponatinib PACE trial (NCT01207440) enrolled pts with CML or Ph+ ALL resistant/intolerant to dasatinib or nilotinib, or with T315I. Long-term results in these heavily pretreated pts provide value in informing treatment decisions.
Aims
To report 5-yr efficacy and safety, and the association of early landmark responses with survival outcomes at 4 yrs past landmark, in heavily pretreated pts with CP-CML from PACE.
Methods
Ponatinib starting dose was 45 mg/day. Dose reductions were instructed in Oct '13 to manage risk of arterial occlusive events (AOEs) observed with longer follow-up. Outcome measures were: 5-yr efficacy (n=267) and safety (n=270); post hoc landmark analysis (n=267) of the association of molecular responses (BCR-ABLIS ≤0.1% [major molecular response (MMR)], >0.1–1%, >1%–10% and >10%) and cytogenetic responses (major [MCyR] and complete [CCyR]) at 3-, 6- and 12-mos with progression-free survival (PFS) and overall survival (OS) 4 yrs past landmark (log-rank P values). Data cutoff: 3 Oct '16.
Results
Baseline characteristics of the CP-CML pts included: median time from diagnosis, 7 yrs (range, 0.5–27 yrs); median age, 60 yrs (18–94 yrs); median %Ph+, 100% (2.5–100%); ≤10% Ph+, 20 pts (7%); 60% of CP-CML pts received ≥3 prior TKIs. At initiation of study closure, 99 pts (37%) were ongoing; among these pts, minimum follow-up was 52 mos, and most (78%) had 15 mg/d as their last ponatinib dose. In efficacy-evaluable CP-CML pts, cumulative response rates as of the data cutoff were: MCyR, 60%; CCyR, 54%; MMR, 40%; and MR4.5, 24%.  Among pts who achieved MCyR (n=148) or MMR (n=108), the Kaplan-Meier (KM) estimated probability of remaining in response at 5 yrs was 74% (95% CI, 62–83) and 61% (95% CI, 51–70), respectively. Maintenance of response was high regardless of dose reductions in Oct '13. KM estimated 5-yr rates for PFS/OS were 49%/77%. Among pts with 3-, 6- and 12-mo landmark assessments, MCyR/CCyR was achieved in 48%/39%, 62%/52% and 71%/56%, respectively, and MMR achieved in 14%, 29% and 39%, respectively. Achievement of cytogenetic response and deep reductions in BCR-ABL1 levels (Table) at most landmark time points was associated with improved PFS and OS 4 yrs past landmark. Deeper responses at all landmarks were associated with achievement of MR4.5 over time. Treatment-emergent adverse events (AEs) in ≥45% of CP-CML pts were rash 47%, abdominal pain 46%, and thrombocytopenia 46%. Most newly occurring AEs were observed within the first yr. The incidence of any AOE/serious AOE for CP-CML pts was 29%/23%. Among CP-CML pts with no prior AOEs who had a prospective dose reduction, 17% (11/63) had a first AOE occurring after Oct '13.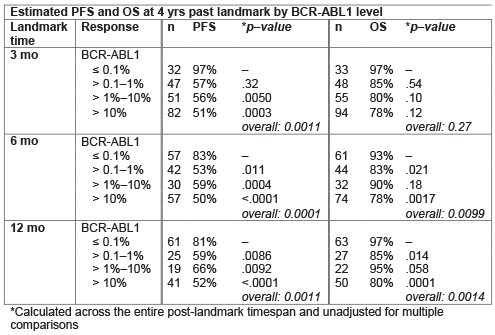 Conclusion
Long-term 5-yr results from PACE demonstrate that irrespective of dose reductions, ponatinib continues to show deep, lasting, clinically meaningful responses over time in heavily-pretreated pts with CP-CML. Achieving early cytogenetic response and deep reduction in BCR-ABL1 levels was associated with improved survival 4 yrs past landmark, demonstrating the prognostic value of early and deep response to ponatinib.
Session topic: 8. Chronic myeloid leukemia - Clinical