Abstract: S424
Type: Oral Presentation
Presentation during EHA22: On Saturday, June 24, 2017 from 12:00 - 12:15
Location: Hall D
Background
The optimum initial treatment of chronic myeloid leukemia (CML) is unknown.
Aims
CML-study IV was designed to confirm the International Randomized Study on Interferon (IFN) and STI571 (IRIS) and to explore whether treatment with imatinib (IM) at 400mg/day could be optimized.


Methods
From July 2002 to March 2012, 1551 newly diagnosed patients in chronic phase (CP) were randomized into a 5-arm study. 1536 patients were evaluable, 400 for IM400mg, 430 for IM + IFN, 420 for IM800mg, 158 for IM + cytarabine and 128 for IM-after-IFN-failure. Recruitment to the latter two arms was stopped after a pilot-phase.
Results
After a median observation time of 9.5 years, 10-year overall survival (OS) of all patients was 82%, 10-year progression free survival 80% and, 10-year relative survival 92%. 10-year OS was 80% with IM400mg, 84% with IM + IFN, 79% with IM800mg, 84% with IM + cytarabine and 79% with IM after IFN (Figure 1). The differences were not significant in spite of faster response with IM800mg. In a multivariate analysis, risk group, comorbidities, major route chromosomal aberrations, smoking and type of treatment center (academic vs other) influenced survival, but not gender, transcript type or any form of treatment optimization. Patients reaching the molecular response milestones at 3, 6 and 12 months had a significantly better survival, the faster response of a treatment group (IM800mg) did not translate into a detectable survival advantage.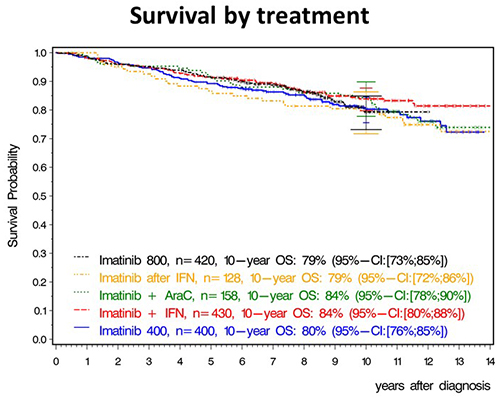 Conclusion
Monotherapy with IM400mg provides a close to normal life expectancy. Faster response does not necessarily translate into better survival. Outcome of CML is currently more determined by disease biology and demographics than by treatment optimization.
Session topic: 8. Chronic myeloid leukemia - Clinical

Keyword(s): Chronic myeloid leukemia, Survival, imatinib