Abstract: S413
Type: Oral Presentation
Presentation during EHA22: On Saturday, June 24, 2017 from 11:45 - 12:00
Location: Hall B
Background

Interim 2-[18F]fluoro-2-deoxy-D-glucose Positron Emission Tomography (FDG-PET) performed after 2 chemotherapy cycles (PET2) is the most powerful predictor of treatment outcome in ABVD-treated, advanced-stage classical Hodgkin Lymphoma (cHL). Preliminary reports showed that adapting treatment to PET2 result could increase the efficacy of standard ABVD.
Aims
To confirm in a prospective setting the favorable prognosis of advanced stage PET2 negative patients treated with ABVD, as well as the safety and efficacy of escalated BEACOPP given to PET2 positive patients.
Methods

We conducted a prospective clinical trial (HD0607 ClinicalTRial.gov identifier 00795613), in which advanced-stage (IIB-IVB) cHL patients were treated with 2 ABVD courses, and PET2 performed afterwards. The latter was blindly and independently reviewed by a panel of nuclear medicine experts, using the Deauville 5-point scale (5-PS). PET2+ patients (5-PS 4-5) were randomized to either BEACOPP escalated (Be) plus BEACOPP baseline (Bb) (4+4 courses) or Be+Bb (4+4) and Rituximab (R). PET2- (5-PS 1 to 3) patients continued ABVD treatment with 4 more cycles and, upon CR achievement, randomized to either consolidation radiotherapy (Rxt) on the sites of initial large nodal mass (LNM: diameter > 5cm) or no further treatment (NFT).
Results

Starting from June 2008 till June 2014, 782 cHL patients were consecutively enrolled in 24 Italian and 1 Israeli centers. The median age was 31 years (14-60); 35% had stage IIB, 32% stage III and 32% stage IV. The International Prognostic Score (IPS) was 0-1 in 36.6%, 2-3 in 51%, >3 in 12.5%. Overall, 150 (19.2%) proved PET2+ (97 score 4, 53 score 5) and 630 (80.5%) PET2-. PET2+ patients were more frequently male (56.7% vs. 47.1%, p= .03), had higher IPS score (P= .0002) and bulky disease (28.0% Vs. 17.9%; p= .0002). Out of 149 PET2+ patients randomized to Be+Bb (76) or Be+Bb+R (73), 136 were evaluable for response: 93 obtained CR and 43 had a treatment failure. Of the remaining 13 patients, 3 died, 7 withdrew their consent and 3 stopped treatment for toxicity. As per study protocol, 627 out of 630 PET2- patients continued with 4 ABVD cycles and 3 withdrew their consent. Out of 296 with LNM, 148 were randomized to RxT and 148 to NFT. Among 627 patients, 574 (91.5%) achieved CR, 50 (8.0%) had a treatment failure and 3 (0.4%) withdrew their consent. Overall, 30 patients (3.8%) died, due to early death (n=2), resistant disease (n=18; 12 with a positive and 6 with a negative PET2), transplant related toxicity (n=5), infections (n=4) and pulmonary fibrosis (n=1). After a median follow-up of 1303 days (2-2857), the 4-Y PFS and OS for all 782 patients was 83% (95% CI 80%>86%) and 96% (95% CI 94%>97%), respectively. For PET2+ and PET2- patients, the 4-Y PFS was 69% (95% CI 60%>76%) and 87% (95% CI 84%>89%), while the 4-Y OS was 89% (95% CI 82%>93%) and 97% (95% CI 95%>98%) (Figure 1, Panel A and B).  No outcome difference was observed for Be+Bb Vs. Be+Bb+R patients, with a 4-Y PFS of 69% (95% CI 57%>79%) and 68% (95% CI 55%>78%), respectively (p= .9731). Consolidation RxT in PET2- patients in CR after 6 ABVD and LNM did not translate in to a significant benefit, with a 4-Y PFS of 96% (95% CI 91%>98%) for RxT and 93% (95% CI 87%>96%) for NFT (p= .2882).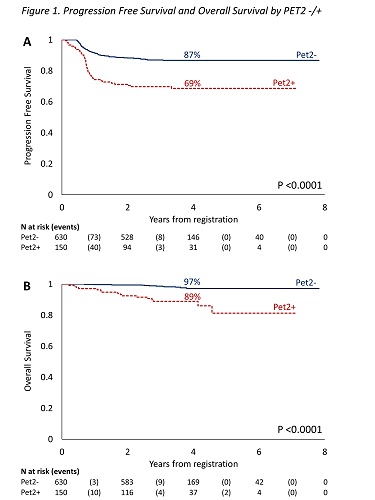 Conclusion

These data suggest that 1) an early switch from ABVD to escalated BEACOPP can be safely done in PET2+ advanced-stage cHL; 2) the long-term outcome for the entire patient cohort is superior to standard ABVD; 3) no clinical benefit is associated with post ABVD RxT in PET2- patients presenting with large nodal mass; 4) the addition of Rituximab does not increase the effectiveness of Be+Bb in PET2+ patients.
Session topic: 17. Hodgkin lymphoma - Clinical