Abstract: S408
Type: Oral Presentation
Presentation during EHA22: On Saturday, June 24, 2017 from 11:45 - 12:00
Location: Hall A
Background
Triplet combinations that include a proteasome inhibitor (PI) have been proven superior to doublets in newly diagnosed multiple myeloma (NDMM) (San Miguel et al, N Engl J Med 2008, Durie et al, Lancet 2017). The all-oral combination of the novel PI ixazomib plus lenalidomide-dexamethasone (IRd) was evaluated as an induction regimen in NDMM patients, followed by single-agent ixazomib maintenance.
Aims
Here we report updated efficacy and long-term safety data for patients who did not withdraw from the study in order to receive stem cell transplantation (SCT). 
Methods
In this phase 1/2 study (NCT01217957), patients with NDMM received weekly oral ixazomib (1.68–3.95 mg/m²; days 1, 8, and 15) plus lenalidomide (25 mg, days 1–21) and dexamethasone (40 mg, days 1, 8, 15, and 22) for up to twelve 28-day induction cycles, followed by maintenance therapy with weekly single-agent ixazomib, at the last tolerated dose given during induction, until disease progression or toxicity.
Results
Of the 65 enrolled patients, 42 continued on study treatment without early withdrawal for SCT; the long-term follow-up of these 42 patients is reported here. Baseline patient characteristics included: median age, 68 years (range 34–86); ISS stage I/II/III in 40%/43%/17%. As of October 18, 2016, with median follow-up of 56 months, the confirmed overall response rate (ORR; ≥partial response [PR]) was 80%, complete plus very good partial response (CR+VGPR) rate was 63%, and CR rate was 32%. Median time to first response was rapid (0.95 months), while median time to CR was 5.6 months. Median progression-free survival (PFS) in these patients not receiving SCT was 25.3 months. Median overall survival (OS) has not been reached at a median follow-up of 56 months; 3-year OS estimate was 87%. Safety findings are summarized in the Table; 74% of patients had grade ≥3 treatment-related adverse events (AEs), and 26% of the patients had treatment-related serious AEs. Among treatment-related AEs of interest, grade ≥3 rash and peripheral neuropathy were infrequent. There was one treatment-related death due to respiratory syncytial viral pneumonia.
After completing 12 cycles of induction therapy with IRd, 25 patients went on to receive maintenance single-agent ixazomib. In these 25 patients, at the end of the induction period ORR was 100%, including 44% VGPR and 32% CR. Responses deepened during maintenance; at data cut-off, the response rates in this maintenance therapy population were ORR 100%, VGPR 32%, and CR 44%. Median PFS for patients who received maintenance therapy was 24 months. The occurrence of the most common treatment-related grade ≥3 AEs (neutropenia, thrombocytopenia, and fatigue) was confined almost exclusively to the induction period. During the maintenance period no patients reported onset of grade ≥3 peripheral neuropathy or rash.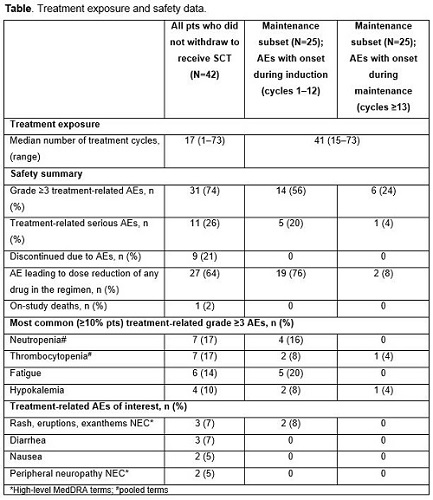 Conclusion
In patients with NDMM, weekly ixazomib plus Rd, followed by single-agent ixazomib maintenance, was highly active, resulting in deep and durable responses, long PFS, and a high 3-year OS estimate. IRd followed by single-agent ixazomib maintenance also showed an acceptable safety profile, with less toxicity reported during the maintenance (single-agent ixazomib) vs induction (IRd) periods, with no evidence of cumulative toxicities.
Session topic: 14. Myeloma and other monoclonal gammopathies - Clinical