Abstract: P328
Type: Poster Presentation
Presentation during EHA22: On Friday, June 23, 2017 from 17:15 - 18:45
Location: Poster area (Hall 7)
Background
CD74 is a transmembrane glycoprotein involved in MHC protein formation and transport. CD74 expression has been observed in up to 90% of B-cell malignancies, including multiple myeloma (MM), with minimal expression in normal tissues.  CD74 is rapidly internalized, making it an attractive target for ADCs.  STRO-001 is a novel ADC comprised of an aglycosylated anti-CD74 IgG1 human antibody (SP7219) conjugated covalently to the non-natural amino acid para-azido-methyl-L-phenylalanine (pAMF) with a non-cleavable dibenzocyclooctyne (DBCO)-maytansinoid linker-warhead.  Highly efficient site-specific conjugation enabled by novel cell-free antibody production and click chemistry results in a well-defined homogeneous ADC drug product with a drug-antibody ratio (DAR) of 2.
Aims
The in vitro cytotoxicity and in vivo efficacy of STRO-001 was investigated in MM cell lines and xenografts.  An exploratory toxicology study was conducted in a non-human primate model. 
Methods
DBCO-Alexa647-conjugated SP7219 staining and flow cytometry were used for detection and quantitation of CD74 expression on MM cell lines.  STRO-001 was used to determine the EC50 and percent span of killing in MM cell lines.  The anti-tumor activity of STRO-001 was evaluated in the disseminated ARP-1 and MM.1S MM models.  In vivo bioluminescence imaging (BLI) for animals bearing MM.1s-luc cells was performed using an IVIS Spectrum. BLI images were collected 7, 14, 21, and 28 days post-tumor cell inoculation.  STRO-001 was administered to cynomolgus monkeys in an exploratory dose-escalating study of repeat IV doses of 1, 3, 10 and 30 mg/kg on days 1 and 15.
Results
In vitro cytotoxicity assays show nanomolar potency of STRO-001 in five MM cell lines: MC/CAR (EC50 0.8 nM), ARD (EC50 6.5 nM), MM.1S (EC50 10-11 nM), U266B1 (EC50 8.5-9.3 nM), and ARP-1 (EC50 4.3-22 nM). CD74 cell surface expression is required for STRO-001 cytotoxic activity but expression level, as measured by antibody-binding capacity, does not correlate strongly with in vitro potency (R2=0.5837 for MM cell lines).   STRO-001 inhibits the growth of CD138+ plasma cells in bone marrow (BM) and formation of visceral tumors (p=0.002 for kidney; p<0.0001 for ovary) after 4 weekly doses of 3 mg/kg in the ARP-1 disseminated MM xenograft model. STRO-001 dosed at 3 mg/kg and 10 mg/kg weekly x 3 also eradicates malignant BM plasma cells by day 32 post-inoculation (p<0.0001) and prolongs survival in the MM.1S disseminated model. At termination of the study, 129 days post-inoculation, 100% of the STRO-001 treated animals survived and showed no evidence of disease with no CD138+ cells in their bone marrow, while mean survival of vehicle-treated control animals was 35 days with almost 50% of their bone marrow containing myeloma cells. BLI of luciferase-expressing MM.1S (MM.1S-luc) tumor cell lines enabled noninvasive quantitation of tumor burden. Single doses of 1, 3, and 10 mg/kg STRO-001 (administered on day 7 post-inoculation) resulted in eradication of myeloma by day 28 based on bioluminescence signal and quantification of CD138+ cells in bone marrow. In addition, STRO-001 produced a dose-dependent reduction in normal B-cells in cynomolgus monkeys, providing pharmacodynamic evidence of B-cell targeting.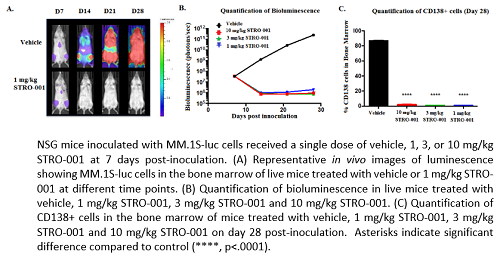 Conclusion
STRO-001 demonstrates potent in vitro cytotoxicity in MM cell lines and reduces tumor burden in MM xenograft models, including significant prolongation of survival in the MM.1S model.  Based on these encouraging observations, STRO-001 is advancing to the clinic for the treatment of CD74-expressing B-cell malignancies.
Session topic: 13. Myeloma and other monoclonal gammopathies - Biology