Abstract: E1373
Type: Eposter Presentation
Background
CD74 is a type II transmembrane glycoprotein involved in the formation and transport of MHC class II protein. CD74 is rapidly internalized and highly expressed in many B-cell malignancies with limited expression in normal tissues (Stein R. et al., CCR 2007). STRO-001 is a novel CD74-targeting ADC comprised of a p-azido-methyl-phenylalanine (pAMF)-containing anti-CD74 aglycosylated human IgG1 antibody (SP7219) conjugated to a non-cleavable dibenzocyclooctyne (DBCO)-maytansinoid linker-warhead. Highly efficient site-specific conjugation enabled by Sutro's cell-free antibody production and click chemistry produced a well-defined homogeneous ADC with a drug-antibody ratio (DAR) of 2. Due to its limited cell permeability, the major catabolite released by STRO-001 has 1000X lower cell killing activity on CD74 positive and negative cells compared to a reference cytotoxic maytansine. Since conjugation sites were selected based on highest stability both in vitro and in vivo, thereby limiting loss of drug moiety from STRO-001 in circulation, this novel ADC has potential for improved PK, safety and activity profiles.
Aims
The aim of this study was to investigate the therapeutic potential of STRO-001 in non-Hodgkin's lymphoma (NHL) cell lines and xenografts. A dose-escalating exploratory toxicology study was also conducted in cynomolgus monkeys.
Methods
Biotinylated SP7219 was used for immunohistochemistry (IHC). DBCO-Alexa647-conjugated SP7219 and flow cytometry were used for detection and quantitation of CD74 expression on NHL cell lines and B-cells from normal human donors. STRO-001 was used to determine the EC50 and percent span of killing in NHL cell lines. The anti-tumor activity of STRO-001 in SCID mice bearing NHL tumor cell xenografts was examined. STRO-001 was administered to cynomolgus monkeys in an exploratory dose-escalating study of repeat IV doses of 1, 3, 10 and 30 mg/kg on days 1 and 15.
Results
Expression of CD74 in different lymphoma subtypes was evaluated by IHC on duplicate core (matched pair) biopsies. Medium to high CD74 expression in >70% of cells was observed in 86/100 diffuse large B-cell (DLBCL), 22/28 follicular lymphoma and 49/78 mantle cell lymphoma (MCL) samples. In vitro cytotoxicity assays show potent activity of STRO-001 in a diverse panel of B-cell tumor lines including 9 germinal center B-cell (GCB) diffuse large B-cell lymphoma (DLBCL), 3 activated B-cell (ABC) DLBCL, and 4 mantle cell lymphoma (MCL) cell lines with EC50 values ranging from 0.17-13 nM. STRO-001 has only modest effects on naïve B-cells, but exhibits more potent cell killing in activated human B-cells that have upregulated CD74 expression (similar CD74 expression as SU-DHL-6 cell line). CD74 cell surface expression is required for STRO-001 cytotoxic activity but expression level, as measured by antibody-binding capacity, does not correlate with in vitro potency (R2=0.4154). STRO-001 exhibits dose-dependent tumor growth inhibition in rituximab-resistant SU-DHL-6 xenografts starting at 2.5 mg/kg weekly x 3 doses. The standard of care combination of bendamustine/ rituximab (BR) + STRO-001 further improves tumor suppression in SU-DHL-6 xenografts compared to vehicle (p = 0.002) or BR alone (p = 0.02). Studies with a MCL xenograft model, Jeko-1, demonstrate potent anti-tumor activity compared to vehicle (p<0.0001) starting at a single STRO-001 dose of 3 mg/kg, with a single 10 mg/kg dose resulting in tumor regression for up to 64 days post treatment. STRO-001 treatment 14 days post tumor inoculation was used to evaluate disease progression in Mino, a slow growing disseminated MCL xenograft model. Vehicle-treated animals developed advanced disease with palpable tumors and distended abdomens, with median survival of 81.3 days. In contrast, Mino xenografts treated with STRO-001 at 3 mg/kg or 10 mg/kg exhibited improved survival, with most animals healthy and disease free at the time of sacrifice 135 days post inoculation. STRO-001 demonstrated B-cell depletion in cynomolgus monkeys, confirming the intended pharmacodynamic effect. Myelosuppression was observed at the highest dose but there was no evidence of off-target toxicity.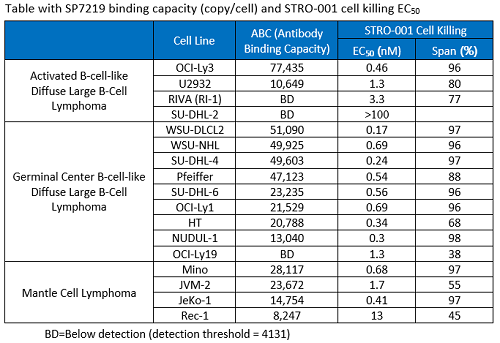 Conclusion
STRO-001 demonstrates potent in vitro cytotoxicity in NHL cell lines and anti-tumor activity in NHL xenograft models, including prolonged survival in the disseminated Mino MCL model. STRO-001 depletes B cells in a dose-dependent manner. Clinical studies of this novel ADC for treatment of B-cell malignancies are under development.
Session topic: 18. Non-Hodgkin & Hodgkin lymphoma - Biology