Abstract: E1337
Type: Eposter Presentation
Background

Classic Ph-negative myeloproliferative neoplasms (MPN) include essential thrombocythemia (ET), polycythemia vera (PV) and primary myelofibrosis (PMF). Clonal evolution can lead MPN patients in chronic phase (CP) to develop
acute myeloid leukemia (AML), called blast phase (BP): this event occurs at rates of approximately 1%
in ET, 4% in PV and 20% in PMF over the first decade from MPN diagnosis.
Aims

To evaluate differences in clinical features and outcome in 85 patients with MPN in blast phase, according to MPN diagnosis and mutational profile.
Methods

We identified in our database all patients affected with ET, PV and PMF who developed acute myeloid leukemia according to 2016 WHO criteria (≥ 20% blasts in bone marrow or peripheral blood) and for whom at least one DNA sample to define the mutational status of the three MPN driver genes (JAK2, CALR, MPL) was available. Treatment used in blast phase was classified as palliation (supportive care only or low intensity chemotherapy) or induction chemotherapy (de novo AML-like therapy).
Results

We retrospectively identified among 2902 consecutive patients affected with Ph-negative MPN 85 patients who progressed to BP, with a known molecular profile: 26 ET patients of whom 15 presented JAK2 V617F mutation, 8 CALR mutation, 1 MPL mutation, 1 JAK2/MPL mutation and 1 was triple-negative, 36 PV patients all JAK2V617F mutated, and 23 PMF patients of whom 17 were JAK2 mutated, 2 CALR mutated, 2 MPL mutated and 2 triple-negative. Median age at BP was 71,3 years (range 46,3-86), being higher in PV (median 73 years, range 46,3-84,7) compared to ET (median 68,7 years, range 54,4-86, P 0,318) and PMF (median 67,9 years, range 48,1-84,9, P 0,016). The complete blood count at leukemic evolution was not influenced by the initial diagnosis. At the time of BP, 31 out of 44 patients (70%) for whom cytogenetic analysis was available showed an abnormal karyotype (22 patients with complex karyotype or high risk aberrations). JAK2 mutated MPN can evolve into JAK2 wild type AML (9 of 28 patient with blasts DNA available), while CALR mutation was identified also in AML blasts in all 6 patients for which DNA was available. Time to leukemic evolution was shorter in PMF (35,3 months, range 3,6-141,1) compared to ET (176,7 months, range 14,4-362,3, P <0,001) and PV (129,1 months, range 17-367,6, P < 0,001). According to chronic phase driver mutation, time to leukemic evolution was shorter in JAK2 V617F mutated PMF compared to CALR mutated PMF (30,6 vs 138 months, P 0,024), but not statistically different in JAK2 mutated ET compared to CALR mutated ET (123,4 vs 203,2 months, P 0,121). Outcome was dismal, independently from MPN diagnosis (P 0,278), with a median overall survival (OS) of 3,9 months (range 3,3-5,6). OS was not influenced by treatment during blast phase (4,5 months with induction chemotherapy versus 4,6 months with palliation; P 0,865). Of the whole series, only one patient is alive and in complete clinical and molecular remission, after 11 months from allogeneic bone marrow transplantation.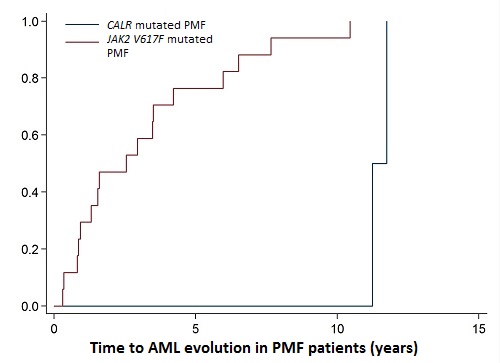 Conclusion

Clinical phenotype and outcome of BP is not influenced neither by the diagnosis in chronic phase nor by the driver mutation; moreover the outcome is poor irrespective of treatment. PMF patients have a shorter time to BP than ET and PV patients; in PMF JAK2 V617F mutation is associated with a shorter time to BP compared to CALR mutation. The only potentially curative treatment is represented by allogeneic stem cell transplantation, but only a few patients can actually undergo this procedure.
Session topic: 16. Myeloproliferative neoplasms - Clinical