Abstract: E903
Type: Eposter Presentation
Background

Interferon alpha (IFNα) monotherapy is effective in selected myeloid neoplasias and is proposed to act through mechanisms that may be additive to the action of valproic acid (VPA), a histone deacetylase (HDAC) class I and IIA inhibitor with effect in approximately 20% of acute myeloid leukemia (AML) patients. Both drugs are found to have direct anti-cancer effects targeting apoptosis, differentiation and proliferation, as well as indirect effects targeting the immune system.
Aims
As several IFNα formulations are commercially available, we wished to explore the differences between two such drugs, recombinant IFNα-2b and human IFNα-Le, in relevance to AML treatment.
Methods
Flow cytometry and Hoechst staining was used to investigate apoptotic potential of the IFNα therapeutics, whilst phospho-flow cytometry and difference gel electrophoresis in combination with mass spectrometry unraveled IFNα signaling pathways. For in vivo effectivity analyses two orthotopic rodent models were implanted with leukemic cells and treated with VPA, IFNα-Le or both drugs.
Results

To investigate the anti-leukemic effects of IFNα we combined the two therapeutics with VPA in vitro using the human MOLM-13 cell line (wild type for FLT3 ITD and TP53). Results showed that IFNα-Le was more efficient compared to IFNα-2b in inducing apoptosis, whilst both were synergistic in combination with VPA. Investigating IFNα signaling pathways using phospho-specific flow cytometry we found IFNα-2b and IFNα-Le to have an identical stimulation profile in MOLM-13 cells, except from p-STAT6 Y641 that was higher expressed by IFNα-2b. The phospho-proteome was further explored using difference gel electrophoresis (DIGE) and mass spectrometric analyses to find a potential explanation to the difference in apoptosis-inducing effects between the two drugs. Here we found protein folding (LCP1, HSPA8, TCP1, CCT6A), cell stress (AKR1B1, HSP90AB1) and cell death (PKM2, PARK7, HSPB1, HSPA5, ANXA5, PRDX2) to be differently regulated between IFNα-2b and IFNα-Le, and also identified the presence of a dose-dependent effect on protein expression by IFNα-2b and IFNα-Le.
Further, we investigated the potential synergistic anti-leukemic effects of VPA and IFNα-Le in vivo using a MOLM-13Luc+ immunodeficient NOD/Scid IL2 g-/- orthotopic xenograft mouse model, and the immunocompetent brown Norwegian myeloid leukemia (BNML) syngeneic rat model. VPA mono-treatment increased survival from a median of 34 days to 38 days in the MOLM-13Luc+ mouse model, and from 21 days to 50 days in the BNML rat model. Additionally, the IFNα-Le (0.8x106 IU/kg) and VPA (400 mg/kg) combination treatment indicated a tendency to increased survival in the BNML model. However, IFNα-Le monotherapy (1x106 IU/kg) decreased survival in the MOLM-13Luc+ model.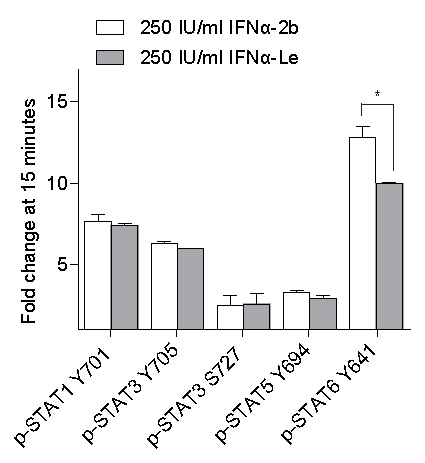 Conclusion
IFNα does not add beneficial effects to VPA treatment in the two in vivo orthotopic models tested, possibly due to immune constitution and tumor load.
Session topic: 3. Acute myeloid leukemia - Biology