Abstract:
LB2237
Type:
Oral Presentation
Presentation during EHA21:
On Sunday, June 12, 2016 from 12:15 - 12:30
Location:
Hall A1
Background
Cold agglutinin disease (CAD) is a difficult to treat autoimmune haemolytic anemia in which IgM antibodies bind to erythrocytes at low temperature and fix complement. This complement deposition opsonizes erythrocytes which undergo extravascular haemolysis in the liver.
Aims
Based on preclinical studies (Shi et al., 2014 Blood), we hypothesized that TNT009, an antibody directed against complement component C1s, could stop haemolysis in CAD patients.
Methods
This represents an interim analysis of a first-in-human trial, where we have included four female CAD patients. Patients received a test dose of 10 mg/kg TNT009, followed by a full dose of 60 mg/kg 1-4 days later, and three additional weekly doses of 60 mg/kg.
Results
All infusions were well tolerated without premedication and without relevant adverse effects.Out of four patients, three had been transfusion-dependent either previously (one patient within the last year) or recently (2 patients within 14 days of their enrolment into the trial). These three patients unequivocally responded immediately to TNT009 infusion, and are described below. TNT009 blocked the classical pathway of complement as demonstrated by an immediate drop in CH50 and rise in C4. TNT009 rapidly abrogated extravascular haemolysis, normalizing bilirubin levels in all three patients from a median of 1.7 mg/dL (range: 1.6-2.6) to 0.7 mg/dL (0.6-0.7) within 24 hours. Infusion of TNT009 immediately decreased the destruction of reticulocytes which rose from 131 (103-140) to 185 (175-286) x10E9/L within 24h. Haptoglobin levels normalized within one week and confirmed the complete halt of haemolysis. Haemoglobin levels rose from a median haemoglobin of 7.5 g/dL (range: 6.8-8.3) before the test dose by 1.6 g/dL (1.1-1.6) within the first week, and completely normalised (>12 g/dL Hb by end of study in two patients; one patient still under observation) within 5-6 weeks. Normalisation of these parameters corresponded to complete remission of CAD-induced haemolysis. The time course of all these changes was highly significant (Friedman ANOVA p<0.001). Haemolysis recurred when effective drug levels were completely cleared from the circulation about 4 weeks after the last dose of TNT009. Re-exposure to TNT009 in a named patient programme recapitulated the immediate onset of effect, and the rapid and complete stop of haemolysis in these patients. The only patient who did not respond to TNT009 was suffering from secondary CAD and had a 70% bone marrow infiltration with chronic lymphocytic leukaemia accompanied by CLL-driven severe hypocomplementaemia.
Figure 1
: Early changes within one week after TNT009 infusion (60mg/kg) in the three responders. Individual patients are depicted by the same symbols throughout. Haptoglobin is slightly offset for better visibility of similar values.
Conclusion
TNT009 has an immediate onset of action, and showed remarkable and unprecedented efficacy in CAD patients in need of treatment. The three responding patients became transfusion independent while on TNT009. The results are encouraging and instrumental in planning for upcoming pivotal studies.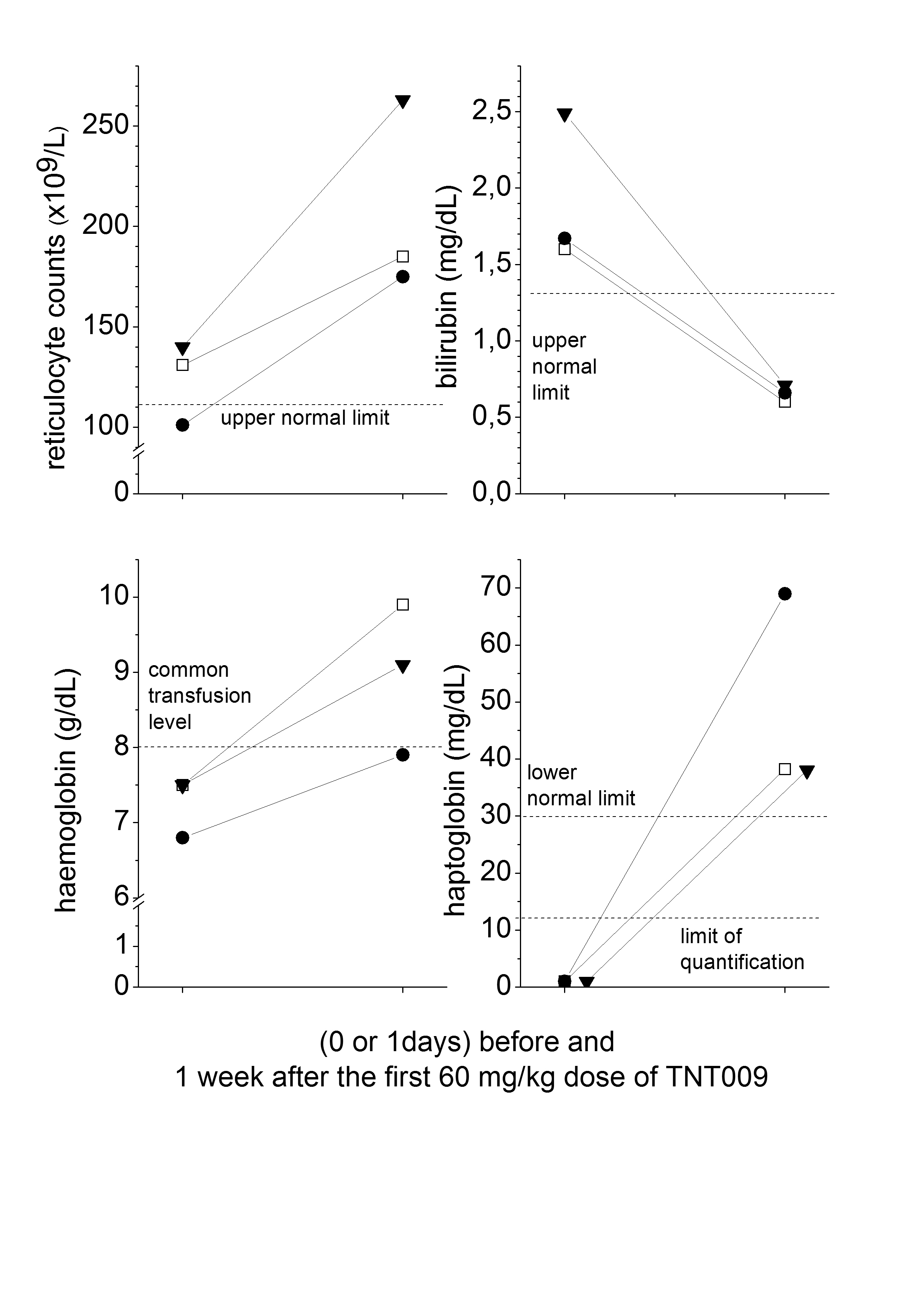 Session topic:
Late Breaking Session
Keyword(s):
Clinical trial, Complement, Hemolytic anemia, Monoclonal antibody