Abstract:
LB580
Type:
Poster Presentation
Presentation during EHA21:
On Saturday, June 11, 2016 from 17:30 - 19:00
Location:
Poster area (Hall H)
Background
Induction therapy for newly diagnosed AML can be classified as "more" or "less" intensive. Currently less intensive therapies such as azacitidine or decitabine (HMA) appear to be increasing in use among patients >65 years, reflecting concerns about the ability of older patients, who often have various comorbidities, to tolerate intensive therapy. However, the issue of relative efficacy of intense versus non- intense therapies arises together with the question about the relative benefit/risk ratios of these options in various populations defined by age, comorbidities, and disease-related characteristics such as cytogenetic and molecular features.
Aims
Our group has designed and validated a new model combining the prognostic effects of age, comorbidity index, and cytogenetic/molecular risks (Blood 2015 126:532). Here, we used this composite model to define distinct prognostic groups and within each, compared two year mortality rates among patients with newly-diagnosed AML according to whether they received intensive or non-intensive therapy at 5 collaborating institutions. Non-intensive therapy principally included HMA or low-dose cytarabine, while intensive therapies primarily consisted of "7+3" or other similar cytotoxic induction regimens.
Methods
We retrospectively collected information regarding comorbidities, laboratory, and survival data from 1079 patients with newly diagnosed AML who received therapy at 5 institutions from 2008
–
2012. Median follow-up of patients still alive was 30 months.
Results
Patients were ≤49 (29%), 50-59 (25%), 60-69 (26%), and ≥70 (20%) years old. Cytogenetic-molecular risks were favorable (21%), intermediate I and II (36%), or unfavorable (43%) per European Leukemia Net classification. Induction treatments were non-intensive in 18% and intensive in 81% of patients. Using the composite risk model, 17% of patients had scores of 2-4, 37% scores 5-7, 27% scores 8-10, and 19% scores ≥11. As shown before (Blood 2015 126:532), hazard ratios (HR) for mortality increased with increasing scores.Patients with the lowest scores (2-4) almost always received intensive therapies (98%), and were therefore omitted from the comparison analysis. Table 1 shows distribution of regimen intensity per patient age groups: the proportion of patients receiving non-intensive therapy increased with increasing age. Patients with scores 5-7, 8-10, and ≥11 had statistically significantly higher survival rates when given intensive versus non-intensive therapies (Table 2). We also looked at outcomes specifically among patients 70-79 years old given intensive (46%) or non-intensive (54%) therapies. Intensive therapies among those older patients resulted in statistically significantly higher survival rates at 2-year (27% versus 11%, HR: 0.72,
P=
0.05, Figure).
Conclusion
Intensive therapy leads to better long term survival even in older patients with significant co-morbidities. Early mortality is not increased in older patients given intensive rather than non-intensive induction therapy, likely due to improvements in supportive care over time.  While we cannot exclude the effects of selection bias, our model accounted for the principal covariates associated with outcome. Absent a randomized trial comparing intensive and non- intensive therapies, our results suggest that the former should be offered to all patients up to the age of 80 regardless of their comorbidity burden. Prospective randomized studies are needed to investigate the role of non-intensive therapies in older patients in light of their comorbidity burden. Studies of physical, cognitive, and social health might further identify groups of patients for whom non-intensive therapies could yield survival benefit.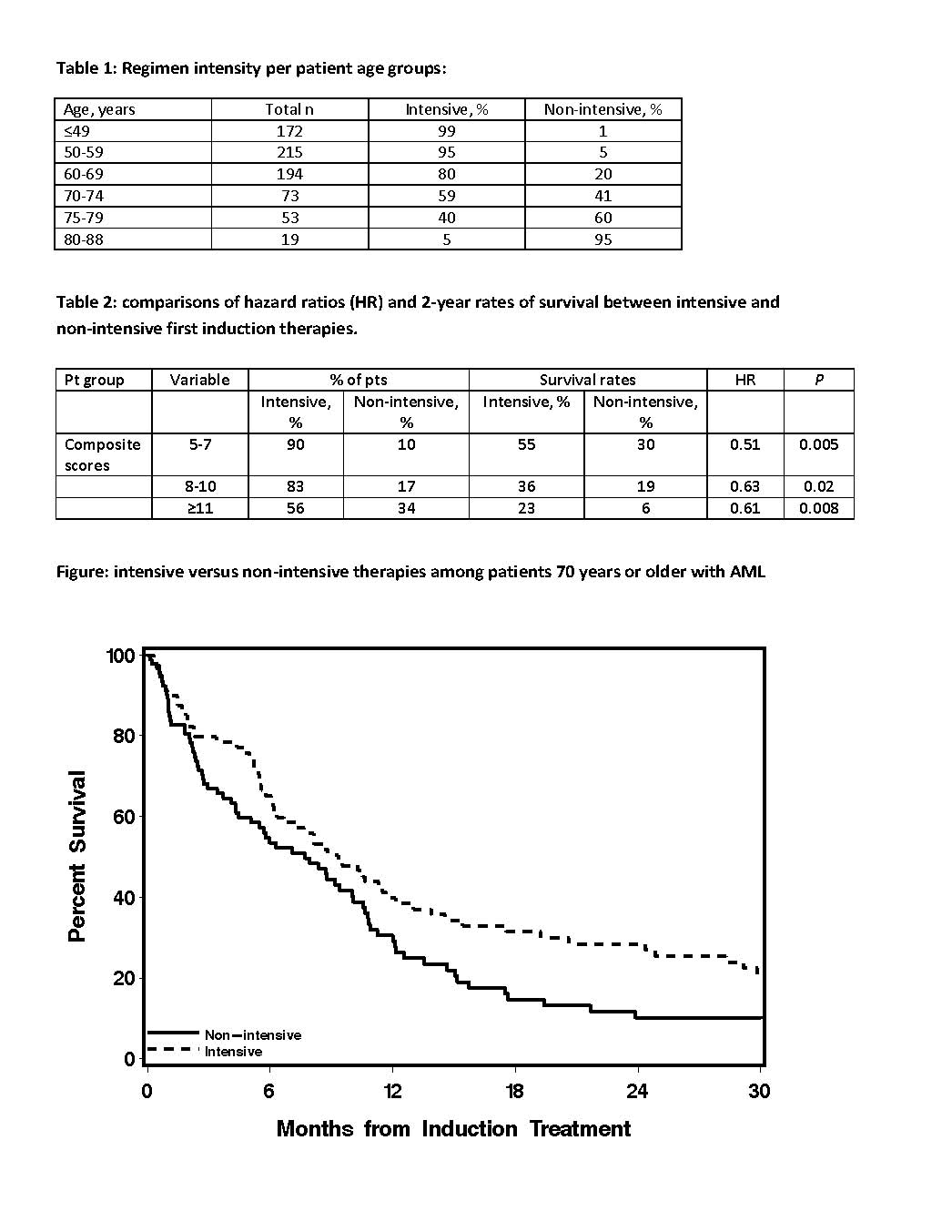 Session topic:
Acute myeloid leukemia - Clinical 3
Keyword(s):
Acute myeloid leukemia, Comorbidities, Induction chemotherapy, Prognostic groups