Abstract:
S430
Type:
Oral Presentation
Presentation during EHA21:
On Saturday, June 11, 2016 from 12:15 - 12:30
Location:
Hall A1
Background
The international, double-blind, placebo-controlled, phase 3 HELIOS study evaluated ibrutinib (ibr) + bendamustine and rituximab (BR) vs placebo (plb) + BR in patients with previously treated CLL/SLL. At 1
st
analysis (median follow-up, 17.0 months), progression-free survival (PFS) was significantly improved for ibr+BR vs plb+BR (HR [95% CI], 0.203 [0.15-0.28];
p
<0.0001). Prior studies have shown deepening responses with continued once-daily ibr treatment; thus, long-term follow-up assessing durability and depth of response is important, as is evaluating safety and tolerability over time.
Aims
The 1
st
HELIOS study results were reported with a median follow-up of 17 months. 2-year data are now available with additional safety follow-up. Because minimal residual disease negativity (MRD-ve) represents a lower disease burden and an endpoint that can potentially affect patient outcomes, we focus on these data to better understand the benefit of ibr over time in previously treated CLL patients.
Methods
578 patients received BR (≤6 cycles) and were randomized 1:1 to ibr (420 mg/d) or plb (N=289 per arm). Patients with del17p (≥20% of cells) were excluded. The primary endpoint was independent review committee (IRC)-assessed PFS. Key secondary endpoints were investigator (INV)-assessed PFS, overall survival (OS), overall response rate (ORR; IRC and INV), and rate of MRD-ve response. With continued follow-up, we report INV-assessed clinical endpoints. At 1
st
analysis, overall concordance between IRC and INV assessments for progressive disease (PD) was 90% in the ibr group and 85% in the plb group.
Results
Median follow-up is now 25.4 months. Ibr+BR continues to show improvement in PFS vs plb+BR (INV-assessed median, not reached vs 14.2 months; HR [95% CI], 0.199 [0.15-0.26]; p<0.0001; 2-yr rate, 74.8 vs 20.9%). Median PFS2 (randomization to PD corresponding to the next line of treatment, or death) is unreached in both arms but PFS2 was significantly longer for patients assigned to ibr+BR vs plb+BR, despite crossover (HR [95% CI], 0.62 [0.42-0.92]; p=0.016). Median OS is still unreached in either arm (HR [95% CI], 0.67 [0.44-1.02]; p=0.058; 2-yr rate, 86.2 vs 81.5%); 142 patients (49.1%) in the plb+BR arm with confirmed PD have crossed over to receive ibr.The updated INV-assessed best ORR (at any time point) is 87.2% for ibr+BR vs 66.1% for plb+BR (p<0.0001); updated rates of complete response (CR)/ CR with incomplete bone marrow recovery (CR/CRi) are 33.9 vs 7.2% (rates at 1
st
analysis, 21.4 vs 5.9%). Rates of MRD-ve response for the intent-to-treat population are 18.0% (52/289) for ibr+BR vs 4.8% (14/289) for plb+BR (p<0.0001) (rates at 1
st
analysis, 12.8 vs 4.8%). Among patients who were evaluated for MRD status post-BR, ibr showed a more sustained PFS over plb whether or not MRD-ve response was achieved, though patients in the ibr arm who achieved MRD negativity had a longer PFS than those who did not (Figure). There were no new or unexpected safety signals reported in this update.
Conclusion
Ibr+BR continues to demonstrate superiority vs plb+BR, with significantly longer PFS and higher ORR. Moreover, responses continue to deepen with continuous ibr therapy, with rates of CR/CRi and MRD-ve response increasing over time. Patients on the ibr arm demonstrate a more sustained PFS at each MRD level (<0.01% and ≥10%) than those on the plb arm. Ibr maintains the same degree of safety as previously observed in CLL patients. These 2-year follow-up data further confirm the important role of ibr in patients with previously treated CLL.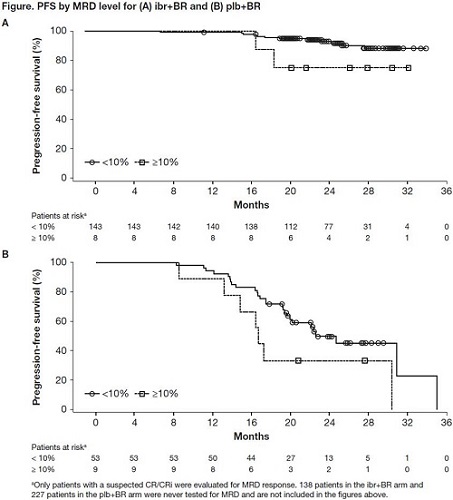 Session topic:
Innovative therapies in CLL
Keyword(s):
Chronic lymphocytic leukemia, Clinical data, MRD