Abstract:
S429
Type:
Oral Presentation
Presentation during EHA21:
On Saturday, June 11, 2016 from 12:00 - 12:15
Location:
Hall A1
Background
Patients (pts) with deletion 17p (del17p) chronic lymphocytic leukemia (CLL) have aggressive disease and poor outcomes with chemoimmunotherapy. Ibrutinib (ibr), a once-daily oral inhibitor of Bruton's tyrosine kinase, is approved for pts with CLL after ≥1 prior therapy and for pts with del17p CLL in the US (including first-line) and first-line with del17p or
TP53
mutation unsuitable for chemoimmunotherapy in the EU. Ibr trials that enrolled pts with del17p CLL include a phase 2 study in treatment-naïve (TN) or relapsed/refractory (R/R) CLL (PCYC-1102) with extension (PCYC-1103), phase 3 RESONATE study of pts with R/R CLL (PCYC-1112), and phase 2 RESONATE-17 study in pts with R/R CLL (PCYC-1117).
Aims
This study evaluated efficacy and safety outcomes in an integrated analysis of pts with del17p CLL/SLL across 3 ibr clinical trials, including outcomes with complex karyotype (CK) in 1 longstanding extension trial.
Methods
All pts gave informed consent. Del17p was determined by FISH in a central laboratory (PCYC-1102/1117) or by local laboratory (PCYC-1112). Pts received once-daily oral ibr 420 (n=232) or 840 mg (n=11) until progressive disease (PD) or unacceptable toxicity. Sustained hematologic improvement over baseline was defined as ≥56 days without transfusion support and included platelet (PLT) or absolute neutrophil count (ANC) increase ≥50% and/or hemoglobin (Hgb) increase ≥2 g/dL. In PCYC-1102, CK was defined as ≥3 unrelated chromosomal abnormalities by stimulated cytogenetics as assessed by a reference laboratory.
Results
243 CLL pts with del17p (241 R/R and 2 TN) were evaluated, with median age 65 y (37% ≥70 y). At baseline, 63% had Rai stage III-IV disease, and 53% had bulky disease ≥5 cm; cytopenias were observed in 68%. With median 2 prior therapies (range, 0-12), del11q was observed in 18% of 239 pts and unmutated
IGHV
in 80% of 201 pts. The median time on study was 28 mos; 66% received ibr for >2 y. ORR (including PR-L) was 84%; estimated median PFS was 32 mo (95% CI: 28, 40), and estimated 30-mo landmark OS was 67% (95% CI: 59, 74) (
Figure
). Sustained hematological improvement in Hgb, PLT, and ANC occurred in 61%, 68%, and 68% of pts with baseline cytopenias, respectively. For pts with PD, Richter transformation tended to occur earlier at a median of 253 d (range, 31-786) vs CLL progression at median 594 d (range, 26-1572). Of 36 pts with del17p on PCYC-1102/1103, median time on study was 42 mo; baseline CK was observed in 22 pts. Median number of prior therapies was 2.5 vs 4 in pts without vs with CK, respectively. ORR was 80% in del17p pts without CK and 82% with CK. Estimated median PFS was 52 mo for pts without CK and 25 mo in those with CK. Estimated median OS was not reached for pts without CK and 32 mo with CK. Across all 243 pts with del17p, grade (Gr) ≥3 adverse events occurring in ≥5% of pts over the >2 y median treatment period were neutropenia (Gr 3/4, 5/14%), pneumonia (Gr 3/4/5, 9/1/2%), hypertension (Gr 3/4, 11/0%), thrombocytopenia (Gr 3/4, 5/5%), and anemia (Gr 3/4, 7/1%). Gr 3/4 atrial fibrillation occurred in 2/1% of pts. Gr ≥3 hemorrhage occurred in 6/1% (Gr 3/4). 110 pts (45%) remain on study treatment.
Conclusion
In this analysis of 243 pts, the estimated median PFS and 30-mo OS for ibr surpass those of other therapies for del17p CLL. Results from pts with central karyotype information suggest those without CK experience more favorable PFS/OS outcomes. These results provide further evidence of ibr's robust clinical activity and survival outcomes in difficult-to-treat CLL populations.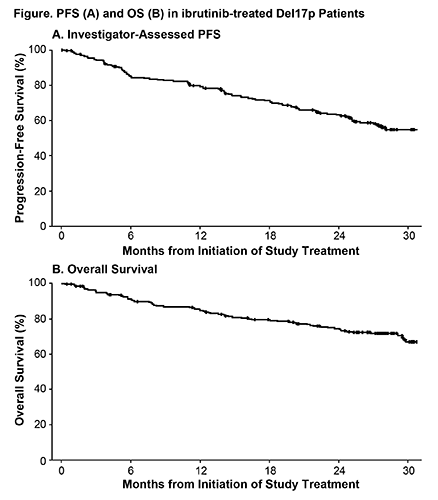 Session topic:
Innovative therapies in CLL
Keyword(s):
Chronic lymphocytic leukemia, Kinase inhibitor, Molecular cytogenetics, Mutation