Abstract:
S146
Type:
Presidential Symposium
Presentation during EHA21:
On Friday, June 10, 2016 from 15:57 - 16:10
Location:
Hall A1
Background
High-throughput sequencing techniques have shown that AML patients (pts) in complete morphological remission may harbor persistent preleukemic clones, which might be a source of leukemic relapse. Somatic mutations in epigenetic modifiers including
DNMT3A
,
TET2
and
ASXL1
occur in ageing-associated clonal hematopoiesis, and mutations in these genes are frequently present in preleukemic clones of AML pts. Previous studies demonstrated adverse outcomes of pts with persistent leukemia-associated mutations in remission (Klco
et al
., JAMA 2015; PMID: 26305651).
Aims
We studied persistence of driver mutations in remission and clinical outcomes in a cohort of uniformly treated AML patients.
Methods
We studied 107 adult AML pts (median age, 53 years [y]; range 20-80y) who received intensive induction chemotherapy within the German multicenter AMLCG-2008 trial, and reached either complete remission (CR) (80/107, 75%) or CR with incomplete blood count recovery (CR
i
) (27/107, 25%). Most patients (90%) had
de novo
AML, 5% had secondary AML and 5% had therapy-related AML. We analyzed bone marrow (BM) or peripheral blood (pB) specimens obtained at diagnosis (BM, n=96; pB, n=11) and during first remission (BM, n=101; pB, n=6). Ninety-two percent of remission samples were collected within 180 days after the start of induction therapy. We studied 68 genes recurrently mutated in myeloid neoplasms by multiplexed amplicon sequencing (Agilent Technologies), with a mean target coverage of 540x. Sequence alterations with a variant allele frequency (VAF) of ≥2% were classified as known/putative driver mutations, variants of unknown significance, or known germline polymorphisms based on published data including dbSNP, the Catalogue Of Somatic Mutations In Cancer (COSMIC) and The Cancer Genome Atlas (TCGA).
Results
At diagnosis,
426 driver mutations were detected in 42 genes (median, 4 mutations per patient; range, 0-10). In the paired remission samples, 66 mutations in 15 genes were still present (VAF, ≥2%) in 40/107 pts (37%), while 67 pts (63%) had no persistent mutation. Persistence of mutations during morphological remission was most commonly observed for
DNMT3A
(23/37 pts with mutations at diagnosis; 62%),
TET2
(9/13; 69%),
SRSF2
(5/8; 63%) and
ASXL1
(5/12; 42%). Mutations in other genes including
NPM1
,
FLT3
,
WT1
, and
NRAS
were no longer found in the remission samples.Sixty-nine percent of mutations detected in remission had VAFs >10%. Analyses of minimal residual disease (MRD) by flow cytometry or quantitative PCR for
NPM1
mutations or
MLL
-PTD showed similar MRD levels in remission specimens with and without persisting mutations. These findings suggest that mutations detected during remission are present in a pre-leukemic clone rather than in residual leukemic cells.Pts with ≥1 persisting mutation in remission were older (median, 63 years [y]) than pts without any persisting mutation (median, 48y; p<.001). Patients with non-
DNMT3A
persisting mutations tended to be older than those with persisting
DNMT3A
mutations (median, 66.5y vs. 60y). Persistence of at ≥1 driver mutation in remission, in contrast to complete mutation clearance, associated with shorter relapse-free survival (RFS; median, 14.3 vs. 58.0 months; p= .009) and shorter overall survival (OS; median, 39.6 vs. >72 months; p= .005) (Figure A). Similar outcomes were observed for pts with persisting
DNMT3A
mutations and those with other persisting mutations (Figure B). In multivariate analyses adjusting for age, ELN genetic risk groups, and remission status (CR vs. CR
i
), detection of any persisting mutation remained associated with inferior RFS (hazard ratio, 2.2; p=.02) and OS (hazard ratio, 3.0; p=.008). 
Conclusion
Detection of persisting leukemia-associated driver mutations during first CR or CR
i
is common in older AML pts and likely indicates persistence of a preleukemic clone. Mutation persistence associates with shorter RFS and OS and might contribute to the inferior outcomes of elderly AML pts.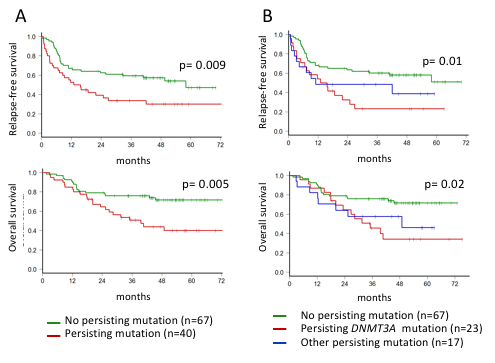 Session topic:
Presidential Symposium
Keyword(s):
Acute myeloid leukemia, Elderly, Mutation analysis, Remission