Abstract:
S145
Type:
Presidential Symposium
Presentation during EHA21:
On Friday, June 10, 2016 from 15:45 - 15:57
Location:
Hall A1
Background
The advent of tyrosine kinase inhibitors (TKI) has dramatically improved survival in chronic myeloid leukemia (CML) with a high percentage of patients reaching deep molecular responses (MR; Hehlmann 2014). In several studies, it could be shown that in a substantial part of patients with deep MR, TKI treatment can be safely and successfully stopped (Mahon 2010, Ross 2013). However, exact preconditions for stopping treatment in CML have not yet been defined.
Aims
The EURO-SKI study (European stop TKI study) was set up to define prognostic markers to increase the rate of patients in durable deep MR after stopping TKI. Already in an interim analysis the null hypothesis (relapse-free survival ≤ 40% at 6 months (m) could be discarded (Mahon ASH 2014, Saussele EHA2014).
Methods
Adult CML patients in chronic phase (CP) on TKI treatment for at least 3 years and in MR4 for at least one year, confirmed by 3 consecutive PCR results during the last 12 m prior to inclusion were eligible. Final MR4 confirmation was performed in a EUTOS standardized laboratory. Patients with a prior TKI failure were excluded. Primary endpoint is the assessment of molecular relapse-free survival after stopping TKI defined as survival without loss of major molecular remission (MMR) at one time point. We here, per protocol, report the results of all patients, with a minimum follow-up of 6 m. A further follow-up after 3 years is planned. Analyses were done on an intention-to-treat basis.
Results
From June 2012 to December 2014, 868 patients in CP CML from 11 countries were included. 96 were excluded (withdrawal of consent n=1, inclusion criteria violation n=23, atypical or unknown transcript n=8, pending cases n= 64). Of the eligible 772 patients, 46.6% were female. Median age at diagnosis was 51.9 years (range 11.2 to 85.5); median age at stop was 60.3 years (range 19.5 to 89.9). 10% and 18% were high-risk according to EUTOS and Sokal Score, respectively. One patient decided not to stop therapy after inclusion.390 patients were mostly pretreated with hydroxyurea prior to TKI therapy, and 87 patients received interferon before TKI. First-line TKI was imatinib in 94%, dasatinib in 2% and nilotinib in 4%. 115 patients switched to second-line TKI due to intolerance, 58 to dasatinib, 7 to imatinib, and 49 to nilotinib (one missing information).Time from diagnosis of CML to first day of stopping TKI varied from 36.7 m to 270.7 m, median time was 92.7 m. Median duration of TKI treatment was 91 m (range 36.3 to 170.3) and median duration of MR4 prior to TKI stop was 56.3 m (range 12.6. to 159.8). MR4 was reached after a median time of 21.0 m (only first-line patients, range 3.0 to 140.0).717 patients had assessable molecular data for the estimation of molecular relapse-free survival. The median molecular follow-up is 10 m. Of these patients, 331 lost MMR, 4 died in remission and 381 are still in MMR at last follow-up (range 1-36 months). This resulted in a molecular relapse-free survival of 62% (95% confidence interval (CI): 58% - 65%) at 6 m, 56% (CI: 52% - 59%) at 12 m and 51% (CI: 47% - 55%) at 24 m (see Fig.1).First univariate analyses in 401 patients with complete records on all prognostic variables confirmed statistically significant influence of duration of TKI treatment and of duration of MR4 on molecular relapse-free survival up to 6 m. Neither sex nor any of the variables part of any of the 2 scores (Sokal, EUTOS) showed a significant association with MMR status at 6 m. Data will be completed and multivariate modelling will be presented at the meeting.
Conclusion
In the setting of the EURO-SKI study, high molecular relapse-free remission rates are achievable. First univariate analysis demonstrated the importance of the duration of TKI treatment as well as of MR4 prior to stop. The EURO-SKI trial will further elucidate prognostic factors that improve the rate of patients in durable MMR after withdrawal of TKI.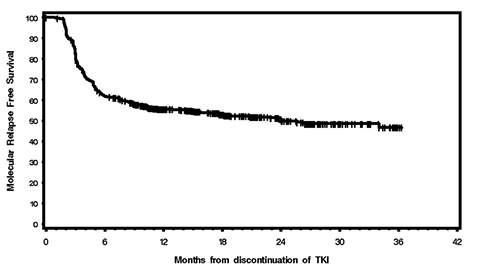 Session topic:
Presidential Symposium