Abstract:
S103
Type:
Oral Presentation
Presentation during EHA21:
On Friday, June 10, 2016 from 12:15 - 12:30
Location:
Hall A1
Background
Several studies demonstrate that lenalidomide (LEN) maintenance post autologous stem cell transplant (ASCT) reduces the risk of disease progression or death in patients with multiple myeloma (MM) by approximately 50% (Attal,
NEJM,
2012; McCarthy,
NEJM,
2012; Palumbo,
NEJM,
2014). However, these studies were not powered for overall survival (OS).
Aims
To conduct a meta-analysis assessing the effect of LEN maintenance post ASCT on OS.
Methods
A prospectively planned meta-analysis assessed OS with LEN vs placebo/no maintenance (control) after ASCT. A search identified 17 randomized controlled trials (RCTs) using LEN post ASCT. Three RCTs (IFM 2005-02, CALGB 100104 [Alliance], GIMEMA RV-209) met prespecified inclusion criteria (had patient-level data, had a control arm, and achieved database lock for primary efficacy analysis of patients with newly diagnosed MM receiving LEN post ASCT). A March 2015 cutoff of the 3 RCTs enabled sufficient OS events to test treatment effect
(hazard ratio [HR] = 0.78).
Results
From 2005 to 2009, 1209 patients were randomized in the 3 RCTs to receive LEN (n = 605) 10 mg/day on days 1-21 (GIMEMA) or 1-28 (IFM and CALGB) of 28-day cycles or control (n = 604). With a median follow-up of 6.6 years, 491 patients (41%) had died. Baseline characteristics were generally balanced in the pooled data. After induction and single (82%) or tandem (18%) ASCT, 55% of patients achieved a complete response (CR) or very good partial response (VGPR). Median OS for the LEN maintenance group was not reached compared with 86 months for the control group (HR = 0.74; 95% CI, 0.62-0.89; log-rank
P
=.001;
Figure A
), and 5-, 6-, and 7-year OS were longer in the LEN maintenance vs the control group (71% vs 66%, 65% vs 58%, and 62% vs 50%, respectively). Fisher's combination test confirmed the significant OS benefit in the meta-analysis (
P
= .001). Patients who achieved ≤ PR post ASCT benefited from LEN maintenance (HR = 0.86; 95% CI, 0.65-1.15) as did patients with CR/VGPR (HR = 0.70; 95% CI, 0.54-0.90). OS benefit was generally consistent across subgroups. Based on a heterogeneity test (Pignon,
Lancet Oncol,
2001), the OS study results from the efficacy meta-analysis were considered significantly heterogeneous (
P
= .047;
Figure B
) across studies for both the intention-to-treat post-ASCT population and for all patients randomized. Potential factors contributing to the heterogeneity between the clinical trials were explored and identified, including baseline/disease characteristics (such as International Staging System stage, cytogenetics), study conduct, and second-line therapy. Second primary malignancy data will be presented.
Conclusion
This large meta-analysis demonstrates that LEN maintenance significantly prolonged OS vs control (placebo/no maintenance) post ASCT, including in patients who achieved CR, demonstrating benefit in patients in all response categories.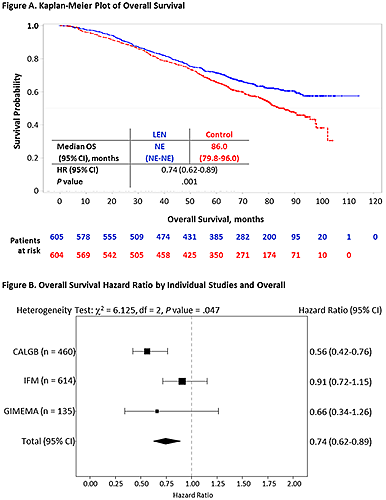 Session topic:
New agents for Myeloma treatment