Abstract:
S102
Type:
Oral Presentation
Presentation during EHA21:
On Friday, June 10, 2016 from 12:00 - 12:15
Location:
Hall A1
Background
Carfilzomib is a novel second-generation proteasome inhibitor approved as a single agent and in combination with lenalidomide and dexamethasone for the treatment of relapsed MM. The approved schedule of carfilzomib is twice-weekly, on days 1, 2, 8, 9, 15, and 16 of 28-day cycles. In a recent phase I/II study in relapsed/refractory patients (pts) a more convenient schedule of weekly Carfilzomib in combination with dexamethasone showed to be effective (77% overall response rate; ORR) and safe (ASH 2015). The ongoing phase III ARROW study compares weekly vs. twice weekly Carfilzomib. In the newly diagnosed setting, no data about weekly Carfilzomib are available . We designed a phase 1/2 study of wKCyd for NDMM pts.
Aims
The primary objective was to determine the maximum tolerated dose (MTD) of weekly Carfilzomib. The secondary objectives were to determine the safety and the efficacy of wKCyd as induction and of wK as maintenance, including response rate, progression-free survival and overall survival.
Methods
NDMM pts not eligible for autologous stem cell transplantation due to age or co-morbidities were enrolled. Carfilzomib was administered intravenously on days 1,8,15; cyclophosphamide orally on days 1, 8, 15 and dexamethasone orally once weekly. Dose escalation used a standard 3+3 schema with dose-limiting toxicities (DLTs) assessed during cycle 1. Three dose levels were studied with Carfilzomib escalated from 45 to 70 mg/m
2 with the standard doses of cyclophosphamide 300 mg/m2
and dexamethasone 40 mg. After completion of 9 28-day cycles, patients receive 28-day maintenance cycles with Carfilzomib (days 1, 8, 15) at the MTD defined by the phase I study until disease progression or intolerance. Adverse events were graded by NCI-CTCAE v4. Response was assessed according to the modified International Uniform Response Criteria.
ResultsResults of dose escalation phase 1 study have been previously reported (Palumbo A et al, Blood 2014), the MTD of weekly Carfilzomib was established as 70 mg/m2.
Results are presented for all patients treated with KCyd at the Carfilzomib MTD in both the phase 1 (n=3) and phase 2 (n=51) portions of the study. Among these 54 pts, median age was 72 years (range 60-85), 33% had ISS stage III, 49% had unfavorable FISH profile [t(4;14) or t (14;16) or del17p, del1 or amp1]. Median Carfilzomib treatment duration was 9.1 months (range 0.13-25.4). During induction, the ORR was 88%, the very good partial response (VGPR) rate was 71%, the complete response (CR) rate was 12%. Twenty-nine pts could be evaluated for maintenance. After a median duration of maintenance of 14.5 months, 7 pts (35%) improved response. During maintenance, the ORR was 95%, the VGPR rate was 80%, the CR rate was 40%, including a stringent CR rate of 20%. The 1-year progression-free survival was 79.4%. Ten pts (18%) discontinued treatment due to an adverse event. The most common adverse events of any grade and of grade ≥3 during induction and during maintenance are shown in the Table. Six pts died on study, cause of death included disease progression, pulmonary edema, pulmonary embolism, second primary malignancy, sudden death and pneumonia (1 each).
Conclusion
This is the first prospective study evaluating once weekly Carfilzomib in NDMM. wKCyd as induction and wK as maintenance appeared to be safe and effective. Responses became deeper with subsequent cycles and improved during maintenance. The response rate observed with weekly Carfilzomib compares favorably with similar studies with standard twice weekly Carfilzomib infusion.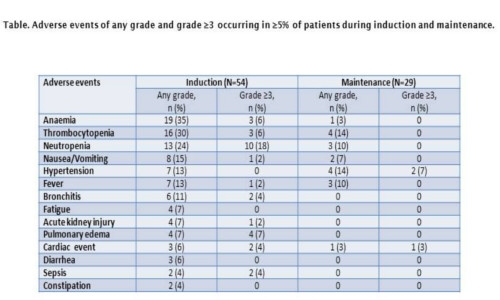 Session topic:
New agents for Myeloma treatment
Keyword(s):
Diagnosis, Multiple myeloma, Proteasome inhibitor