Abstract:
PB1999
Type:
Publication Only
Background
Multiple Myeloma (MM) is characterized by the production of a monoclonal protein which can be an intact immunoglobulin, free light chain (FLC), both or, in rare cases, neither. The introduction of novel drugs has changed the natural history of the disease, leading to new manifestations of relapse. Light chain escape (LCE) defines a kind of relapse in which the FLC increase is not accompanied by a concomitant raise of the original monoclonal component (MC). 
Aims
Disease biology and progression in MM is now thought to be the result of Darwininan-like evolution process: multiple pathological clones are present at MM diagnosis, possibly producing different monoclonal proteins. The cases presented here indicate that disease progression and relapse may be associated with selective outgrowth of a specific FLC producing clone. 
Methods
Here we report three cases diagnosed with aggressive LCE between 2001 and 2015 at a single institution. We even include an interesting case of IgG lambda monoclonal MM who relapsed after double autologous stem cell transplantation (ASCT)changing face presenting like FLC MM lambda with a new rare IgD lambda monoclonal pattern. 
Results
Patient 1. A 63-year old woman was diagnosed with IgG-lambda (stage IA, ISS2) with trisomy of chromosome 5 and 9. Before the 'new drug era'the patient received 3 cycles of chemotherapy according to VAD regimen, followed by tandem ASCT; she achieved a VGPR. After 9 years the patient developed an enlargement of right inguinal lymph node  and then painless subcutaneous mass above left shoulder. Biopsy of the 2 nodular lesions confirmed extramedullary plasmocytomas (Fig1A). The patient did not show classic monoclonal protein but a new little MC IgDlambda protein with an abnormal secretion of serum FLC lambda. Bone marrow plasma cells were dysmorphic (Fig 1B), with high proliferation index measured by immunohistochemical staining Ki67>20% (Fig1 C) and positive for lambda chain assessement (Fig 1D). Serum LDH levels at recurrence resulted high.Patient 2. A 64-year old man suffering from IgG-kappaMM stage IIIA, ISS2 underwent double ASCT and then was enrolled in PANORAMA study because of relapsing disease. He then started salvage therapy with lenalidomide and dexamethasone, but after 23 cycles he showed progressive disease with the features of LCE kappa. He presented a complex karyotype with trisomy of chromosome 9, 15 and gene rearrangement of 14q32, increase of LDH and plasmoblastic medullary cytomorphology.Patient 3. A 51-year old woman presented IgG-lambda MM stage IIIA ISS3 with extramedullary involvement (L5-S1) and deletion in 17p chromosome. She was treated according to VTD therapy followed by double ASCT and dexamethasone maintenance. She remained in remission of disease for 60 months until an increased amount of serum FLC lambda appeared and rapidly increased, with multiple vertebral bodies collapses and bone marrow infiltration of 40% atypical plasma cells showing various prognostically unfavorable genetic signs (1q amplification, 17p deletion, 13 deletion, 14q32 rearrangement). 
Conclusion
These cases represent a documented series of a rare but clinically important mode of relapse. They suggest the potential selective pressure exerted by novel agents and highlight the importance of FLC monitoring in MM patients undergoing ASCT and/or treatment with biological and new drugs. LCE underlines the intraclonal heterogeneity of MM; it was recently associated with shortened overall survival. Hematologists should keep in mind this possibility of evolving biology of disease in the 'high dose and novel agent era'. 
Fig.1 A)
Histopathological examination of inguinal lymph node revealed plasmocytoma with immunostaining positive for chain lambda (40x).
B-C-D)
Bone marrow biopsy demonstrated plasmocytoma (Giemsa 40x), with Ki67 expression in bone marrow plasma cells >20% and immunostaining positive for lambda chain (20x). Case 1.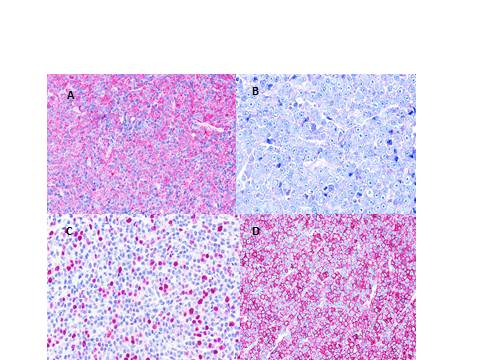 Session topic:
E-poster
Keyword(s):
Free light chain, Multiple myeloma, Relapse