Abstract:
P644
Type:
Poster Presentation
Presentation during EHA21:
On Saturday, June 11, 2016 from 17:30 - 19:00
Location:
Poster area (Hall H)
Background
ABBV‑838 is an antibody-drug conjugate (ADC) directed against CS1 (SLAMF7/CD319), a cell-surface glycoprotein that is expressed with high levels and prevalence on multiple myeloma (MM) cells, with normal expression limited to leukocyte subsets (including plasma cells, NK cells, and activated monocytes).  This ADC uses monomethyl auristatin E (MMAE) with a cathepsin-cleavable linker, and it binds to a unique epitope on CS1.
Aims
We evaluated the preclinical anti-tumor activity and toxicology of ABBV 838, with a goal to enable Phase 1 clinical development of this novel anti-CS1 ADC.
Methods
Tumor efficacy studies of ABBV-838 monotherapy and in combination with standard-of-care agents were conducted in mouse xenograft models. Tolerability studies were conducted in rodents and non-human primates (NHP), and the IND-enabling toxicology studies were conducted in NHP.
Results
ABBV-838 showed significant antitumor activity and induced complete tumor regressions in mouse models using human myeloma xenografts, including disseminated bone marrow models (OPM-2 and LP-1).    Enhanced efficacy was observed when a sub-optimal dose of ABBV‑838 was combined with standard-of-care agents such as bortezomib and pomalidomide. Tumor regressions were also observed in xenograft-bearing mice that were pretreated for two weeks with bortezomib, then switched to treatment with ABBV-838 alone, or pomalidomide plus ABBV-838. To optimize efficacy and to minimize safety issues, an additional process step was used to isolate ABBV-838 product containing primarily two MMAE molecules per antibody (identified as E2). Efficacy and tolerability studies were conducted to compare different drug-to-antibody ratios (DAR) and distributions of loading; the greatest therapeutic index (maximum tolerated dose/minimum effective dose) observed in non-clinical studies was achieved with E2-enriched ADC. In a GLP-compliant toxicology study, primary toxicities of ABBV-838 were typical of other MMAE-based ADCs and consisted of bone marrow toxicity and lymphocyte decreases in lymphoid tissues, and were mostly resolved or consistent with a regenerative response at the end of a 3-week recovery period. A single-dose no-observed-adverse-effect level (NOAEL) was established in cynomolgus monkey at 12 mg/kg  (1340 µg/m² of conjugated MMAE), which is the equivalent conjugated MMAE dose for the single-dose max non-lethal dose of 6 mg/kg as published for brentuximab vedotin.
Conclusion
Targeting myeloma cells via the CS1 protein with ABBV‑838 results in potent preclinical anti-tumor activity as a monotherapy, and in combination with multiple approved therapies, with complete tumor regressions against multiple xenograft models of myeloma.ABBV-838 is currently being investigated in a Phase 1 first-in-human safety study.Disclosures: All authors are employees of AbbVie. The design, study conduct, and financial support for this research were provided by AbbVie. AbbVie participated in the interpretation of data, review, and approval of the publication.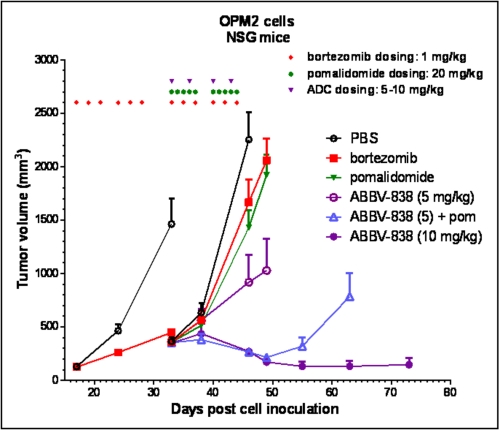 Session topic:
Novel targets for MM
Keyword(s):
Antibody targeting, Multiple myeloma