Abstract:
P265
Type:
Poster Presentation
Presentation during EHA21:
On Friday, June 10, 2016 from 17:15 - 18:45
Location:
Poster area (Hall H)
Background
Multiple myeloma has been comprehensively analyzed using high-throughput genomic technologies. Although a large number of biomarkers have been described, most of them were not subsequently validated at the protein level. In fact, the unresolved difficulties in studying the proteome have made the quantification of messenger RNA (mRNA) an indirect measure of protein expression. However, many studies have shown that levels of mRNA cannot be used as surrogates for protein levels. The amount of myeloma cells obtained after purification of patient samples is usually very limited, which precludes the posibility of quantify protein levels using standard Western Blot analysis.
Aims
To quantify the steady state levels of cyclin D1, cyclin D2, ikaros, aiolos and cereblon proteins, and correlate them with the corresponding gene expression (mRNA). To analyze the impact of the protein expression compared to gene expression on MM prognosis.
Methods
Bone marrow aspirates from 64 newly diagnosed MM patients treated with lenalidomide- and bortezomib-containing regimens were included in the study. Myeloma cells were purified by anti-CD138 magnetic microbeads using the AutoMACs separation system (purity was above 90%) and next, were stored in RLT+ buffer at -80
0
C. We developed and optimized a protocol for extraction of DNA, RNA and proteins from the same single sample. Total protein quantification and particular proteins expression analysis were performed using the capillary electrophoresis with immunoassay methodology (patented by the ProteinSimple company as WES system). mRNA expression was quantified using Taqman assays by q-RT-PCR.
Results
After the analysis of total protein content, 61 MM samples fulfilled the quantity and quality requirements. Cyclin D1 protein levels were strongly correlated with mRNA levels (
R2 0.804, p<0.01)
. The highest cyclin D1 protein expression was found in MM samples with t(11;14), whereas intermediate cyclin D1 levels were observed in those patients with polysomy 11. Lower correlations between protein and mRNA levels were observed for cyclin D2/
CCND2
(
R2 0.409, p<0.01),
aiolos
/IKZF3
(
R2
0.383, p<0.01) and ikaros/
IKZF1
(
R2 0.337, p<0.01).
On the contrary, no significant correlation was seen for cereblon protein levels and the corresponding
CRBN
expression.Higher protein levels of cereblon and ikaros were significantly associated with longer progression free survival (PFS) and overall survival (OS). Interestingly, no impact on prognosis was observed when survival analysis was carried out using the mRNA levels of
CRBN, IKZF1
and
IKZF3.
Conclusion
The capillary electrophoresis with immunoassay methodology allowed us to analyze the steady state expression of mRNA and protein obtained from the same one MM sample. The preliminary results showed that protein measurement of cereblon and ikaros discriminate prognosis of patients with MM better than mRNA levels. The Capilary Immunoassay offers the novel opportunity to automatically analyze, for the first time, the expression of proteins encoded by key genes in the development of MM, with high levels of sensitivity and reproducibly.
Acknowledgement:
This work is funded by a grant from the International Myeloma Foundation's Black Swan Research Initiative®. WES platform was acquired thanks to INNOCAMPUS Program (CEI10-1-0010).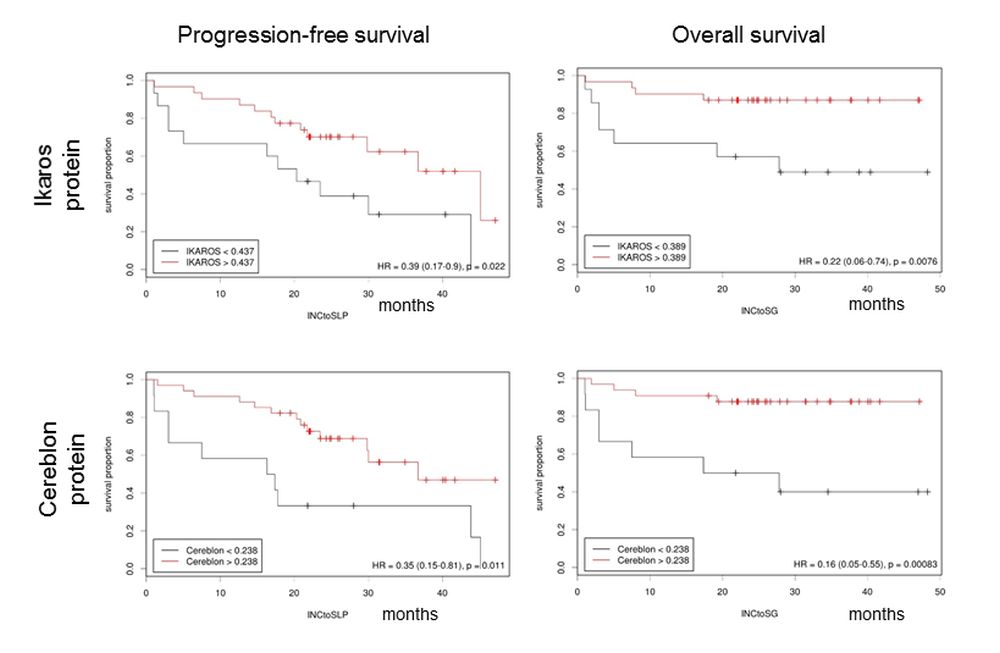 Session topic:
Molecular characterization of MM
Keyword(s):
Gene expression, Myeloma, Protein Expression