Abstract:
P228
Type:
Poster Presentation
Presentation during EHA21:
On Friday, June 10, 2016 from 17:15 - 18:45
Location:
Poster area (Hall H)
Background
The approved tyrosine kinase inhibitor (TKI)
ponatinib is potently active against native and resistant BCR-ABL, including T315I. 
Aims
The pivotal phase 2 PACE trial (NCT01207440) evaluated the efficacy and safety of ponatinib.
Methods
Patients with chronic myeloid leukemia (CML) or Philadelphia-positive acute lymphoblastic leukemia (Ph+ALL) refractory to dasatinib or nilotinib, or with T315I, were enrolled in PACE (starting dose 45 mg once daily). All patients gave informed consent. Dose reductions were recommended in October 2013 due to observed arterial occlusive events (AOEs). Efficacy and safety at 4 years, as well as by year for chronic phase (CP) CML patients are reported (data as of 3 August, 2015). Exposure-adjusted incidence rates of new AOEs are reported as the number of events/100 patient-years.
Results
Of 449 patients, 59% received ≥3 prior TKIs. At analysis, 30% (133/449) of patients (median follow-up 37.3, range 0.1–58.5 months) and 41% (110/270) of CP-CML pts (48.2, 0.1–58.5 months) remained on study. Primary reasons for discontinuation were disease progression (22.5% overall, 10.4% CP-CML) and adverse events (AEs) (16.0% overall, 18.5% CP-CML).  Responses continued to deepen over time (
Table,
CP-CML patients) despite dose reductions. Among CP-CML patients, estimated 4-year rates for PFS, OS, and maintenance of major cytogenetic response (MCyR) and major molecular response (MMR) were 56%, 77%, 82% and 61%, respectively. For accelerated phase patients, the estimated 4-year OS was 51%; median OS for blast phase/Ph+ALL patients was 6.9 months (95% CI, 5.0-9.2). Common (in ≥30% of patients) treatment-emergent AEs were thrombocytopenia 44%, abdominal pain 43%, rash 42%, constipation 37%, headache 37%, dry skin 36%, fatigue and hypertension 30%. AOE rate/serious AOE rate was 23%/19%, including cardio- 13%/9%, cerebro- 9%/7%, and peripheral-vascular 9%/7%. Of patients with AOEs (n=104), 38% remained on study. Exposure-adjusted incidence rates of new AOEs fell after the first 2 years: 15.5 Year 1, 15.7 Year 2, 10.4 Year 3, and 9.6 Year 4. Nearly 2 years after recommended dose reductions, 87% (114/131) and 74% (70/95) of CP-CML pts were estimated to maintain MCyR and MMR, respectively, and 8% (6/75) of all dose-reduced pts without a prior AOE on trial had an AOE. 
Conclusion
After 4 years,
heavily
pretreated patients continue to show deep and lasting responses on ponatinib, and approximately 2 years post recommended dose reductions, maintenance of response is high, and the incidence of newly occurring AOEs has decreased.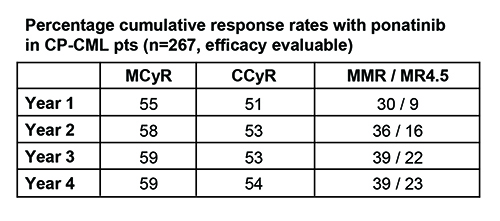 Session topic:
Chronic myeloid leukemia - Clinical 1
Keyword(s):
Chronic myeloid leukemia, Clinical trial, Tyrosine kinase inhibitor