Abstract:
E1281
Type:
Eposter Presentation
Background
Elotuzumab is a humanized IgG1 immunostimulatory monoclonal antibody that targets SLAMF7, a glycoprotein highly expressed by myeloma and natural killer (NK) cells. Elotuzumab works via a dual mechanism of action, both by directly activating NK cells and by facilitating antibody-dependent cell-mediated cytotoxicity (ADCC) to cause targeted myeloma cell death. Fcγ receptors, including CD16a (FcγRIIIa) and CD32a (FcγRIIa), bind the Fc portion of IgG1 antibodies to facilitate ADCC.
1
Multiple alleles exist for CD16a and CD32a that confer affinity for Fc binding; therefore, differences in Fcγ receptor genotypes could affect responses to elotuzumab.
1
The high-affinity allele for CD16a is determined by a valine (V) residue at amino acid position 158, while a phenylalanine (F) residue determines the low-affinity variant. For CD32a, the high-affinity allele is a histidine (H) residue at position 131; arginine (R) determines the low-affinity variant. 
Aims
To assess whether CD16a and CD32a polymorphisms affect progression-free survival (PFS) in patients receiving elotuzumab as monotherapy or as part of a combination therapy.
Methods
In ELOQUENT-2 (NCT01239797), patients with relapsed/refractory multiple myeloma (RRMM) and 1–3 prior therapies were randomized to elotuzumab (10 mg/kg IV) in combination with lenalidomide (Len) and dexamethasone (dex; ELd) or Len/dex alone (Ld). In Study 009 (NCT01478048), patients with RRMM and 1–3 prior therapies were randomized to elotuzumab (10 mg/kg IV) in combination with bortezomib (Btz) and dex (EBd) or Btz/dex alone (Bd). In Study 011 (NCT01441973), patients with high-risk (Mayo Clinic criteria) smouldering MM were treated with elotuzumab (10 mg/kg IV twice monthly or 20 mg/kg IV once monthly). Patients from ELOQUENT-2 and Study 009 were categorized by CD16a (VV vs FF) and CD32a (HH vs RR) genotype. Patients from Study 011 were categorized by the presence of ≥1 vs 0 high-affinity CD16a (VV/VF vs FF) or CD32a (HH/HR vs RR) alleles. PFS by genotype was assessed in the elotuzumab and control groups of ELOQUENT-2 and Study 009, and for all patients in Study 011 (combined-dose cohort). 
Results
Genotyping was performed in 339/646 randomized patients in ELOQUENT-2, in all 152 patients in Study 009, and in 28/31 patients in Study 011. In ELOQUENT-2, neither CD16a genotype (VV vs FF) nor CD32a genotype (HH vs RR) was associated with a difference in PFS distribution in the ELd or Ld group (Table). In Study 009, CD16a VV vs FF status was associated with longer median PFS in the EBd arm, but not in the control arm. Given the available data for each estimate (n=15–19), CD32a genotype did not appear to be associated with a meaningful difference in median PFS in either the EBd or Bd group. In Study 011, median PFS was >20 months or non-estimable for all CD16a and CD32a genotypes. PFS was numerically higher for patients with ≥1 vs 0 CD16a V alleles; however, interpretation is limited by the small numbers of patients with each genotype. 
Conclusion
The effect of Fcγ receptor polymorphisms on PFS may depend on elotuzumab treatment combinations, as CD16a genotype correlated with PFS in patients treated with EBd but not ELd. ELd benefits all patients, irrespective of genotype, as there is no evidence that high-affinity Fcγ alleles are associated with a differential benefit.
Reference
1. Weng W et al.
J Clin Oncol
2003;21:3940–7.
Funding:
Bristol-Myers Squibb. Medical writing assistance: M Thomas, Caudex, funded by Bristol-Myers Squibb.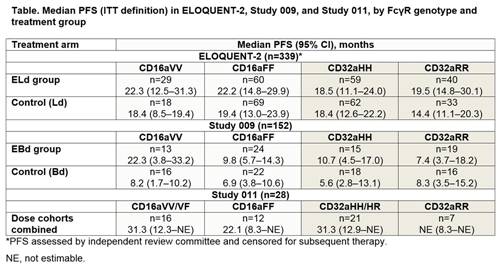 Session topic:
E-poster
Keyword(s):
Fc receptor, FcGRIIIa polymorphism, Monoclonal antibody, Multiple myeloma