Abstract:
E906
Type:
Eposter Presentation
Background
Acute myeloid leukemia (AML) is biologically complex due to the continuously evolving clonal architecture that marks remission and relapse. Though biological targeted therapeutics are changing clinical practice, there is still a lack of epigenetic markers of prognosis.
Aims
To identify biomarkers of relapse in elderly patients with AML in CR after conventional induction ("3+7") and consolidation chemotherapy.
Methods
In a phase III, prospective, randomized, open-label, multicenter trial, designed to assess the efficacy of post-remission treatment with 5-Azacitidine versus best supportive care (BSC), patients are included if: they are >60 years of age; have newly diagnosed 'de novo' AML or evolving from myelodysplastic syndrome; >30% bone marrow blasts; no contraindications for intensive chemotherapy; and an ECOG performance status <3. Induction chemotherapy consists of two courses of '3+7' (Daunorubicin 40 mg/m
2
daily days 1-3 and cytarabine 100 mg/m
2
daily continuous IV infusion days 1-7). Patients in complete remission (CR) receive consolidation therapy (cytarabine 800 mg/m
2
3 hour infusion bid days 1-3) after which they are randomized 1:1 to receive BSC or 5-Azacitidine maintenance therapy up to 4 years and six months until AML relapse.Bone marrow (BM) samples were obtained from patients at diagnosis before treatment and at CR before randomization. Genomic DNA was obtained from BM mononuclear cells. Prognostic somatic mutations were evaluated by the Human Hematopoietic Neoplasm qBiomarker Somatic Mutation PCR Array (QUIAGEN) that includes DNA sequence mutation assays designed to detect the most frequent, functionally verified, and biologically significant mutations in human hematopoietic neoplasms, such as: FLT3, NPM1, IDH1, IDH2, CEBPA, KIT, KRAS, WT1, ASXL1, EZH2, DNMT3A and TP53. Various univariate logistic regression models were constructed. Each model included the treatment allocation, the dichotomous variable, "Relapse Yes/No" as the dependent variable, and each somatic mutation (mutated/wild-type) as  independent variables. The median time to relapse will be estimated by the Kaplan Meier method.
Results
At interim analysis, 31 patients (14 males), mean age 69 SD ± 6 years achieved a CR and were randomized to receive BSC (N=13) or 5-Azacitidine (N= 18). At the time of the present report, 21 of the 31 patients have relapsed (10 in BSC arm, 11 in 5-Azacitidine arm), while the remaining 10 are alive in CR. Median time to relapse was 296 days, 95% CI 73 -519. Amongst biomarkers assessed, only TP53 (NM_000546 p179Y) at diagnosis was associated with AML relapse (p=0.007, Table 1A). Specifically, 15 out of 17 patients with mutated TP53 at diagnosis  relapsed compared to 6 out of 14 patients with wild-type TP53. Of the latter 6 patients, 4 were on 5-Azacitidine. Finally, we built a logistic regression model adjusting the TP53 variable for the effect of the random allocation, which did not represent a confounder for relapse. Median time to relapse in TP53 mutant patients was 147 days, 95% CI 51-242 versus 389 days, 95% CI 353-425.in TP53 wild-type patients (p=0.022, Figure 1).
Conclusion
The presence of TP53 mutation at diagnosis in elderly "fit" patients with AML undergoing  induction-consolidation chemotherapy seems to confer an independent adverse clinical course which is not abrogated by post-remission treatment.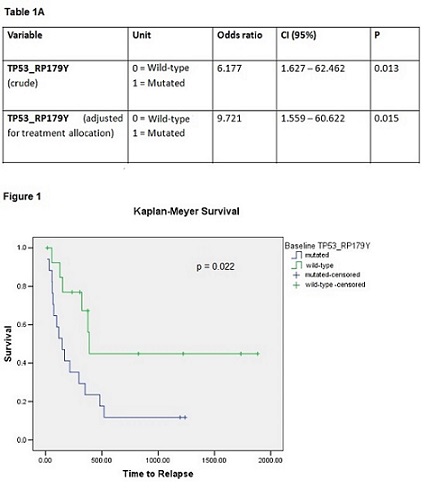 Session topic:
E-poster
Keyword(s):
Acute myeloid leukemia