Abstract: E954Type:
Eposter Presentation
Background
There is no standard treatment (Tx) for older patients (pts) with AML, who have especially poor OS due to adverse risk factors such as unfavorable karyotypes and poor performance status (PS). Older pts may be unfit for high-intensity induction chemotherapy (IC); such pts are often treated with LDAC or best supportive care (BSC) alone, which are associated with very poor outcome (Dombret,
Semin Oncol,
2008). The international phase 3 AZA-AML-001 study compared AZA with conventional care regimens (CCR) in older pts with AML. Before randomization, investigators selected their preferred Tx option for each pt from 3 commonly used CCR for AML Tx: IC, LDAC, or BSC only. Pts were then randomized to receive AZA or CCR and received their preselected Tx.
Aims
To compare effects of AZA vs LDAC on OS and clinical outcomes in the subgroup of pts in AZA-AML-001 preselected to receive LDAC before randomization.
Methods
Pts aged ≥65 years with newly diagnosed
de novo
or secondary AML (>30% bone marrow [BM] blasts by local assessment), ECOG PS 0-2, WBC count ≤15x10
9
/L, and intermediate- or poor-risk cytogenetics were enrolled. AZA dose was 75mg/m
2
/day SC x7 days/28-day cycle and LDAC dose was 20mg SC BID x10 days/28-day cycle. OS and 1-year survival were estimated using Kaplan-Meier methods. OS was compared between Tx groups by log-rank test. An unstratified Cox proportional hazards model generated hazard ratios (HRs) and 95% CIs. Overall response rate (ORR) included complete remission (CR) + CR with incomplete blood count recovery (CRi) (IWG 2003). Proportions of pts with grade 3-4 infections and hematologic treatment-emergent adverse events (TEAEs), and TEAE incidence rates (IR) per 100 pt-years of Tx exposure, are reported.
Results
Of all pts in AZA-AML-001, most (312/488, 64%) were preselected to receive LDAC (AZA n=154, LDAC n=158). Median number of Tx cycles received was 7 (range 1–28) for AZA and 4 (1–25) for LDAC. At baseline in the AZA and LDAC groups, respectively, median ages were 76 (range 64–90) and 75 (65–88) years; 25% and 22% had ECOG PS of 2; centrally read median BM blasts were 70% (2–100) and 74% (4–100); and 29% and 34% of pts had poor-risk cytogenetics. Median OS in the AZA and LDAC groups was 11.2 vs 6.4 months (mon), respectively (HR=0.90 [95%CI 0.70, 1.16], p=0.43;
Figure
), indicating a 4.8-mon (95%CI 1.7, 7.9) longer median OS with AZA. The OS difference was not statistically significant due to convergence of the OS curves at ~20 mon. One-year survival rate was 48.5% with AZA vs 34.0% with LDAC, a difference of 14.5% (95%CI 3.5%, 25.5%). ORR was 27% with AZA and 26% with LDAC. Proportions [IRs] of AZA and LDAC pts, respectively, with grade 3-4 TEAEs were: anemia 19% vs 23% [26 vs 42]; neutropenia 25% vs 25% [33 vs 46]; febrile neutropenia 27% vs 30% [36 vs 56]; thrombocytopenia 25% vs 28% [34 vs 51]; and infections 49% vs 46% [66 vs 84].
Summary
Analyzing outcomes within preselection groups allows assessment of Tx effects in pts with generally similar prognoses and clinical features, as preselection of the preferred CCR occurred before randomization. AZA was associated with a longer median OS of 11.2 mon vs 6.4 mon with LDAC, in pts with similar features at study entry. At 1 year, almost one-half of AZA-treated pts were alive, compared with approximately one-third of LDAC-treated pts. Quality of life outcomes during Tx with AZA or LDAC in this pt group are now being evaluated. AZA may offer potential advantages over LDAC as first-line low-intensity Tx in difficult-to-treat older pts with AML and high blast counts.
Keyword(s):
Acute myeloid leukemia, Survival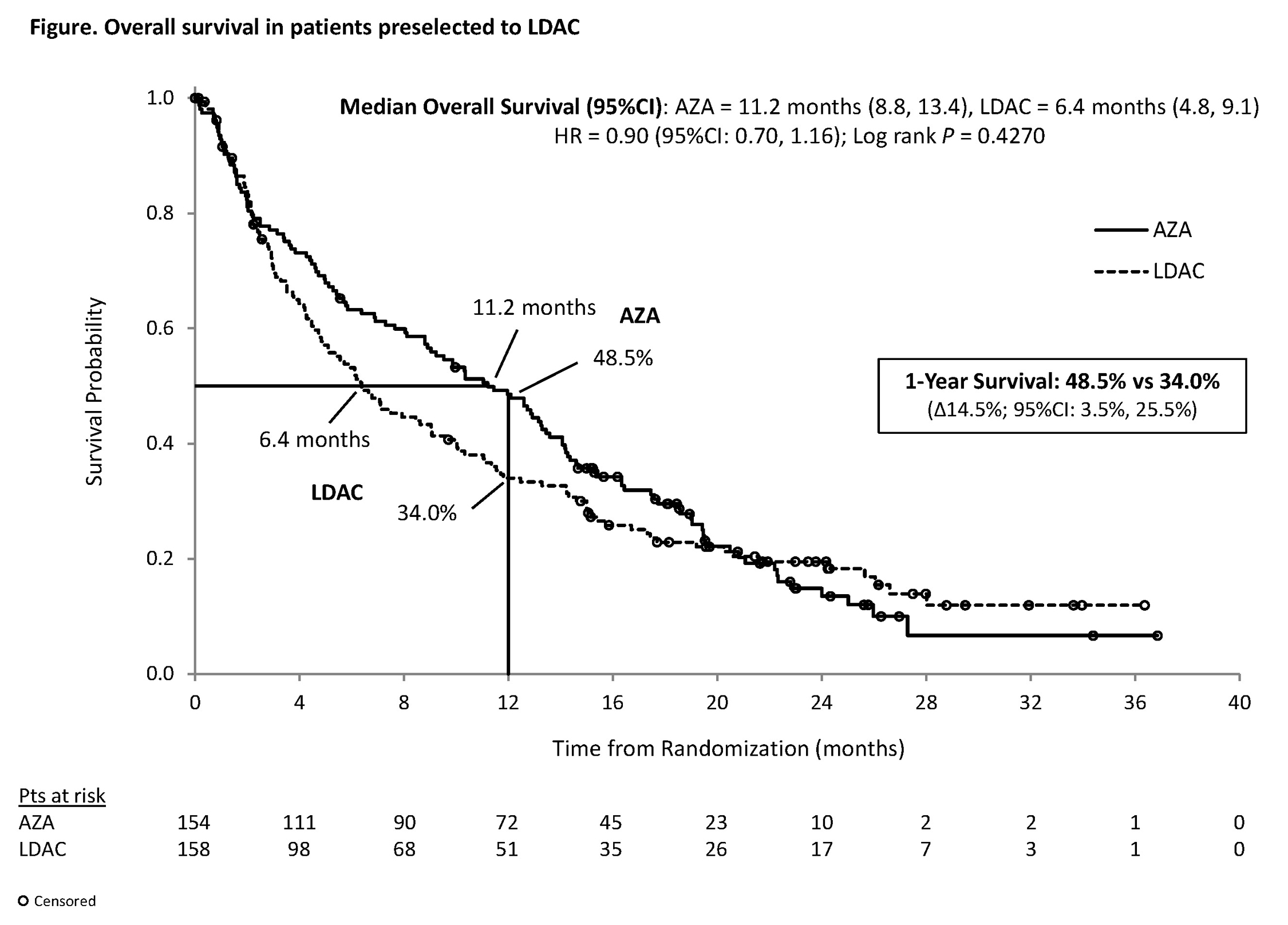 Session topic:
E-poster