Abstract: S807Type:
Oral Presentation
Presentation during EHA20:
From 14.06.2015 08:30 to 14.06.2015 08:45
Location:
Room Lehar 3 + 4
Background
In the phase 3, randomized, placebo-controlled AETHERA trial, progression-free survival (PFS) was significantly improved with brentuximab vedotin (BV) vs placebo (HR=0·57, P=0·001) in Hodgkin lymphoma (HL) patients at risk of progression post-autologous stem cell transplant (ASCT). 
Aims
A multivariate analysis was performed to determine which factors significantly influence PFS by investigator assessment.
Methods
After ASCT, 329 patients were randomized to receive BV 1.8 mg/kg q3wk (n=165) or placebo (n=164) for up to 16 cycles. The primary endpoint was PFS per independent review. Multivariate analysis using a Cox-proportional hazards model was developed on the following factors: treatment, age, sex, weight, geographical region, initial disease stage, time from diagnosis, no. of treatments pre-ASCT, chemosensitivity, response to frontline (FL) and salvage, type of FL therapy, prior radiotherapy, extranodal disease pre-ASCT, ASCT conditioning regimen, B symptoms at pre-ASCT relapse, number of risk factors, baseline ECOG, baseline lesions, and pre-existing peripheral neuropathy.
Significant factors (p<0.05) were determined after a stepwise addition and elimination of nonsignificant factors from the model. 
Results
Multivariate modeling indicated that factors significantly associated with PFS by investigator assessment included: treatment (BV vs. placebo), salvage response, gender, number of treatments pre-ASCT, type of FL therapy, B symptoms pre-ASCT, and weight (see Table). 
Summary
After adjustment for significant clinical factors in a multivariate regression analysis, consolidation treatment with BV significantly reduced the risk of treatment failure compared to placebo with a HR of 0.44. These results support the primary analysis.
Keyword(s):
Autologous hematopoietic stem cell transplantation, Hodgkin's lymphoma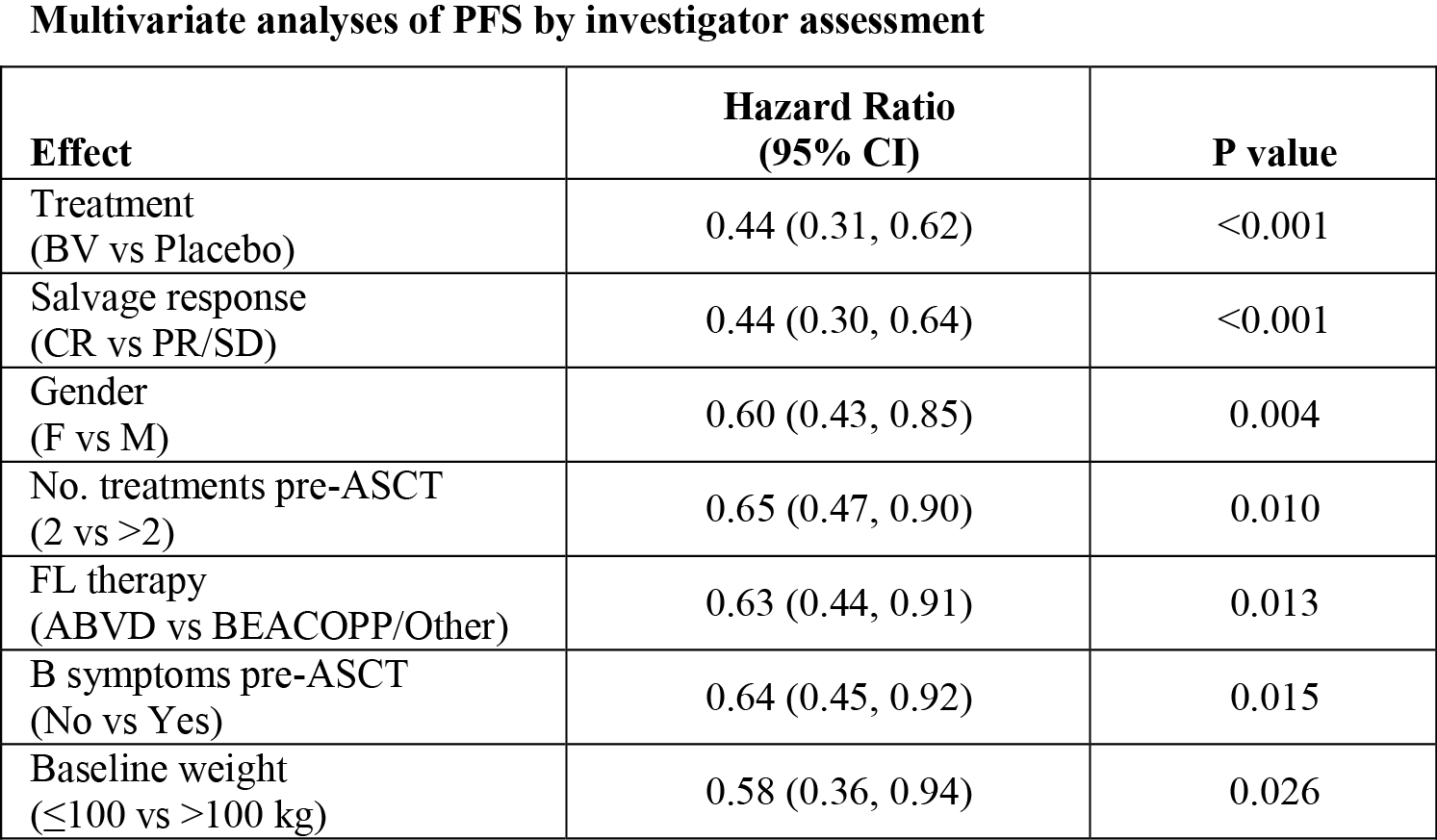 Session topic:
Progess in Hodgkin lymphoma therapy: Incorporation of novel agents and reduction of side effects