Abstract: PB1620Type:
Publication Only
Background
Ponatinib is a third generation tyrosine kinase inhibitor (TKI) approved for the treatment of chronic myeloid leukemia (CML) or Philadelphia chromosome-positive acute lymphoblastic leukemia (Ph+ ALL) with T315I or resistant/intolerant to other TKIs. Serious vascular adverse events have been reported at the dosage of 45 mg once daily suggesting that a reduction in the dosage of ponatinib may be advisable.
Aims
We present here the case of a Ph+ ALL in 2nd relapse who achieved a molecular remission with ponatinib 30 mg/day. To decrease the risk of vascular complications, ponatinib dosage was reduced to 15 mg/day during maintenance therapy. We examined whether this ponatinib dosage is sufficient to prevent molecular relapse.
Methods
Residual disease was measured by RQ-PCR and BCR-ABL mutations were detected by Sanger sequencing. 
Results
This 39-year-old patient was diagnosed in 2008 with a Ph+ ALL (Figure 1). He was first treated with imatinib (GRAALL/GRAAPH 2005 trial) and then successively with dasatinib, nilotinib and bosutinib because of intolerance or resistance and finally with ponatinib. Due to liver toxicity, ponatinib was given at 30 mg/day as maintenance therapy. One year after the second transplant, while the patient was still in CR, an unexpected high rate of ponatinib-induced vascular events was reported. According to recommendations made for CML in major molecular response, the maintenance therapy was reduced to 15 mg/day.

Six months later, a molecular relapse was identified in bone marrow and Sanger sequencing revealed a T315I mutation in BCR-ABL kinase domain (KD). The patient was treated with steroids, a single dose of vincristine (1,4mg/m2) and ponatinib 45mg once daily. Fifteen days later, MBCR-ABL level was reduced by 1 log and sequencing showed the concomitant presence of wild-type and T315I BCR-ABL KD. Donor lymphocyte infusions were started. Three months later, the MBCR-ABL/ABL ratio was 0,025%. Presently, 6 months after the 2nd relapse, the patient is in complete molecular remission, without graft versus host disease.

 
Summary
We report here the clinical course of a Ph+ ALL patient who was treated with ponatinib 15mg/day, as maintenance therapy, and developed a BCR-ABL T315I mutation leading to leukemia molecular relapse. This clonal evolution was reversed, without adverse effects, by increasing ponatinib dosage to 45mg/day suggesting that ponatinib dose reduction may not be appropriate in Ph+ALL maintenance therapy. 
Keyword(s):
Acute lymphoblastic leukemia, BCR-ABL, Maintenance, Tyrosine kinase inhibitor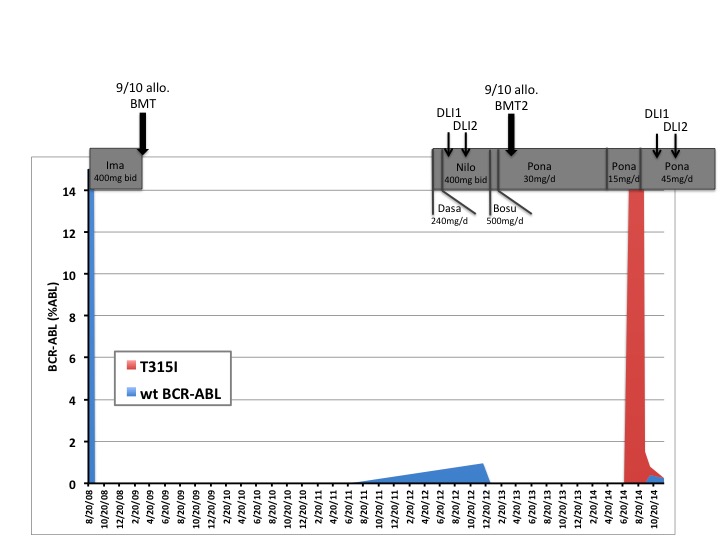 Session topic:
Publication Only